Most people think Trump has lied to the American public
Donald Trump is faring better in the public's assessment of his performance than he has since the early days of his Administration, but many still see flaws in his personal behavior. Many in the latest Economist/YouGov Poll believe he has "lied to the American people."
By 52% to 40%, Americans hold an unfavorable view of the President, even as his approval rating improves. Opinions of Vice President Mike Pence are similar. And the negative evaluation of him extends to many in his Administration. This week, Americans are evenly divided when it comes to White House Chief of Staff John Kelly and Press Secretary Sarah Huckabee Sanders. Slightly more are negative than positive about his new lawyer, Rudy Giuliani, while Environmental Protection Agency Administrator Scott Pruitt is twice as likely to be seen unfavorably as favorably.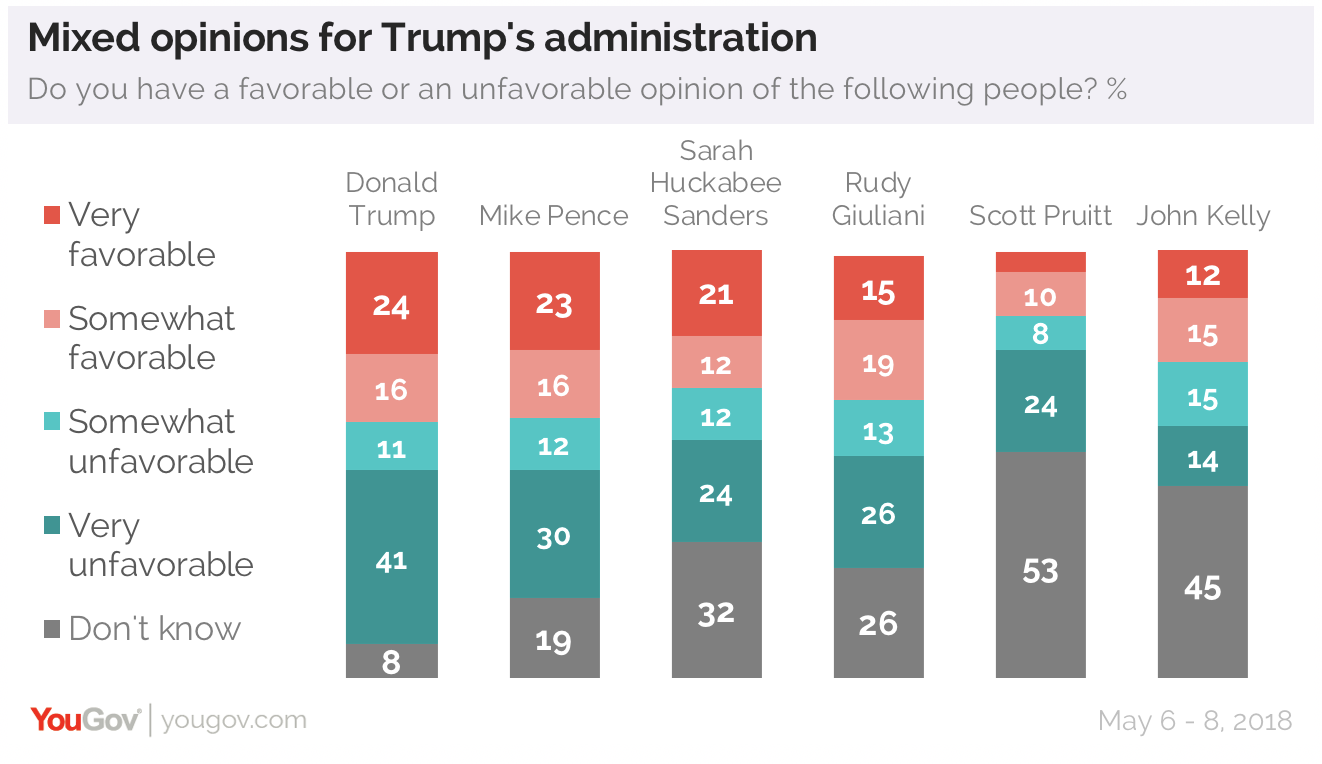 Republicans, who normally give heavily favorable responses when asked about the administration, shy away from taking any position on Pruitt, who has been accused of a number of ethics violations. For example, among GOP partisans, Sanders is seen favorably by seven to one, and Giuliani and Kelly by about three to one. So while twice as many Republicans hold a favorable as an unfavorable opinion of Pruitt, most don't take a position – 58% are not sure what they think about Pruitt.
57% say the President has "lied to the American people," and that includes more than a third of Republicans.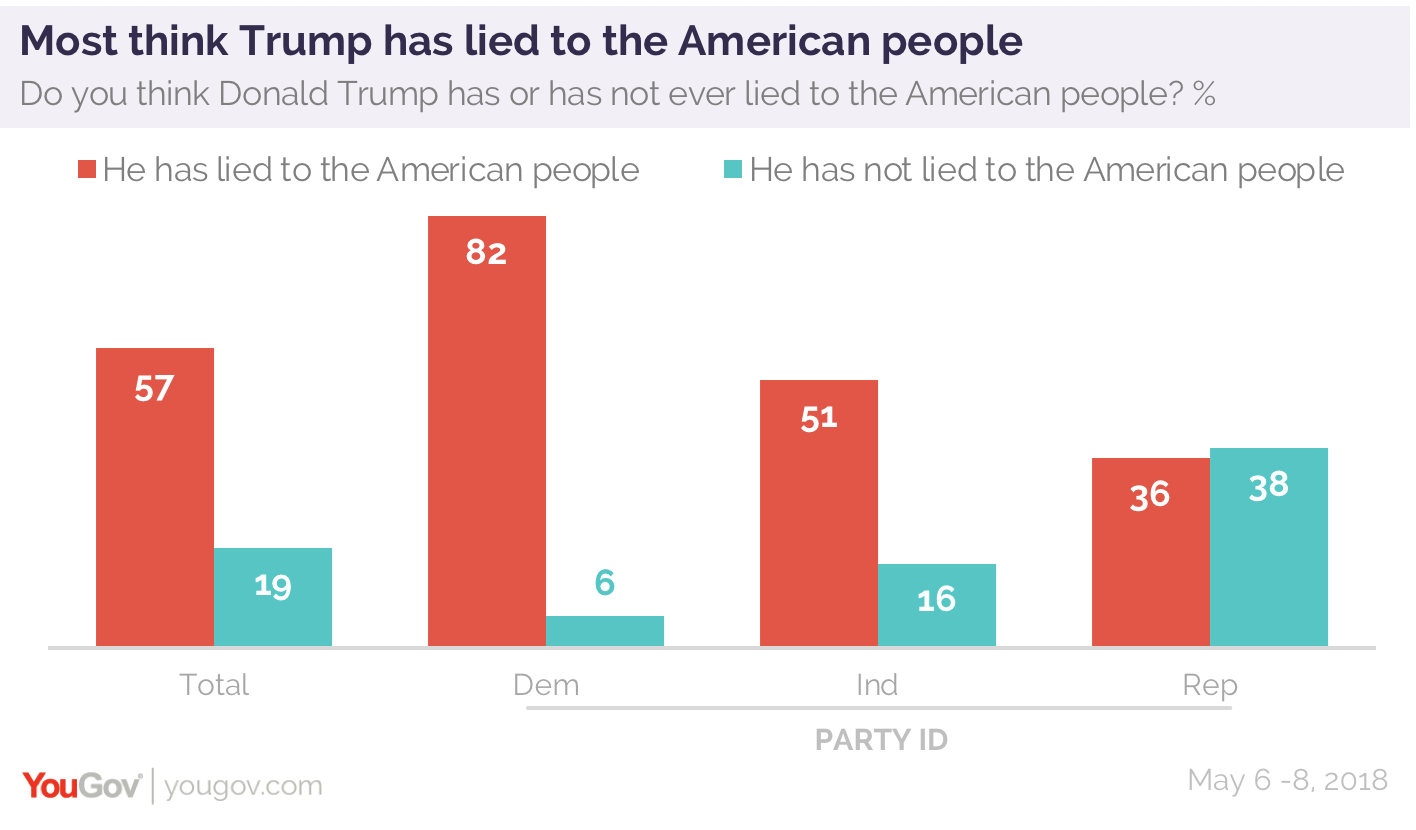 Those who say the President has lied say that bothers them. The party difference on that question is that Democrats say it bothers them "a lot" while Republicans are more likely to say they are "somewhat" bothered. And while Democrats overwhelmingly think the President has lied more than other Presidents, even those Republicans who think he has lied aren't sure his behavior is much different from that of the typical President.
As for the Special Counsel's investigation of links between the 2016 Trump campaign and Russian officials, Americans in the latest Economist/YouGov Poll are not ready to fire Special Counsel Robert Mueller, who is investigating possible links between the President's 2016 campaign and Russia, even though more than a third see the FBI investigation as a "witch hunt." As for what the Mueller investigation might discover, the country is divided. As many say Donald Trump did something illegal in dealing with Russian officials before the election as disagree (and nearly as many aren't sure), and there is a narrow plurality that believes the F.B.I. is conducting a legitimate investigation and not a witch hunt. A larger plurality do not believe the President is being framed.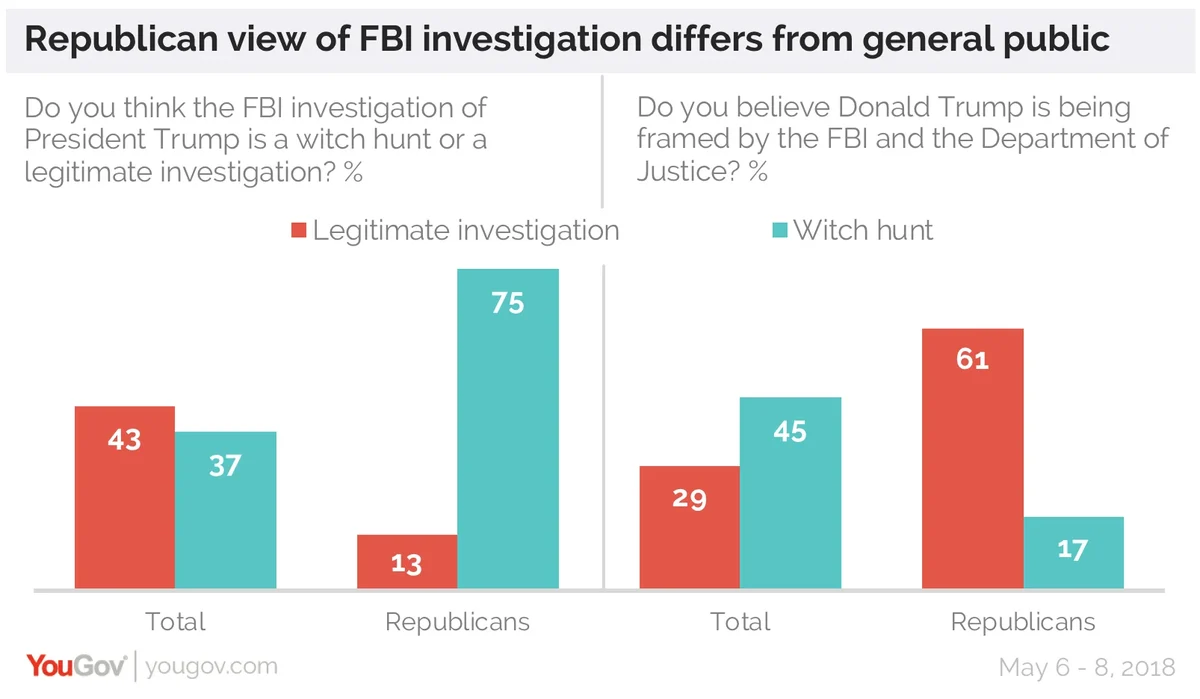 However, three in four Republicans think the investigation is a witch hunt. And nearly two in three believe he is being framed.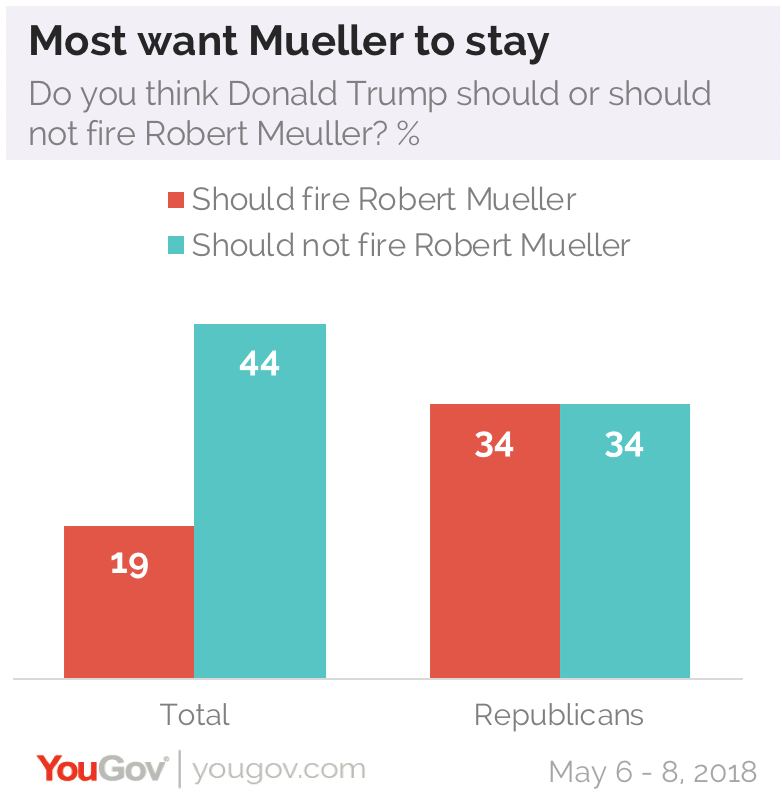 Republicans are divided on whether or not Mueller should be fired. 38% say he should be, 34% say he should not. Overall, opinion is against Mueller's firing.
However, support for firing Mueller has risen among Republicans. In mid-April, only 25% of Republicans wanted Mueller fired.
Read more toplines and tables results here
Photo: Getty