61% of Democrats think Russia will interfere in this November's elections, while 51% of Republicans think they won't
With the 2018 election just a few months away, Americans are learning lessons from 2016 – the latest Economist/YouGov Poll found some agreement that Russia was attempting to influence this year's Congressional elections.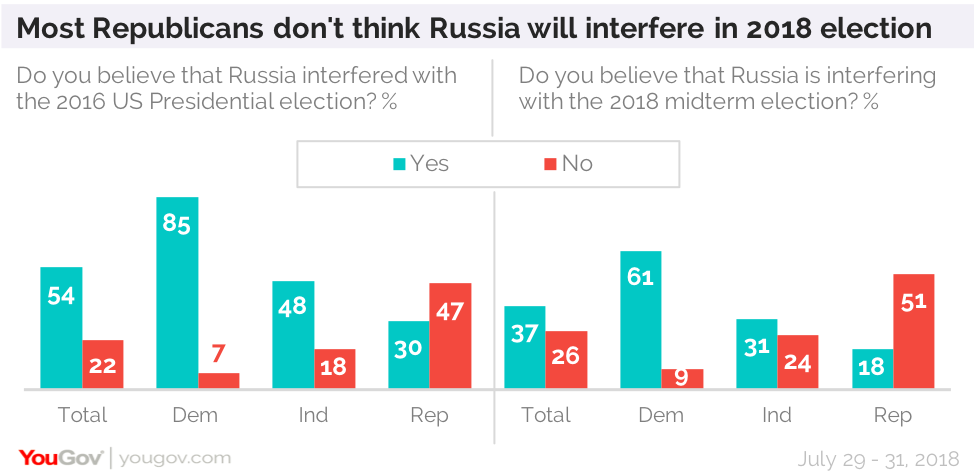 Nearly a third of Republicans agree that Russia interfered in the 2016 election, but a majority do not see Russian interference this year.
For many, the suspicions of Russian interference – if there is interference – is that it aims at boosting GOP candidates. When asked who Russian President Vladimir Putin favors in the midterm elections, by more than four to one Americans say it is the Republicans. That matches the opinion that Russia wanted Donald Trump and not Democratic nominee Hillary Clinton to win in 2016.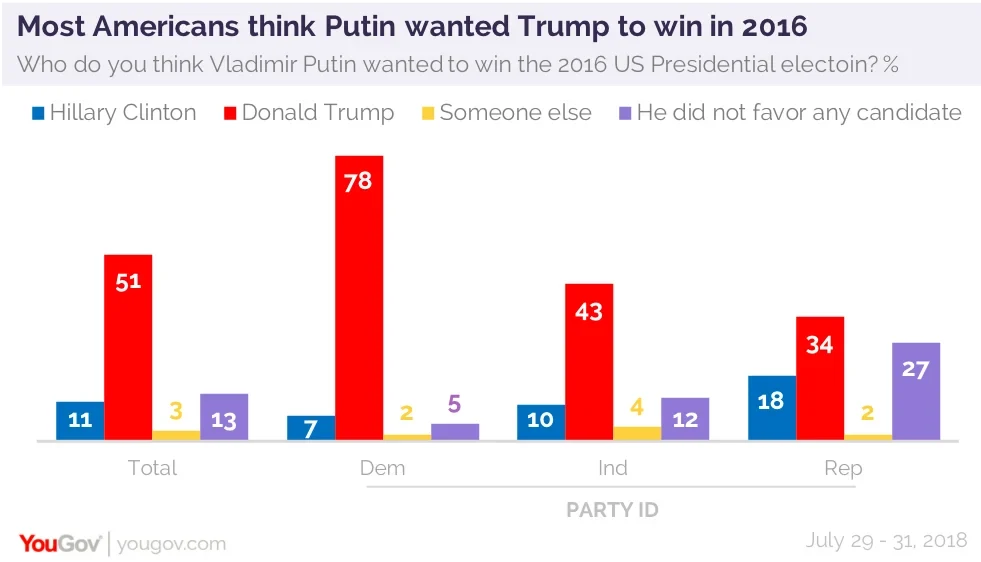 Even Republicans are more likely to think Russia – and Putin – favor the Republican candidates over the Democratic ones in both years. But it's important to note that Republicans are less likely to see influence, and more likely to think that, if there is influence, it hasn't favored either party.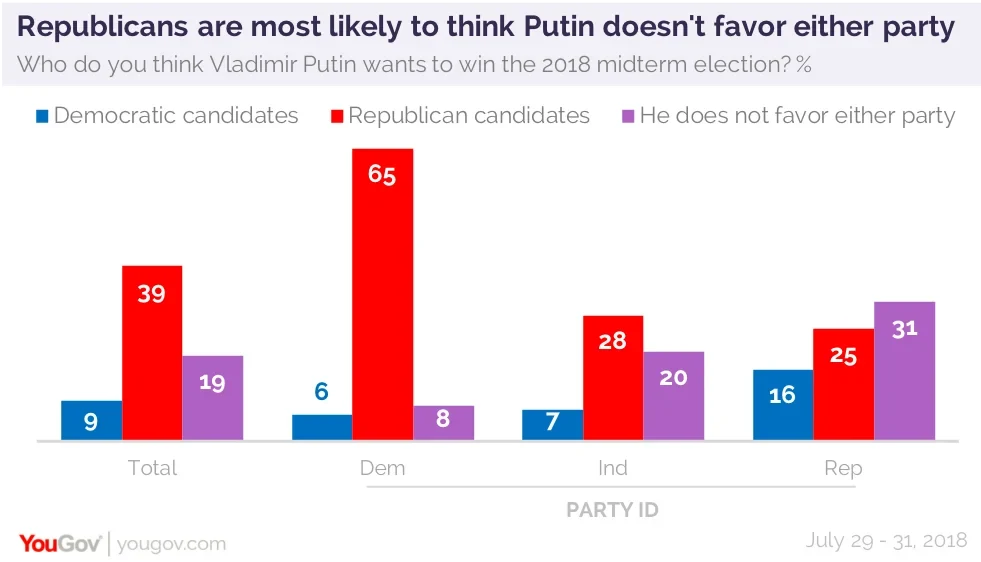 The position of Republicans remains quite different from the one President Trump took last week when he claimed that Russia could interfere to help Democrats to win in 2018.
While Republicans believe Russia favored the President over his 2016 opponent, they are much less concerned about Russian involvement that year: by two to one, those Republicans who believe there was influence say it did not affect the outcome. Republicans opinion is very different from that of the public overall. By four to one, those who saw influence in 2016 believe it did, in fact, affect the outcome.
Republicans also say they are less concerned: just one in four Republicans are even somewhat concerned about Russian influence in 2016; seven in ten are not very concerned.
The first trial resulting from Special Counsel Robert Mueller's investigation into Russian influence in the 2016 election began Tuesday. Paul Manafort, briefly the Trump campaign manager, faces various charges of financial fraud. Those charges do not concern actions taken during the 2016 campaign, but instead focus on tax evasion and attempts to obtain fraudulent loans, and involve the money Manafort earned as a consultant to the pro-Russian Ukrainian government beginning ten years before the election.
Americans generally believe something improper and illegal was taking place during the 2016 election, though that is a very partisan view.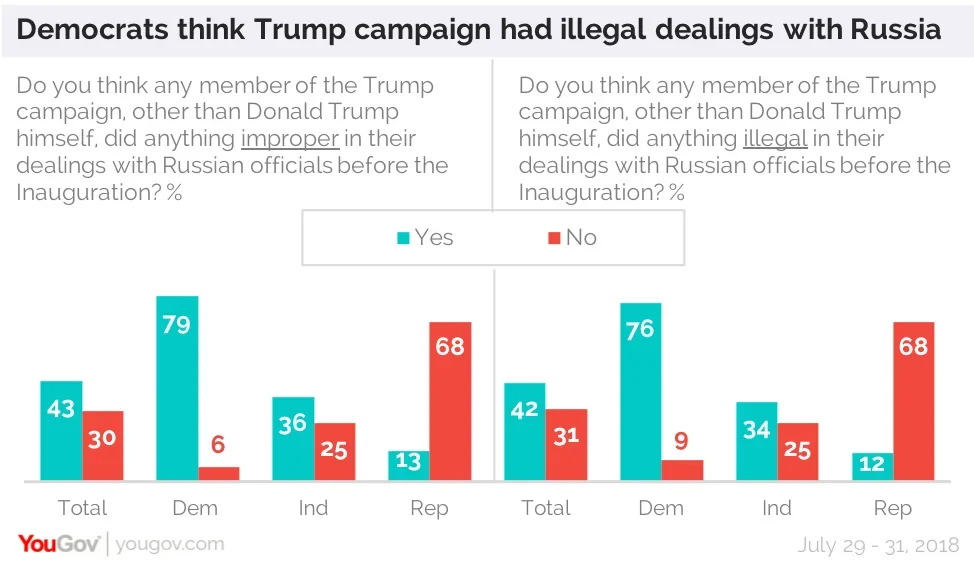 The country is more closely divided on whether the President was involved. 40% say the President did something improper during the campaign, 36% say he did not. By eight to one. Republicans believe he did not.
Mueller continues to face disbelief in his investigation from Republicans. 73% of Republicans say it is simply a "witch hunt," a phrase the President has used frequently, writing it in nearly 90 tweets since the first few months of his administration.
That phrase has registered with about a third overall. More say Mueller is running a legitimate investigation. Independents are divided.