Nearly three in four Democrats approve of how she is handling her job
Since the start of the 116th Congress, House Speaker Nancy Pelosi has gained increased support from Democrats, both within the House of Representatives and among Democrats nationwide. In the latest Economist/YouGov Poll, she enjoys her highest ratings of the last two years, with nearly three in four Democrats approving of how she is handling her job.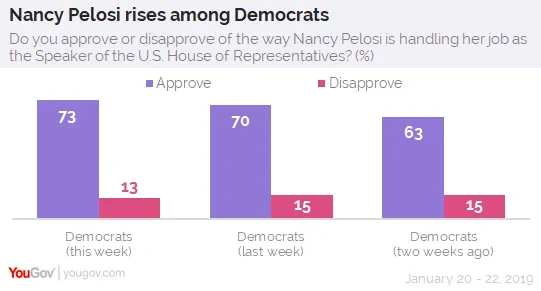 Although Pelosi gets strong support from Democrats, Republicans take the opposite view, and are about as negative toward her performance as Democrats are positive. This week's poll finds just 13% of Republicans approve of Pelosi, while 75% disapprove. Republican opinion of her has changed little over time.
Pelosi still has some detractors among those in her party. During the 2018 campaign, there were calls and promises to not vote for her as Speaker if the Democrats took control of the House. In December, nearly one in four Democrats wanted someone else. Just half of those who supported Bernie Sanders in the 2016 Democratic primaries supported Pelosi for Speaker. Now, more than two-thirds of Sanders voters have a favorable opinion of Pelosi, and 75% approve of the way she is handling her job.
Pelosi's popularity among Democrats is higher than that of her Senate colleague, Minority Leader Chuck Schumer. Democrats like her better than Republicans like their party leaders, Senate Majority Leader Mitch McConnell and House Minority Leader Kevin McCarthy.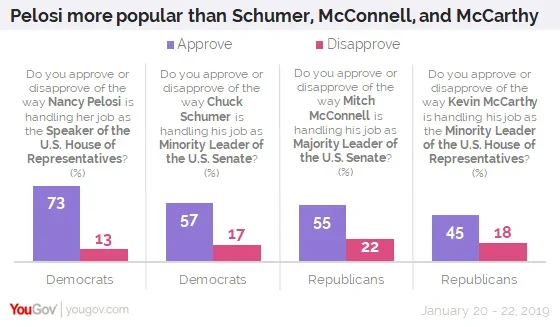 McConnell's popularity with Republicans rose during the confirmation hearings for the newest Supreme Court Justice, Brett Kavanaugh.
Pelosi may very well be the face of the Democrats, at least for now. Even though several Democrats have already made the official announcements of their presidential candidacies, Pelosi is better known and better liked by Democrats. Massachusetts Senator Elizabeth Warren comes close, but many don't know yet about New York Senator Kirsten Gillibrand, former Secretary of Housing and Urban Development Julian Castro, and Hawaii Representative Tulsi Gabbard. [This week's poll was conducted before California Senator Kamala Harris and South Bend Mayor Pete Buttigieg announced.]