90% of Americans consider the conservation and preservation of US National Parks important
As the Grand Canyon celebrates 100 years as a US National Park, a new YouGov Omnibus poll reveals that a majority (56%) of Americans believe there should be even more protected national land in the US, and two in three (67%) Americans say the conservation of US national parks is "very important."
In 1919, Congress designated the Grand Canyon a National Park, preserving it as "a public park for the benefit and enjoyment of the people." The Grand Canyon became America's seventeenth national park, and its creation was signed into law by President Woodrow Wilson on February 26, 1919. On its centenary, the Grand Canyon remains one of America's most popular tourism parks with 30% of surveyed Americans saying they have visited the Arizona park, according to YouGov data.
A century after the Grand Canyon's initial preservation, there are 61 National Parks across America. The most recent designation, Indiana Dunes National Lakeshore, was granted national park status by President Donald Trump on February 22. To date, national park preservation enjoys widespread popularity, with a majority of Americans (56%) across generations wanting to see even more protected land in the US.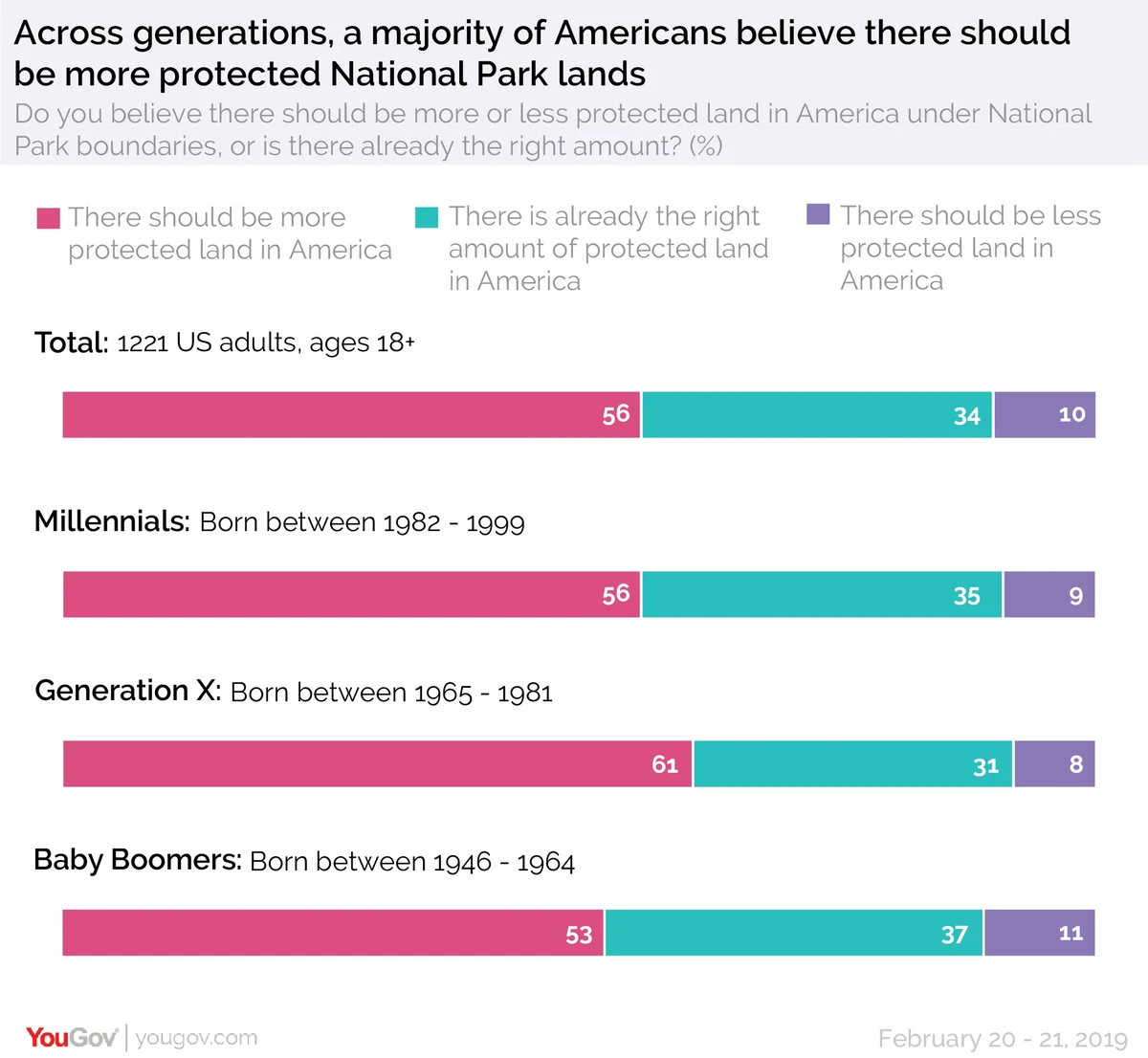 The YouGov poll indicates that 9 in 10 Americans (90%) consider the "conservation and preservation of US National Parks" very or somewhat important. The survey follows a month where National Parks were thrust into the spotlight during the longest-ever US government shutdown, during which visitors continued to visit the national parks but regular maintenance halted. During the 35-day shutdown, vandalism and trash build-up were reported at many of America's public parks.
Baby Boomers (born 1946-1964) lead Millennials and Generation X when it comes to prioritizing US National Park preservation and conservation, with 72% of the generation rating it "very important." Generation X (born 1965 - 1981) follow with 68% and Millennials (born 1982 - 1999) trail with 59%.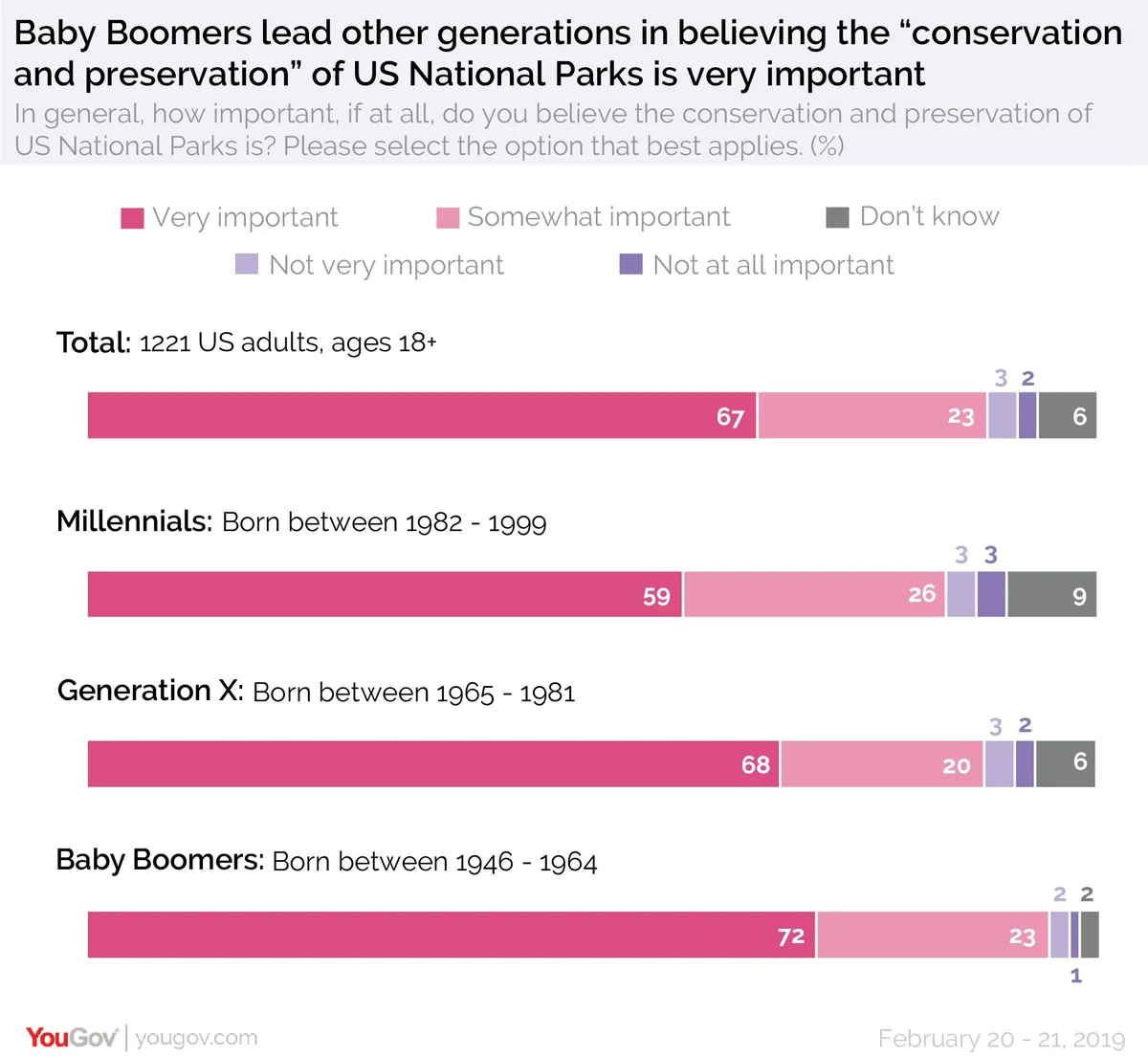 The land surrounding The Grand Canyon National Park remains desirable beyond its conservation value – it is also home to uranium, which is mined as an energy mineral. In 2012, President Barack Obama placed a 20-year ban on building new uranium mines on millions of acres of public lands next to The Grand Canyon National Park, citing contamination concerns. Now, Arizona lawmakers are seeking to permanently ban the practice. According to YouGov data, a majority of Americans (67%) across generations support the uranium mining ban for contamination concerns, while one in ten Americans (10%) oppose the ban.
Controversy recently surrounded The Grand Canyon National Park after
reported that for nearly two decades, visitors and employees were potentially exposed to unsafe levels of radiation in The Grand Canyon Museum Collection. The radiation came from the improper storage of uranium ore, which has since been removed.
YouGov data indicates that the contamination made very little impact on the park's popularity. One in three Americans (37%) say they still intend to visit The Grand Canyon, and the radiation report does not impact their plans. Just 14% of people say they intend to visit the museum but would avoid the Museum Collection building. Only 4% of people surveyed say they no longer intend to visit the park because of the radiation scare.
See the full tables results here.
YouGov Methodology: Total sample size was 1,221 US adults aged 18+ including 364 Millennials (birth year 1982-1999), 347 people from Generation X (birth year 1965-1981), and 399 Baby Boomers (birth year 1946-1964) surveyed. Interviews were conducted online between February 20-21, 2019.
Image: Getty