While most (68%) support negotiations with North Korea, a plurality (33%) still don't expect relations to change
The American people had low expectations for the first summit meeting between President Trump and North Korean leader Kim Jong-un. On the eve of the second summit meeting this week, Americans in the latest Economist/YouGov Poll felt little different: they see a summit meant more for show than one that will result in important outcomes. When it comes to denuclearization, many support the idea but don't necessarily believe it will happen. Nearly three-quarters of Americans doubt North Korea will agree to completely dismantle its nuclear program.



Results in a recent Economist/YouGov Poll match those seen before the first summit meeting. Republicans are somewhat more optimistic than Democrats, though six in ten Republicans, like Democrats, say they don't see North Korean denuclearization as an even somewhat likely possibility.

Republicans, however, are hopeful about the summit itself. By nearly three to one, 64% to 22%, they think this second summit will be an important step forward. For Democrats, it is another matter: 70% of them believe the meeting is only for show. The public agrees overall: 44% say the meeting is mostly for show, while 37% say it is an important step forward.

What Americans on both sides of the political aisle agree on is that it is a good idea to meet and talk, even with a country that the vast majority of the public views as unfriendly at best. Only 7% think of North Korea as friendly to the United States, while three in four think the opposite (with most of those even going as far as to say North Korea is an enemy). But by more than four to one, Americans favor direct negotiations with the "hermit kingdom".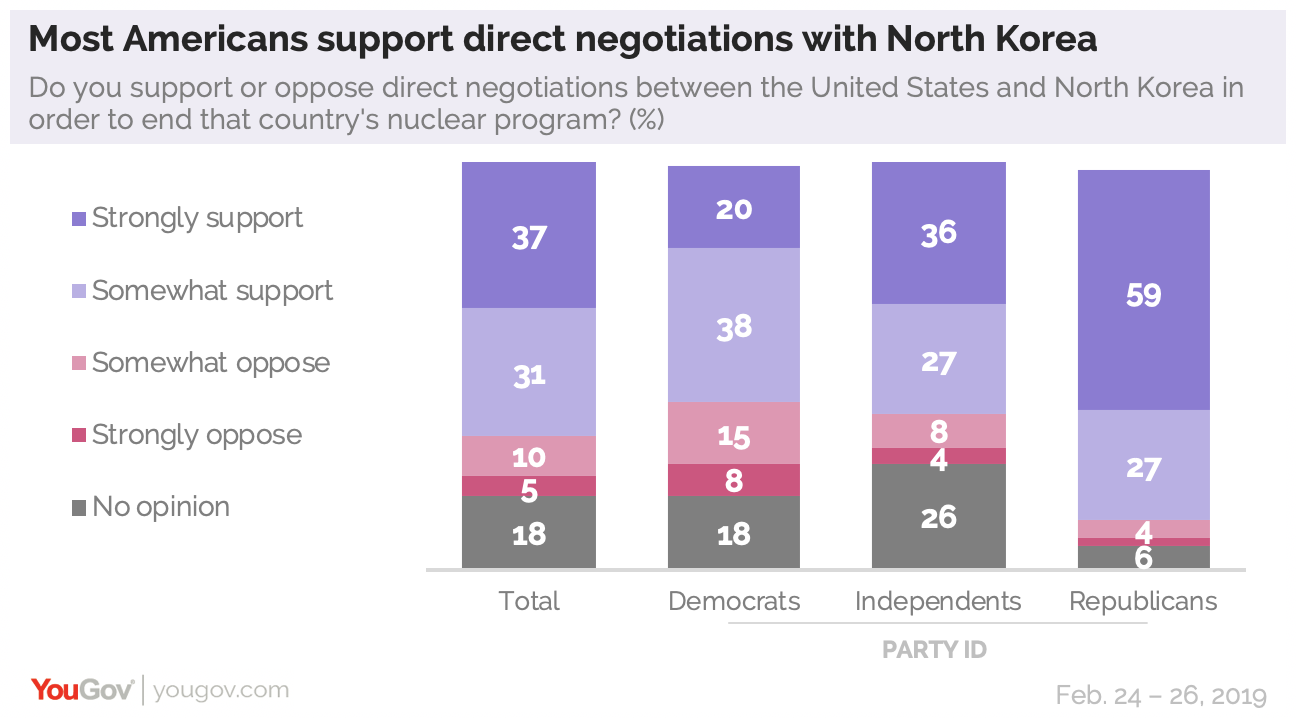 Democrats are much less likely than Republicans to support negotiations with North Korea in principle. Still, most Democrats are in favor of talking.

The President enters these negotiations with North Korea at a time when Americans have a negative view of his management of foreign policy. 40% approve while 48% do not. When it comes to his handling of North Korea, just 37% approve and 45% do not.

The President's overall approval rating is not much different: this week: 40% approve while 51% do not.

President Trump will be dealing with a country that Americans not only view as an antagonist, but also a country they see as a possible threat to the United States. At least two in three believe that North Korea's nuclear program is somewhat of a serious threat to the United States, and 21% call it an "immediate" threat. The President's first summit meeting with Kim Jong-un changed few minds: prior to the first US-North Korea summit, respondents said pretty much the same thing.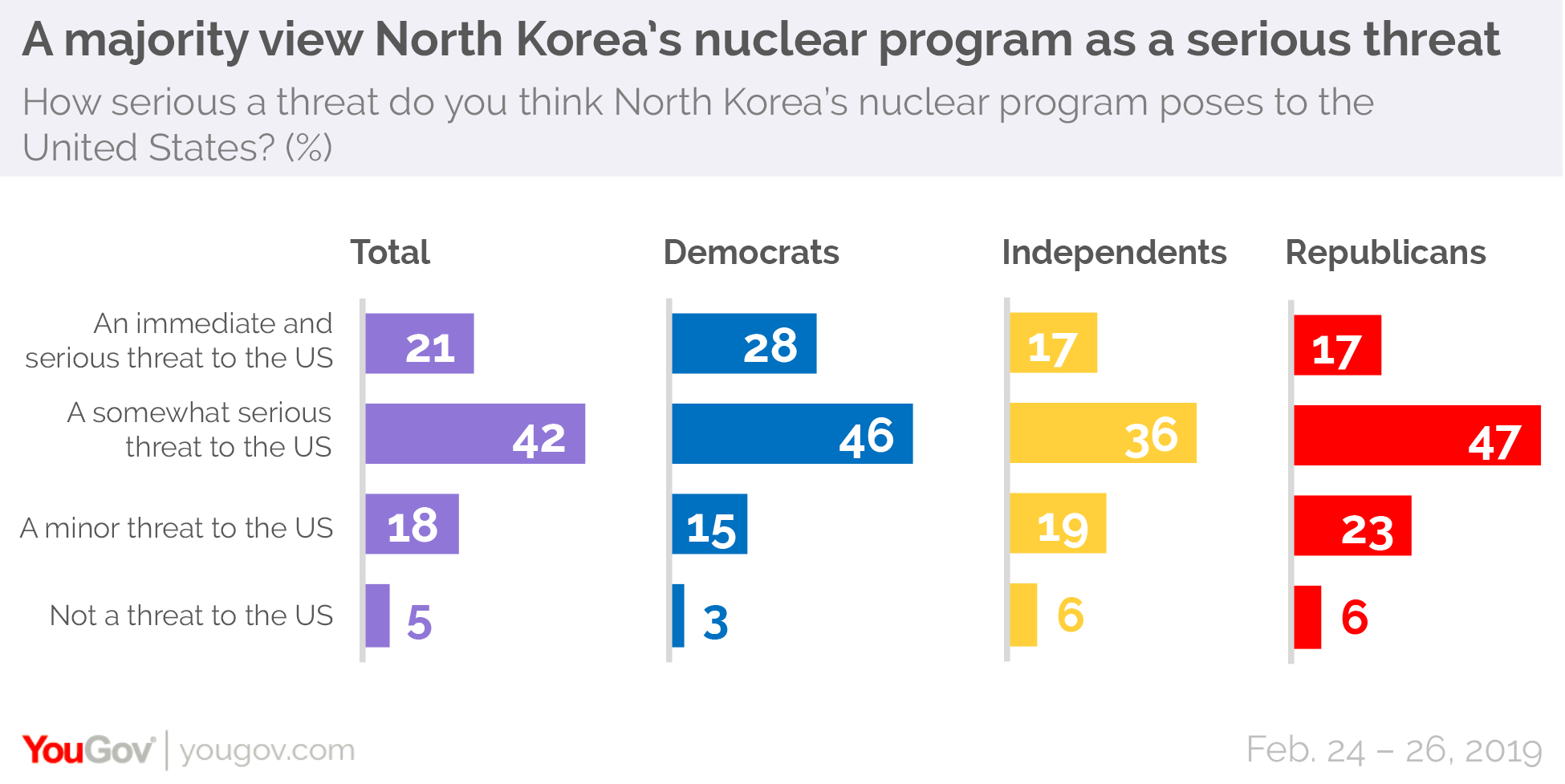 Since last June, Democrats have become a little more negative about North Korea's nuclear threat; Republicans are now a little more hopeful. Still, large majorities in both parties see the North Korean nuclear program as a serious threat to the US.

As for this summit, while Americans don't expect major steps forward, at least they don't think the meeting will make things worse. A plurality sees no change in US-North Korean relations and just 12% think the meeting will make things worse.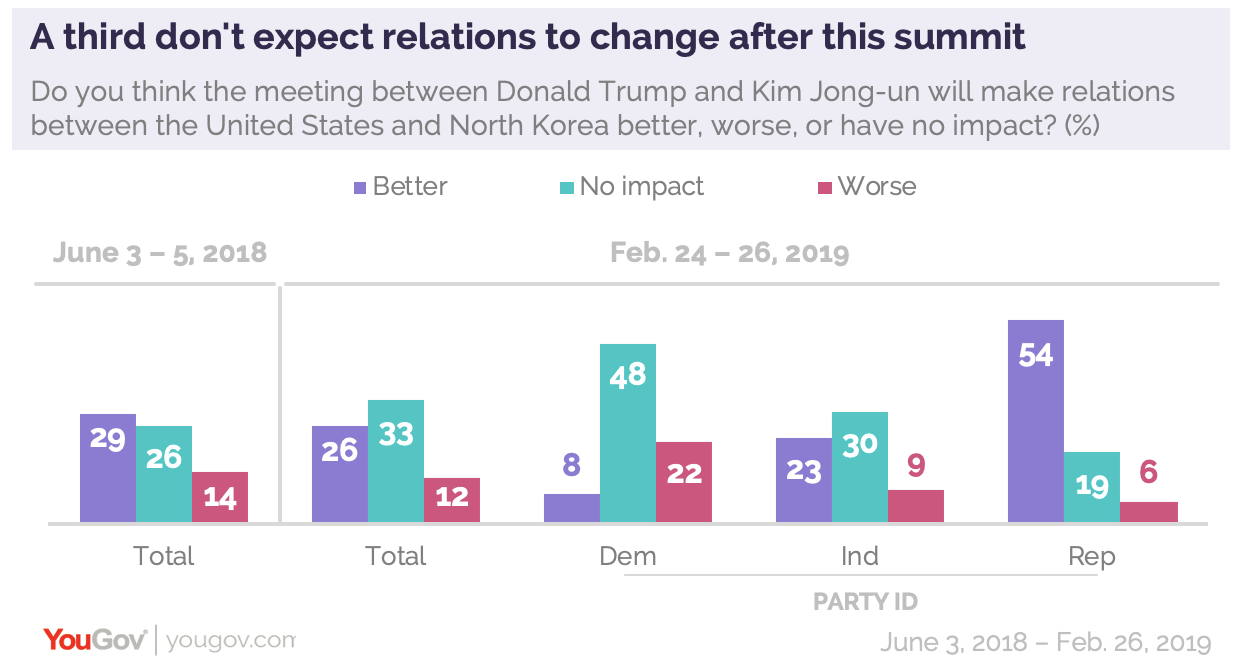 Last June, few Americans also felt that a summit would cause relations to deteriorate. However, there was slightly more optimism for the situation then than there is today.

See the full toplines and tables results here

Photo: Getty