Four in ten (41%) Americans believe that Michael Jackson is guilty of child molestation, while 19% think he is innocent
Ahead of HBO's "Leaving Neverland" documentary which premieres this Sunday, almost half of Americans (48%) say that sexual abuse cases against Michael Jackson should not be reopened, new YouGov research finds. Just under a quarter (23%) believe that the cases should be.
"Leaving Neverland" shares the stories of Wade Robson and James Safechuck who have accused Jackson of child molestation in the late 1980s and early 1990s. The men sued the Jackson estate, but the lawsuits were thrown out because of the statute of limitations, which restricts the number of years for taking legal action. Michael Jackson denied multiple allegations of molestation prior to his death in 2009, and his estate has similarly denied these recent allegations. The Estate of Michael Jackson is suing HBO for $100 million for disparaging his legacy and have called the men liars.
Nonetheless, ahead of the two-part, four-hour documentary, a plurality of Americans (41%) believe Michael Jackson is guilty of child molestation, while one in five (19%) are convinced that Jackson is not guilty. The remaining 40% remain unsure, according to YouGov data.
Robson and Safechuck are appealing their lawsuits against the Jackson estate. The YouGov Omnibus study indicates that older generations are more likely to say the men's cases should not be reopened with more than half of baby boomers (54%) and Generation X (53%) wanting to keep the legal accusations in the past. Millennials (31%, vs. 18% of Gen Xers and 20% of boomers) are the most likely to support the reopening of the cases, though even among millennials 37% oppose this.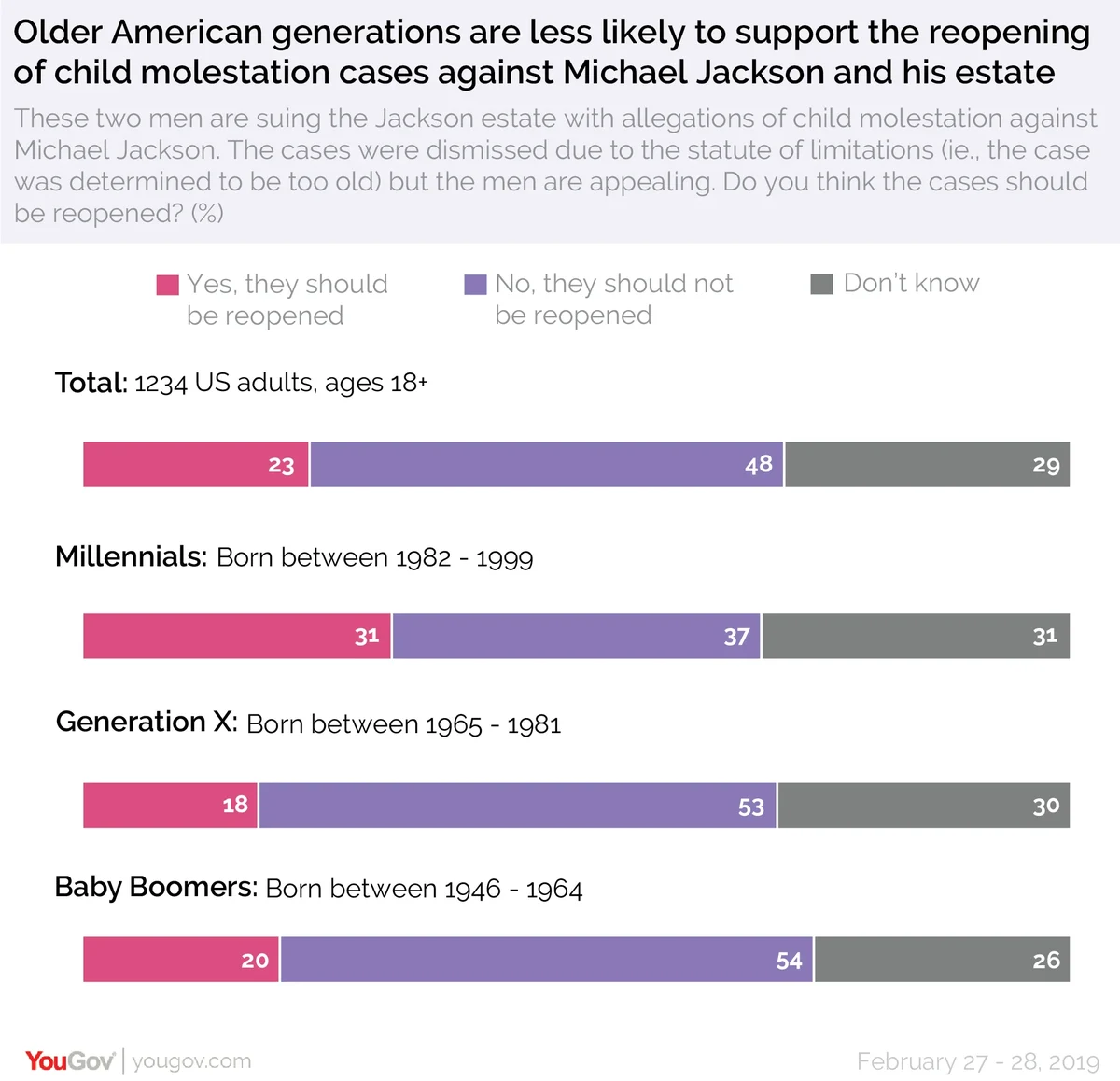 YouGov's research shows that Michael Jackson's popularity has fallen over the past five years. In June 2014, 41% of Americans reported having a somewhat or very favorable opinion of Jackson. In February 2019, only 33% said the same. In 2019, people who indicated awareness of recent news reports surrounding Jackson (36%) were more likely to view him unfavorably than those who did not (29%).
Additionally, fewer people in 2019 than in 2014 believe Jackson will be remembered "more for his music than for his personal troubles," according to YouGov data. In 2014, almost seven in ten (69%) believed Jackson would be remembered more for his music but now this figure has fallen to 49%.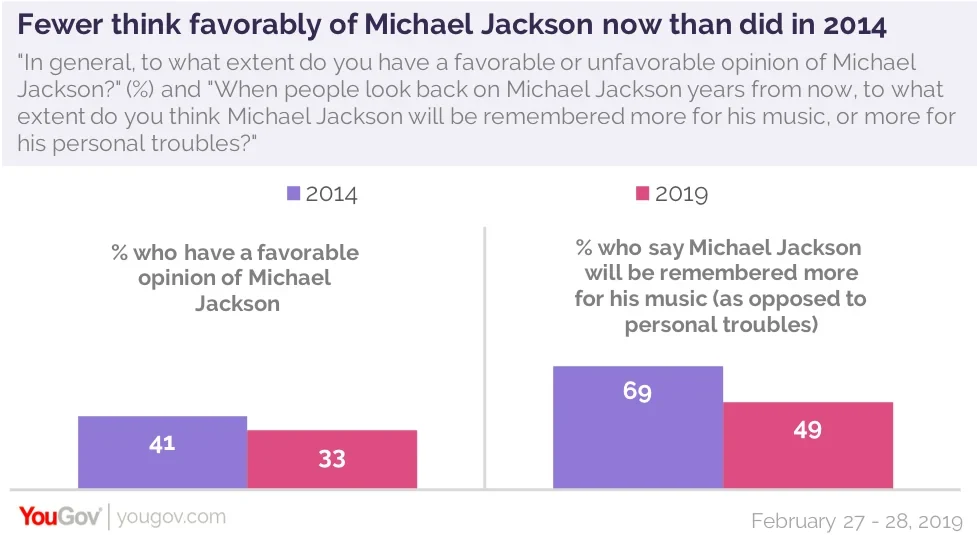 When it comes to Jackson's treatment in the media, over a quarter (26%) of Americans say that the media has been easier on Jackson compared to other celebrities. In 2014, only 15% said the media was easier on Jackson.
As "Leaving Neverland" prepares to air on March 3 and March 4, nearly seven in ten Americans (69%) believe child molestation is a problem in the film and music industry. Only religious institutions were viewed as more problematic, with 76% of Americans believing faith organizations struggle with child molestation.
See the full YouGov results here and learn more about YouGov Omnibus.
YouGov Methodology: Total sample size was 1,234 US adults aged 18+, including 401 Millennials (birth year 1982-1999), 335 people from Generation X (birth year 1965-1981), and 390 Baby Boomers (birth year 1946-1964). Interviews were conducted online between February 27-28, 2019.
Image: Getty