President Donald Trump has posted on Twitter more than 150 times about China
In early May, President Donald Trump used Twitter to spin a trade tiff between the United States and China — that includes hundreds of billions of dollars worth of goods that have been levied with tariffs — as "very congenial." Trump's tweet promised that increased tariffs would "bring in FAR MORE wealth to our Country than even a phenomenal deal of the traditional kind." The Trump administration's tariffs, however, are import taxes paid by American importers, not Chinese exporters.
Americans on both sides of the aisle were less optimistic than usual about the President's Twitter thread regarding China, which is one of more than 150 tweets he's posted about the country.
The thread was not well-received by most Americans, according to data drawn from YouGov's TweetIndex, a daily tracker of tweets from the @realDonaldTrump account. Every day, a nationally representative sample of Americans are asked to rate the President's tweets on a five-point scale from Great (+2) to Terrible (-2), which produces an overall score for how the general population feels about the tweet on a scale from -200 (if everyone thinks it is terrible) to +200 (if everyone thinks it is great).
YouGov has been asking the American public about their views on President Trump's tweets since February 2017. This data shows that the median score for his tweets in this time among the US population as a whole is -18. Analysis of public sentiment around the president's tweets following trade tension with China shows that the five-part thread scored -27, slightly below this long-term median.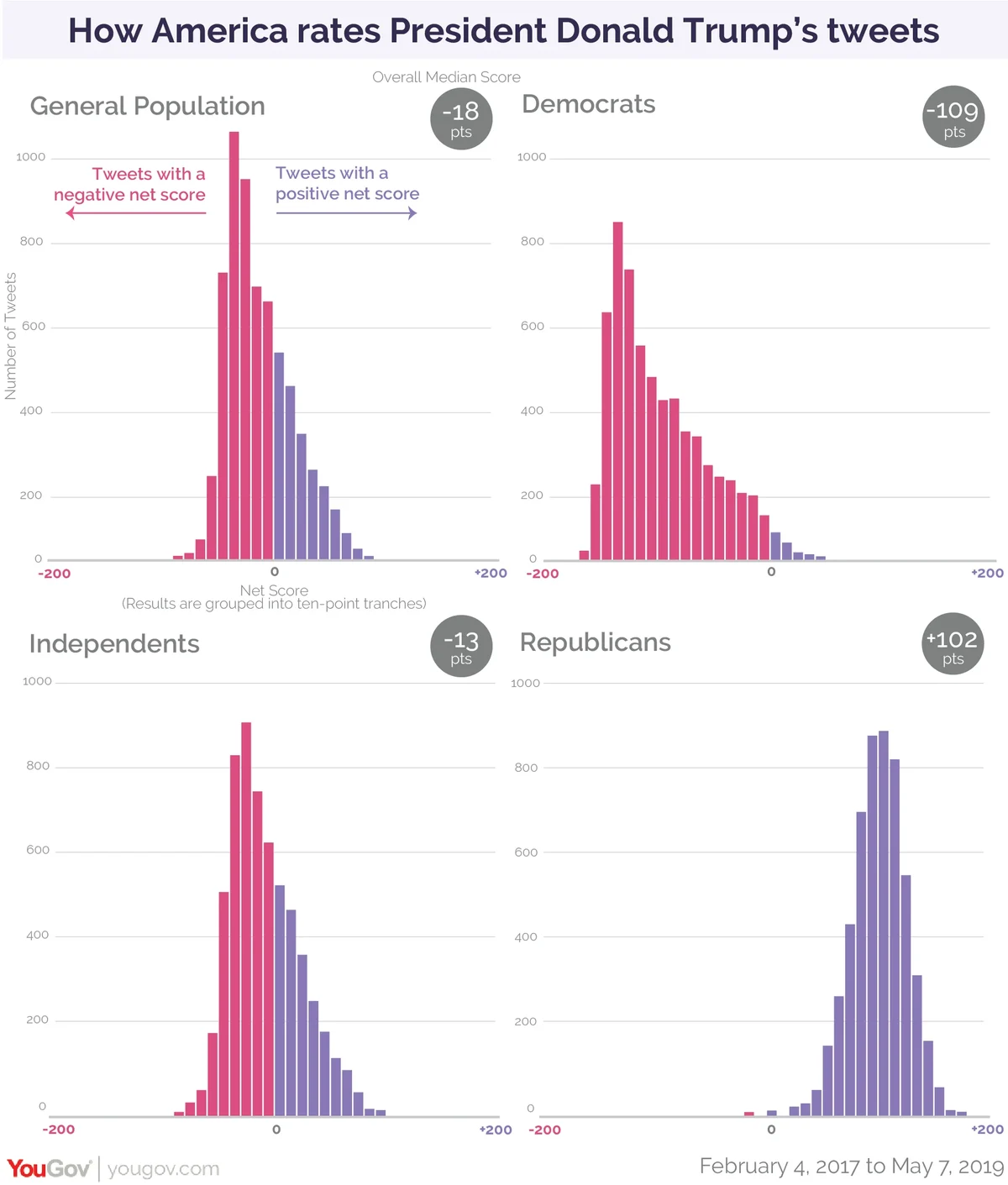 Since posting the five-part Twitter thread, the Trump administration raised the tax on Chinese imports, from 10% to 25%. An escalation of tension between the world's largest economies has kept global markets on edge for weeks.
Trump's thread touting trade negotiations with China did not impress his own political party. Republicans rated this tweet 22 points lower than the Republican median score of +102 for President Trump's other tweets to date, which lands it in the bottom 26% of his tweets.
Republicans don't always give the president's posts about China such a low score. An analysis of tweets from @realDonaldTrump including the word "China" shows that the median score for those messages is +101, which remains close to his overall median score (+102). In short, China is not usually a negative topic for the president to tackle in his Twitter feed.
In contrast, Democrats awarded the tweet a score of -107, which is marginally above their median score of -109. Independents registered a little more disappointment, giving the Twitter thread a score of -27, which is below the median score of -13.
Methodology: YouGov TweetIndex shows how the public rate each tweet from President Donald Trump's official Twitter account. At the end of every day, YouGov shows a representative sample of US adults the tweets sent in the past 24 hours by President Trump. The panelists are asked to rate the posts on a scale Great (+2), Good (+1), OK (0), Bad (-1), and Terrible (-2). Theoretically, scores can range from -200 (if everyone thought the tweet was "Terrible") to +200 (if everyone thought the tweet was "Great").
Related: Americans don't approve of President Donald Trump's Twitter response to the Mueller report
Tweet Index
You can review the history of our ratings of President Trump's tweets back to February 2017 on our YouGov TweetIndex.