It's early in the 2020 presidential race, but horse-race polls are already beginning to shape the debate around which candidate will serve as America's leader. But, what about the aspiring presidential pooches?
The Democratic field includes 23 candidates, and 10 of them have at least one canine companion. YouGov recognizes that all dogs are good dogs, but Americans have preferences on which 2020 pup has the best name. In a survey of more than 1,200 US adults, Massachusetts Senator Elizabeth Warren's golden retriever, Bailey, won 10% of the overall vote. No candidate preferences here, though, YouGov kept dog names separate from their candidate owners for the survey.
Former Vice President Joe Biden's eldest German Shepard, Champ, tied for second place alongside Beto O'Rourke's pooch, Artemis, which carried 8% of the vote. South Bend Mayor Pete Buttigieg's one-eyed puggle, Buddy, pulled 7% of the vote to round out the top four hopeful presidential pups.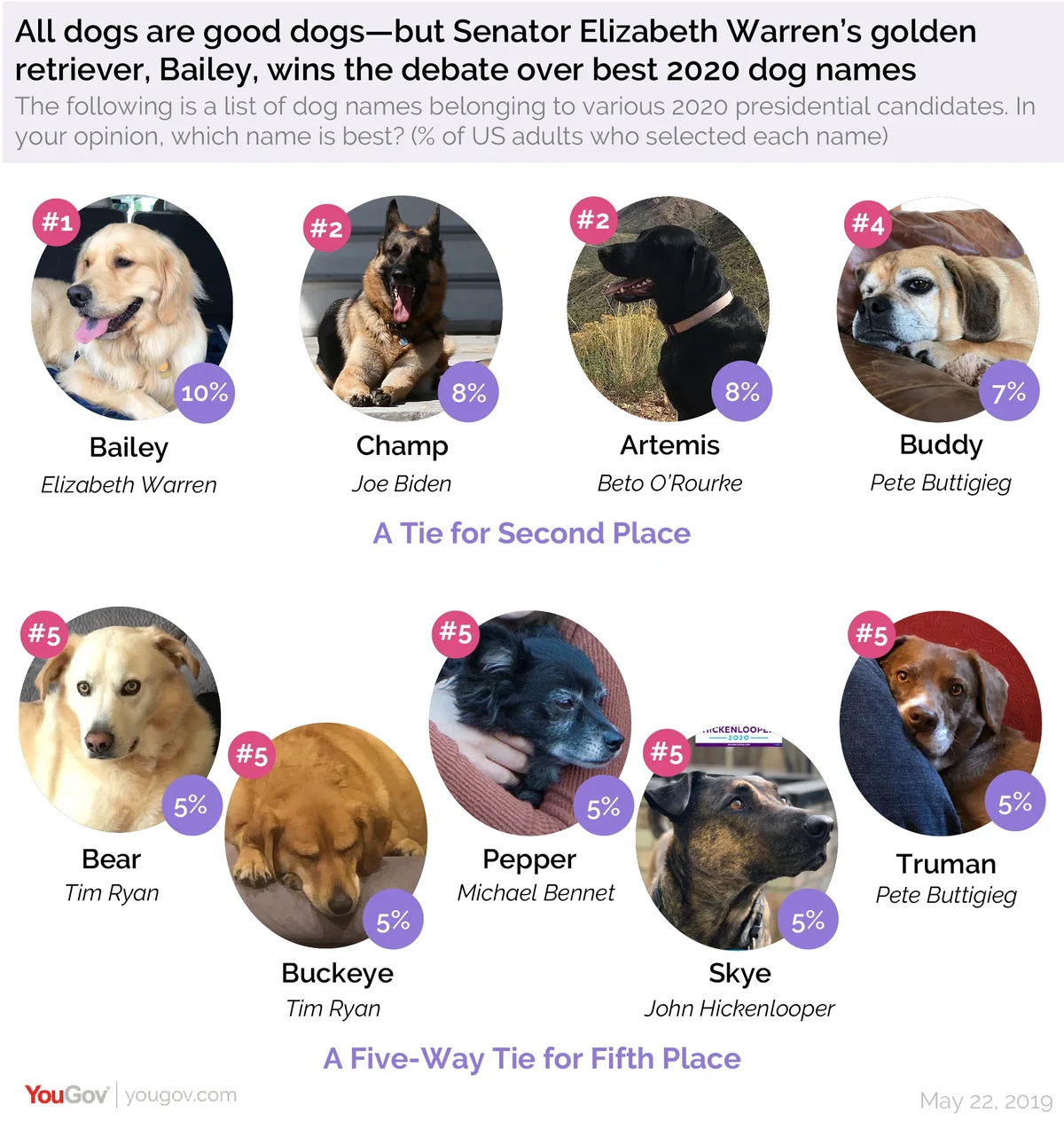 Ohio Representative Tim Ryan's two dogs, Bear and Buckeye, landed in a five-way tie for fifth place with Colorado Senator Michael Bennet's adopted pup, Pepper, Colorado Governor John Hickenlooper's Akita-bulldog-Chow Chow mix, Skye, along with Buttigieg's other dog, Truman.
It's early in the 2020 race, and many dog-name voters remained undecided with 14% marking "don't know" and 17% not liking any of the dog names selected by candidates.
Disagree with the top 2020 dogs? Cast your own vote. Sign up to become a panelist here and learn more about YouGov's daily polls.
Related: Senator Elizabeth Warren is now among Democratic front runners
Image: Getty