This article is part of an ongoing series uncovering what the ideal commander-in-chief looks like to different sections of American society. Check out Part I: What the Ideal President Looks Like to Millennials.
When asked about the characteristics of an ideal president, many Republicans describe the 2016 candidacy of President Donald Trump: they want an "outsider to US politics" with a background in business who is married. That's according to a YouGov RealTime poll that asked Republicans to identify the isolated traits that would make a presidential candidate more or less appealing to them.
Trump was an outsider to politics with business fame when he launched his candidacy. But he enters the 2020 race as a one-term incumbent with two-and-a-half years of experience in Washington. That could be an issue only if the sitting US president is now considered a "Washington insider" by Republicans—but he likely benefits politically from remaining an outsider.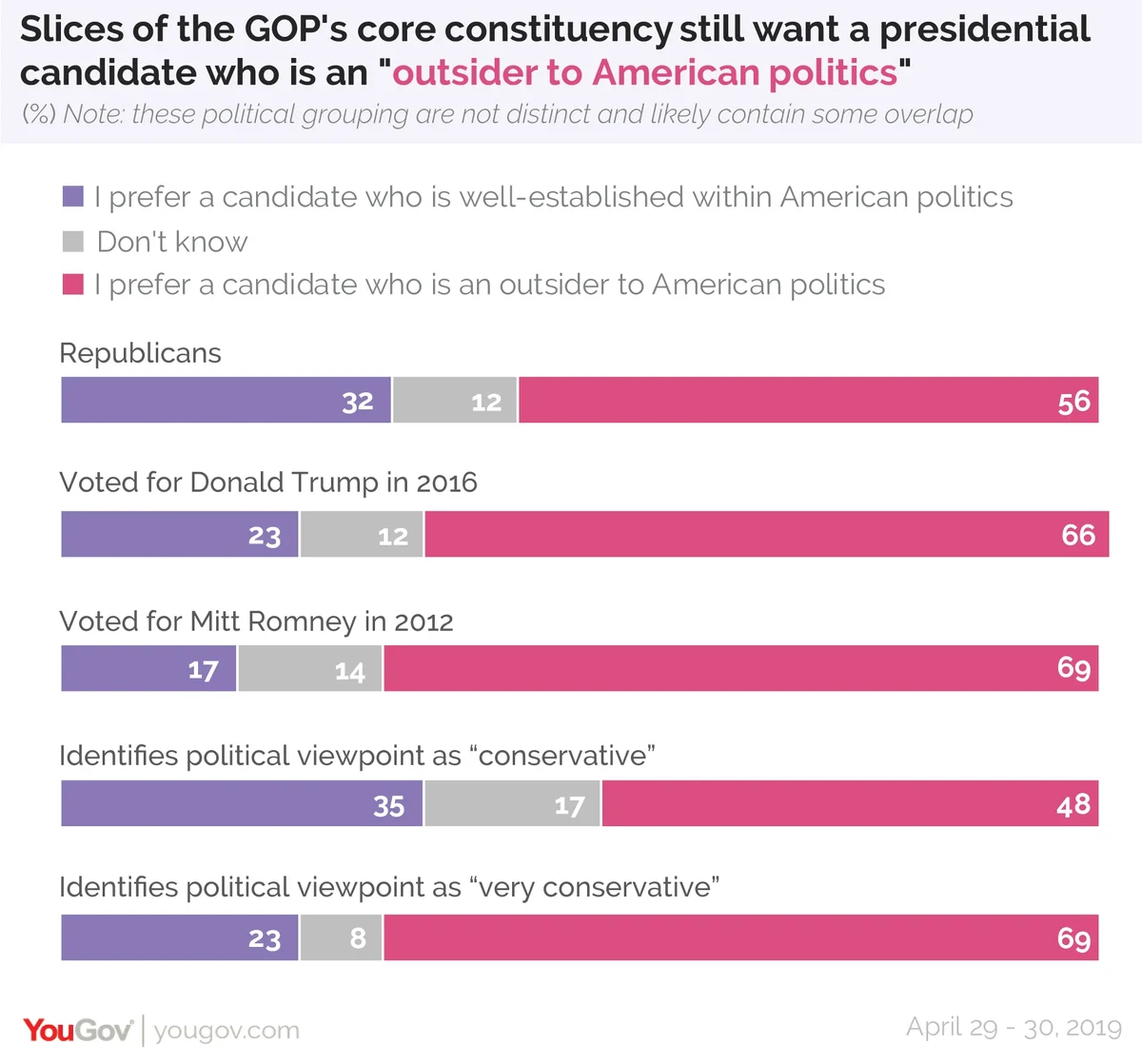 Trump is also tied to at least one trait that conservatives say is less-than-ideal for a presidential candidate: record-breaking old age.
At 73, Trump is the oldest serving president in US history, though he's in similar company for the 2020 race. GOP challenger William Weld is also 73, while Democratic front-runner Joe Biden is 76. Six in 10 (60%) Republicans say their ideal president is under 60 years old, even though candidates in their 70s are leading the polls. Specifically, 40% of Republicans want a president who is between 50-59, 15% want a leader between 41 to 49, and 5% would prefer a president who is even younger.
Age certainly did not deter Republicans from electing Trump in 2016, but just 5% of Republicans say their ideal president would be in his or her 70s. Reagan was 73 when re-elected to a second term; Trump would be 74 if chosen for another four-year term.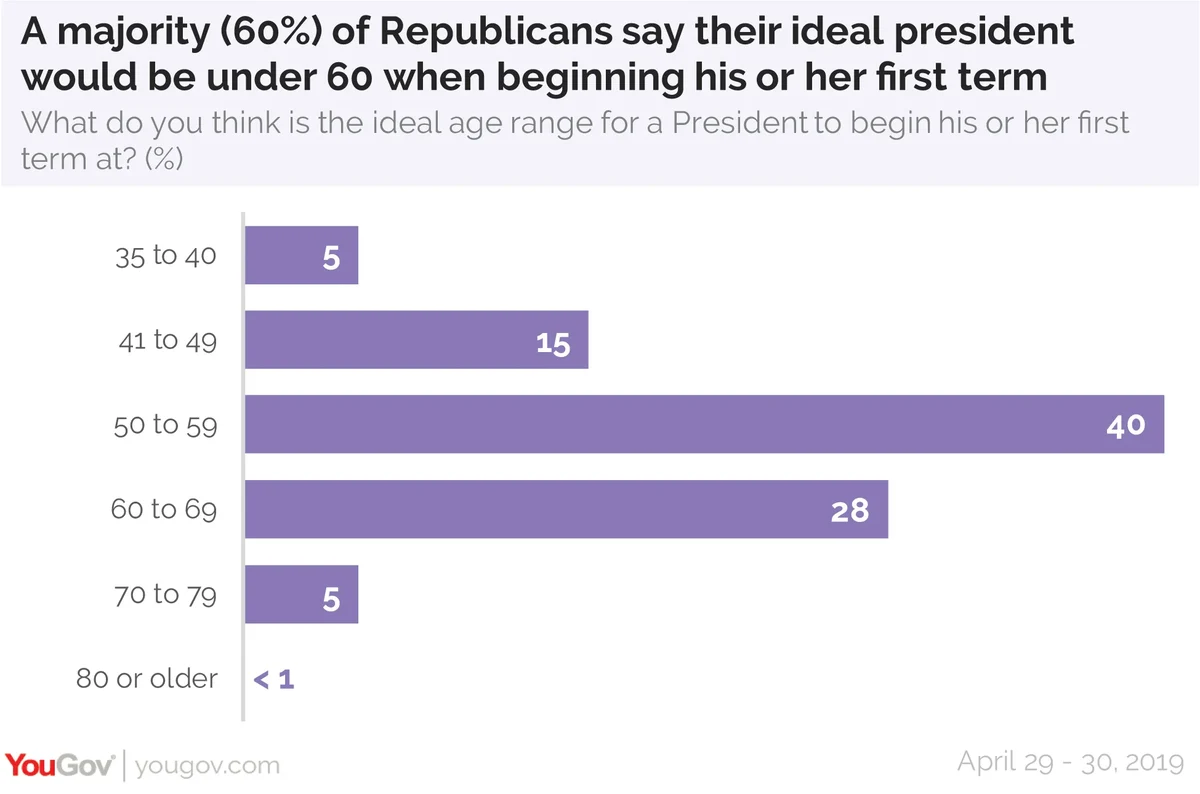 Nearly nine in ten (86%) Republicans say they would vote for a male candidate, but they are 21 percentage points less likely (65%) to say they would vote for a female candidate. Fewer than one in 10 are open to voting for a gender non-binary (6%) or transgender president (5%). Heterosexual candidates are still vastly preferred—82% would consider a "straight" candidate, compared to just 17% who would consider a gay candidate.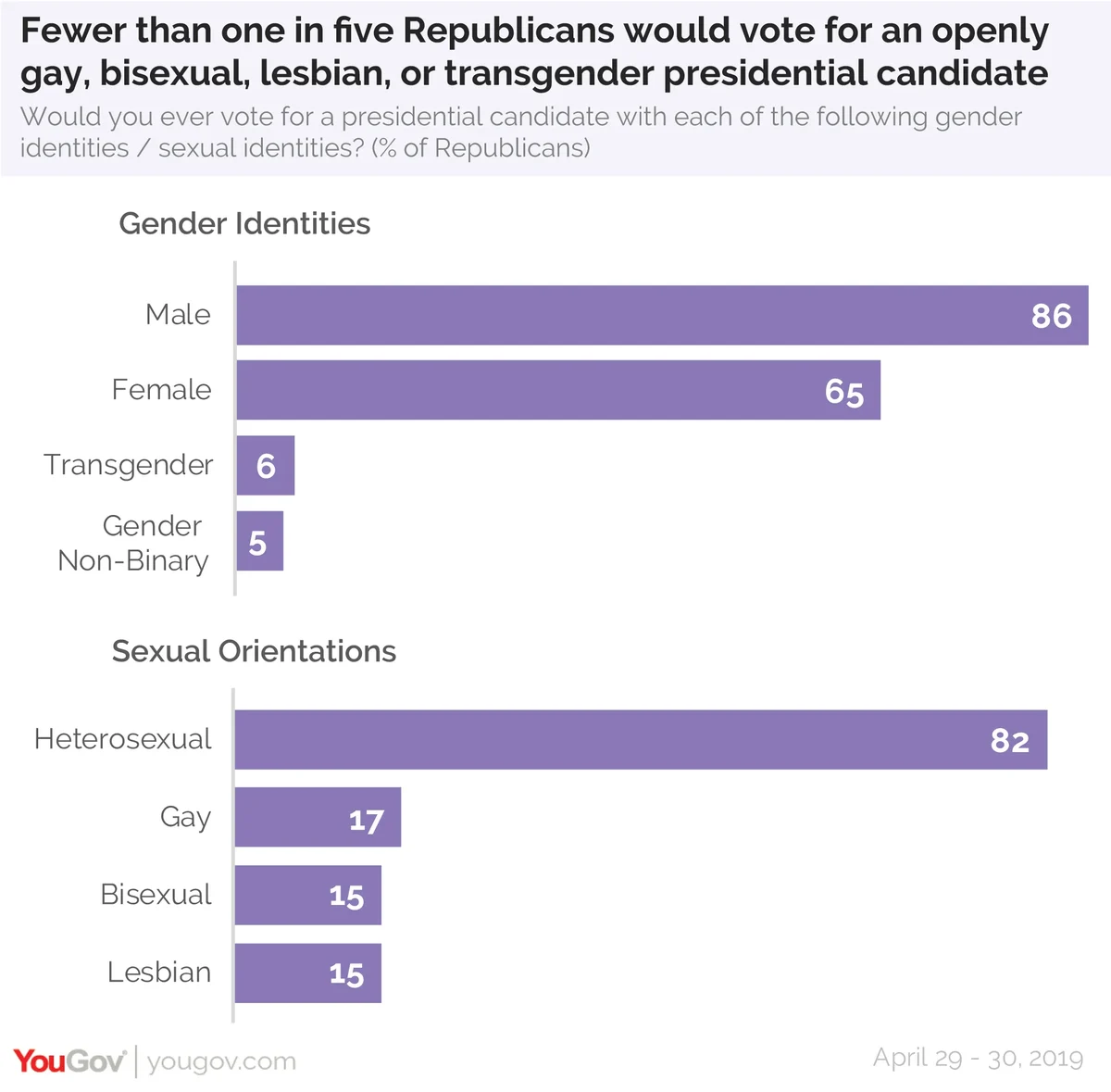 Republicans show the most interest in white (84%), American Indian (56%), or Black (55%) candidates when asked to select the various racial backgrounds that they would consider when voting. Other racial backgrounds, like Hispanic or Latino (48%) were less likely. There are 10% of Republicans who say they "don't know" if they would vote for a hypothetical candidate of any race.
Republicans say that a candidate with business experience (81%), military experience (72%), or law enforcement experience (57%) appeals to them. Half (52%) of Republicans say fame or media experience has "no impact" on how they view a candidate, but a plurality say social activism experience (41%) makes a candidate decidedly less appealing.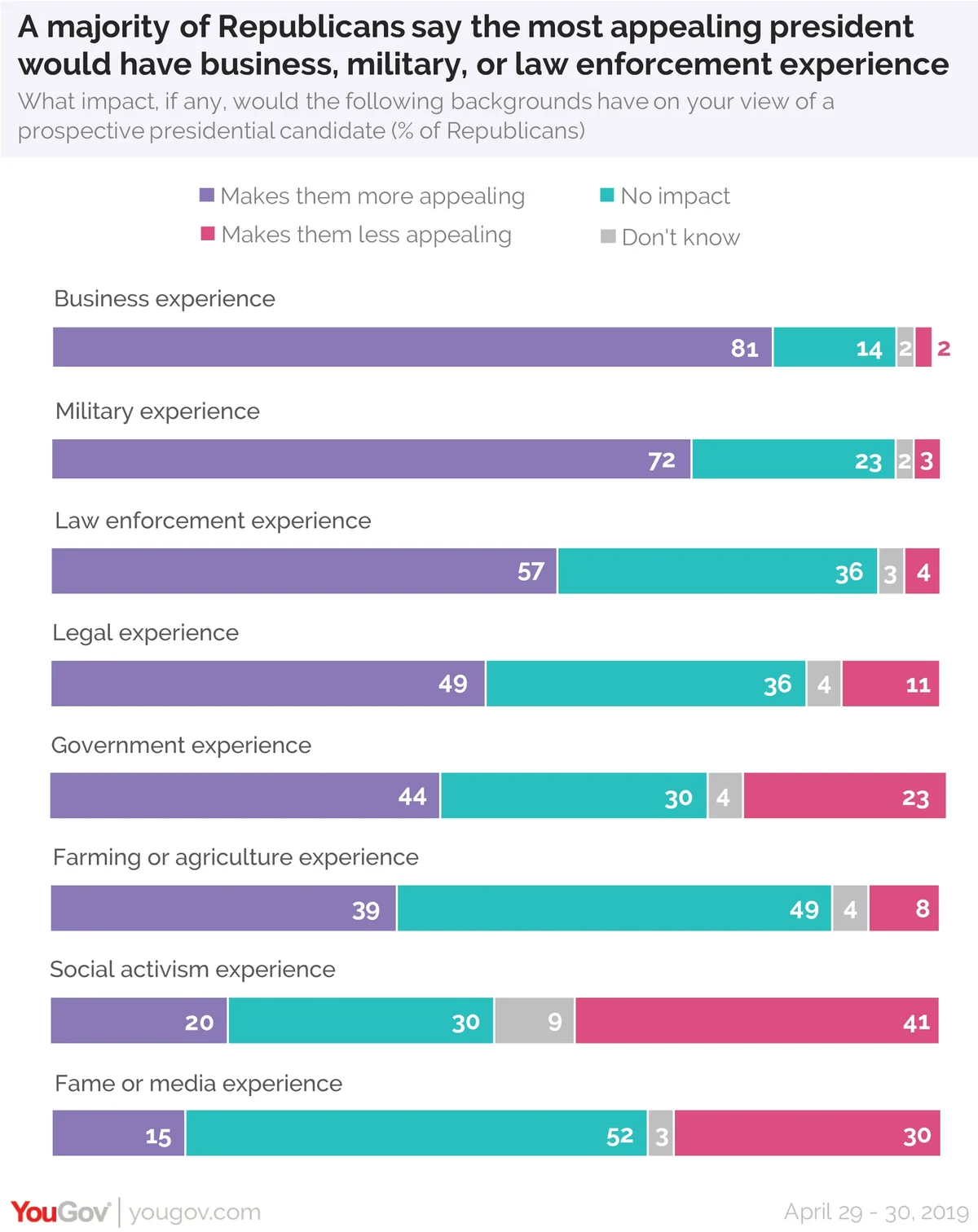 Seven in ten Republicans (71%) admit that a candidate being a practicing Muslim makes them less appealing. An Islamic candidate is viewed by Republicans as less appealing than one with no religion at all: 63% say atheism makes a candidate less appealing.