On June 21, President Donald Trump posted on Twitter that he called off a retaliation strike against Iran with 10 minutes to spare. The American strike was prepared in response to Iran shooting down an unmanned drone that Iranian leaders said violated their territory, while the American government maintains that the drone was flying appropriately over international waters.
The president said on Twitter that he reversed the strike plan because the casualties were "not proportionate" to the unmanned drone's demise. Trump said generals told him the strike would have killed 150 people.
The four-part Twitter thread is just one of 76 tweets that Trump has posted about Iran since the YouGov's TweetIndex, a daily tracker of tweets from the @realDonaldTrump account, began collecting data in February 2017.
Each day, YouGov asks a nationally representative sample of Americans to rate the president's tweets on a five-point scale from Great (+2) to Terrible (-2), which produces an overall score for how the general population feels about the tweet on a scale from -200 (if everyone thinks it is terrible) to +200 (if everyone thinks it is great).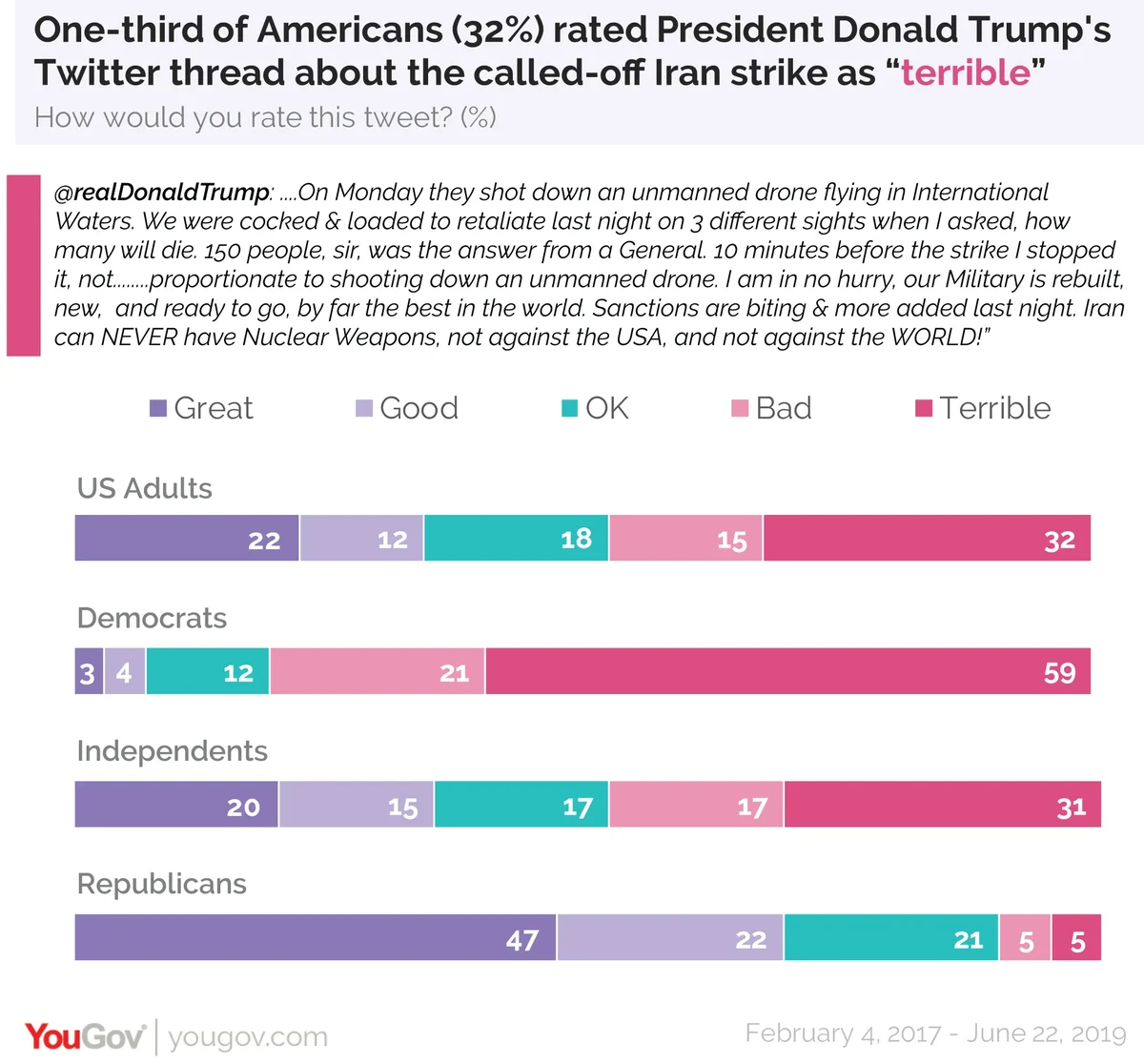 More than two in ten people (22%) consider the tweet "great," while more than three in ten (32%) say it is terrible. Republicans were more likely than Democrats and Independents to rate the Twitter message favorably.
The tweet about the canceled strike earned an overall score of -23, according to the YouGov TweetIndex, which is marginally below the president's median Twitter score of -19.
Among Republicans, the Twitter thread about Iran scored a +101, which is near their median score of +102. Democrats were the most likely group to score this tweet below their median—it earned a -127, which is 18-points below the Democrat median of -109. Independents scored the message about Iran a -24, which lands ten points below their median score of -14.
Methodology: YouGov TweetIndex shows how the public rate each tweet from President Donald Trump's official Twitter account. At the end of every day, YouGov shows a representative sample of US adults the tweets sent in the past 24 hours by President Trump. The panelists are asked to rate the posts on a scale Great (+2), Good (+1), OK (0), Bad (-1), and Terrible (-2). Theoretically, scores can range from -200 (if everyone thought the tweet was "Terrible") to +200 (if everyone thought the tweet was "Great").
Related: Nearly half of Americans believe President Trump is likely to get the US into war
TweetIndex
You can review the history of our ratings of President Trump's tweets back to February 2017 on our YouGov TweetIndex.