Over the weekend, President Donald Trump tweeted that four minority Democratic congresswomen should "go back" to the "totally broken and crime infested places from which they came," despite the fact that three of the women were born in America and the fourth is a naturalized US citizen.
The tweet refers to Congresswomen Alexandria Ocasio-Cortez of New York, Rashida Tlaib of Michigan, Ayanna Pressley of Massachusetts, and Ilhan Omar of Minnesota.
The post was rated in the bottom 17% of all tweets posted during Trump's presidency, according to Americans surveyed by YouGov. The data on how Americans perceive Trump's social media post comes from YouGov's TweetIndex, a daily tracker of tweets from the @realDonaldTrump account, which began collecting data in February 2017.
To measure public sentiment, YouGov asks a nationally representative sample of Americans to rate the president's tweets on a five-point scale from Great (+2) to Terrible (-2), which produces an overall score for how the general population feels about the tweet on a scale from -200 (if everyone thinks it is terrible) to +200 (if everyone thinks it is great).
Democrats believed it was one of the worst tweets Trump has ever posted (placing it in the bottom 2% overall) with more than 7 in 10 Democrats (71%) rating it "Terrible." Among the more than 6,500 Trump's tweets that YouGov has analyzed, only 116 posts have been perceived more negatively among Democrats.
In contrast, nearly half of Republicans (48%) rated the tweet as "Great," though it still ranked in the bottom 34% of all Trump tweets among this group, which means that while the message performed well in comparison to other political parties, it was not among Trump's most-successful social media posts for his own party.
For Independents, the tweet ranked in the bottom 16% of all posts. About one-third (34%) of Independents called the tweet "Terrible" and 2 in 10 (20%) called it "Great." Among all political groups, the tweet was not considered the single worst thing Trump has ever posted, but for some, it approached that line.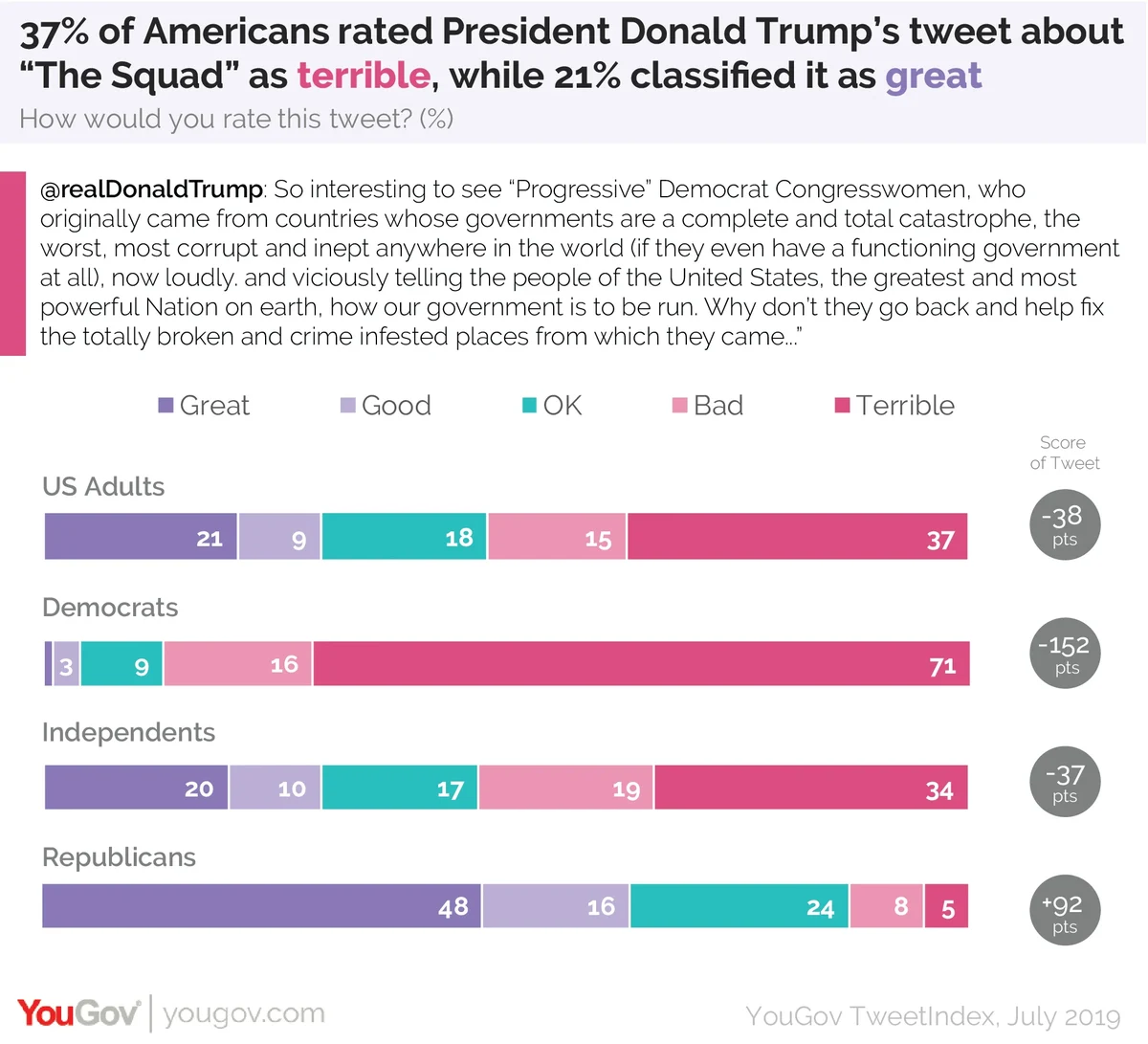 Methodology: YouGov TweetIndex shows how the public rate each tweet from President Donald Trump's official Twitter account. At the end of every day, YouGov shows a representative sample of US adults the tweets sent in the past 24 hours by President Trump. The panelists are asked to rate the posts on a scale Great (+2), Good (+1), OK (0), Bad (-1), and Terrible (-2). Theoretically, scores can range from -200 (if everyone thought the tweet was "Terrible") to +200 (if everyone thought the tweet was "Great").
Related: How Americans feel about Donald Trump insulting Joe Biden on Twitter