Schools in Oregon have made the decision to allow students to take excused absences for mental health days, just as they would take absences for physical ailments.
Earlier this month, a state law went into effect that will grant students five mental health days in a three-month period. A majority of Americans (53%) support this law.
LIVE SURVEY RESULTS
Young Americans between 18 and 24 are the most likely to say they "strongly support" (39%) the new mandate.
Democrats (69%) and independents (42%) are especially likely to support this legislation. Republicans are more conflicted. Nearly four in ten (37%) support it, but a nearly-equal number (36%) are opposed. Nearly one in five (19%) Americans overall oppose this law.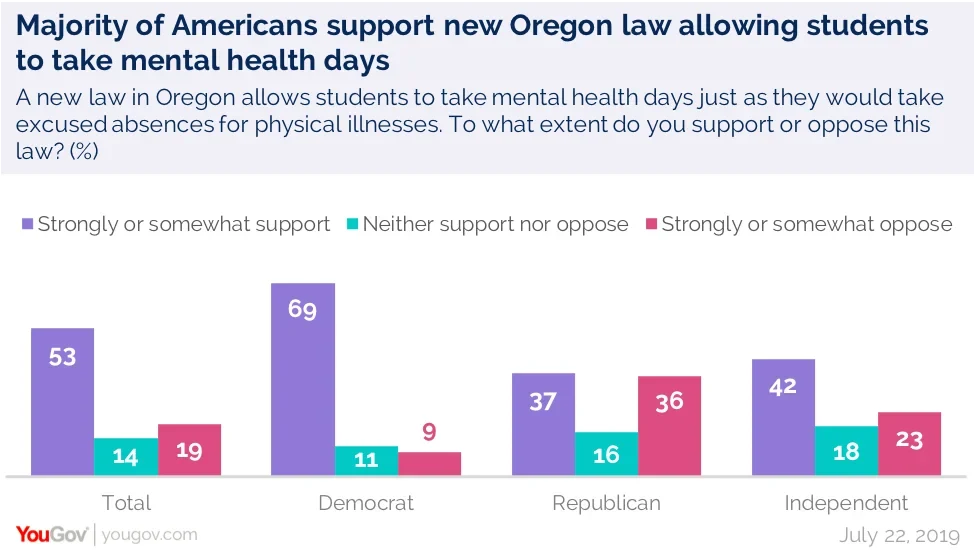 Oregon isn't the only state to prioritize the mental health of their students. Last year, Utah changed the definition of a student's "valid excuse" to miss a day to include an illness "which may be mental or physical." A decade ago, Minnesota passed a bill that said conditions that "require ongoing treatment for a mental health diagnosis" are sufficient for excused absences.
Additional YouGov research finds that a significant majority (87%) of Americans believe that mental health issues should be taken as seriously as physical health issues. Across different generations and political parties, at least eight in 10 people say this is the case.
Speaking to The New York Times about the newly-enacted legislation in Oregon, Debbie Plotnick, vice president of mental health and systems advocacy at Mental Health America said, "We think that this will be a model for other states to follow … We think that this kind of legislation will help people reach out when they need to, not be afraid to do so and not be ashamed."
See full results from our July 22 poll.
Related: A third of Americans know someone who has died by suicide
Do you think students should be allowed to take mental health days? Join our panel and tell us what you think.