The President's approval rating remains in the low 40's. In this week's Economist/YouGov Poll, 42% approve of the way he is handling his job, while 52% disapprove.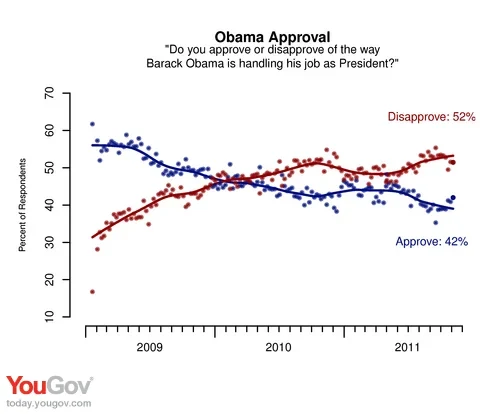 However, the President's ratings in recent weeks are higher than they have been for most of August and September. His approval rating then frequently languished in the 30's.
One problem the President has faced in trying to fix the country's economic problems is that there is a significant level of skepticism that some of his proposals will do what he says. Just 27% think that his proposed jobs bill would create a significant number of new jobs. 40% disagree, and the rest aren't sure.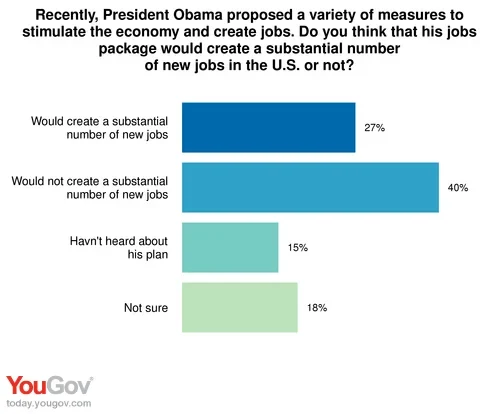 But the answers here, as they are on many questions about the President, are mostly partisan. Democrats are hopeful, Republicans are not. However, there are two specific proposals that get public support.
Nearly half the public supports $60 billion of highway and infrastructure spending, financed by a surtax of 0.7% on million dollar incomes. 12% would favor the highway spending, but without the millionaire's surtax. Just 16% oppose both parts of this proposal. Republicans are divided: while half of them oppose the surtax, 30% favor it. And more than half would support infrastructure spending. 
Congress recently considered a measure to spend $60 billion on transportation infrastructure improvements. The highway, transit, rail, and aviation projects would be paid for by a 0.7% tax surcharge on annual incomes over $1 million. Do you favor or oppose this measure?
Party

Favor transportation spending

47%

63%

30%

52%

Favor transportation spending,

12%

8%

23%

10%

Oppose transportation spending

16%

8%

27%

20%

Not sure

25%

21%

20%

17%
There is even more support for another Obama proposal — this one is for tax breaks to companies that hire veterans, with money coming from other Veterans' Administration programs. 60% favor that, and only 11% oppose it. The support for this proposal is far more bi-partisan.