This article is part of an ongoing series uncovering what the ideal commander-in-chief looks like to different sections of American society. Check out Part I: What the Ideal President Looks Like to Millennials, Part II: What the Ideal President Looks Like to Republicans, and Part III: What the ideal president looks like to Independent voters
Following President Barack Obama's two-term tenure in the White House (and President Donald Trump's first term), a recent poll from YouGov shows that 87 percent of self-identified Democrats say they would vote for a presidential candidate who is black and 84% would vote for a candidate who is white.
In a poll that surveyed all Americans, not just registered voters, Democrats say they are looking for a well-established politician (77%) to lead their party to victory, regardless of gender or race. In fact, Democrats are the only political party that where respondents say they would vote for a male (83%) or female (84%) candidate at equal rates, as well as a black (87%) or white (84%) candidate.
For comparison, three-quarters of Independents (75%) say they would consider a Black candidate and 82% say they'd consider a white candidate. More than half of Republicans (55%) would consider a Black candidate and 84% would consider a white candidate. Democrats were also more likely to say they would vote for a Hispanic or Latino candidate (74%) than Independents (69%) and Republicans (48%).
But, Democrats are increasingly worried about electability in early 2020 polls on who will challenge Republican President Donald Trump, and the ideal candidate they describe looks somewhat different from the man leading in the polls: former Vice President Joe Biden.
A majority of Democrats say that a candidate with government experience (75%), legal experience (66%), social activism experience (65%), or military experience (53%) appeals to them. There is one trait that Democrats say makes a candidate less appealing (41%) or has no impact (42%): fame and media experience.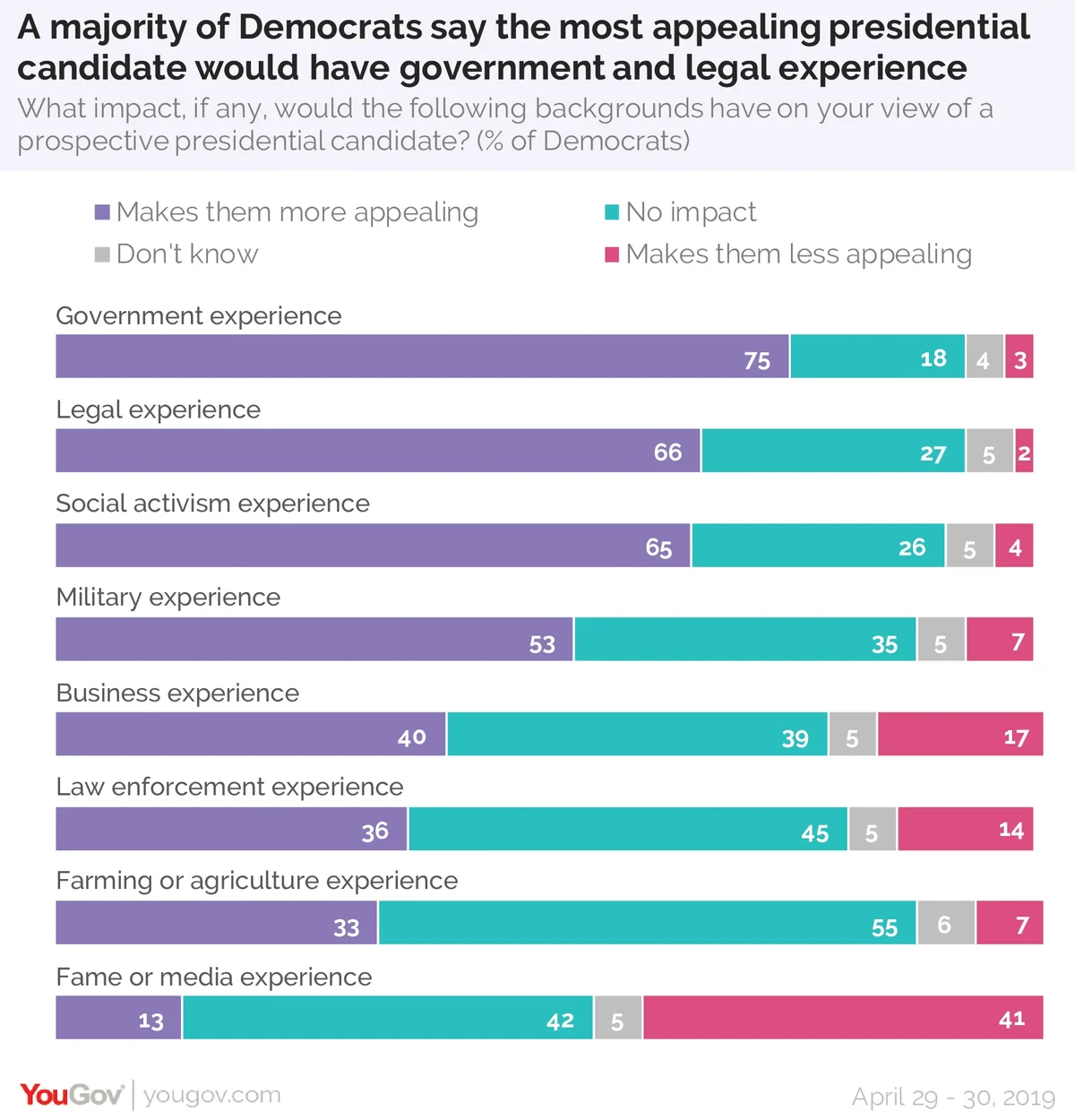 Democrats and liberals who are considering their ideal president are clear about one ideal trait: relative youth. More than one-third (37%) want a president in his or her 50s, while nearly three in ten (29%) are hoping for someone in their 40s. Just 3% of Democrats describe a candidate in his or her 70s as "ideal."
As it stands, Trump is the oldest serving president in US history at 73. Several Democratic front-runners are also in their 70s: Biden is 76, Bernie Sanders is 77, and Senator Elizabeth Warren is 70. In contrast, Obama was 47 when he won the White House in 2008.
If America elected a president under 40, he or she would make history as the youngest commander-in-chief in America. The only two Democratic presidential candidates who currently meet this age threshold are South Bend Mayor Pete Buttigieg and Hawaii Representative Tulsi Gabbard.