If you were to say most Americans like President Donald Trump's Twitter attacks on national media organizations, that would be fake news.
Most Americans do not approve of the president's rhetoric, particularly when his tweets include the phrase "fake news." Trump has posted more than 400 tweets with the words "fake news" since YouGov began tracking public sentiment about his daily Twitter posts in February 2017.
Those tweets have primarily earned a negative rating from Democrats and Independents, according to data drawn from YouGov's TweetIndex, a daily tracker of tweets from the @realDonaldTrump account. Every day, YouGov asks a nationally representative sample of Americans to rate the president's tweets on a five-point scale from Great (+2) to Terrible (-2), which produces an overall score for how the general population feels about the tweet on a scale from -200 (if everyone thinks it is terrible) to +200 (if everyone thinks it is great).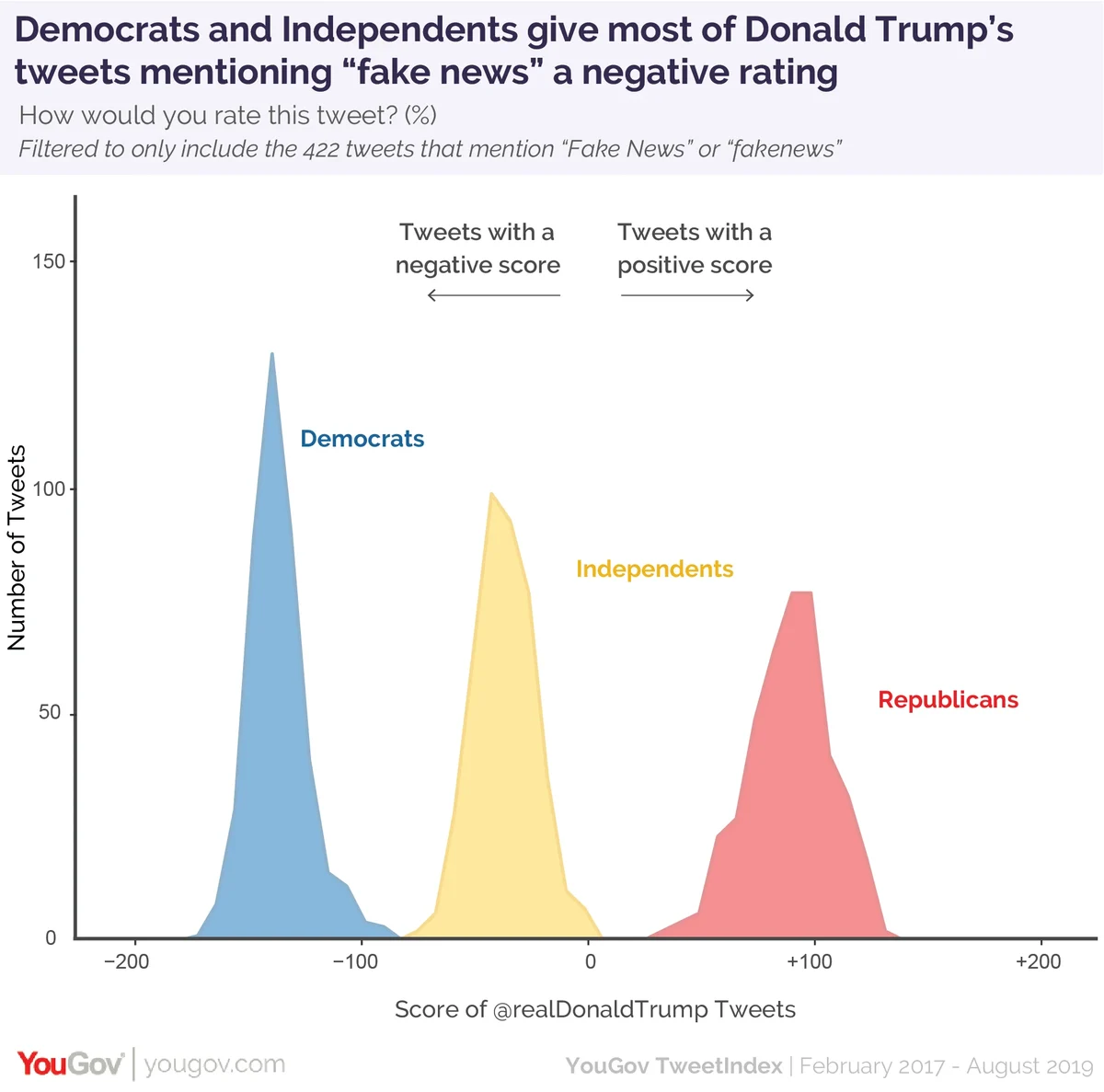 Since the YouGov TweetIndex began collecting data, the median score for Trump's tweets among the US population as a whole is -19. Analysis of public sentiment around all of the president's tweets invoking the words "fake news" shows an average score of -37, slightly below the general population's median score.
Democrats, in particular, express a low opinion of Trump's "fake news" tweets. The median Democrat score for Trump tweets is -111, but the median score for tweets including "fake news" is -134. That 23-point gap is slightly more significant than the 21-point gap seen among Independents and the 15-point gap among Republicans.
The president often uses Twitter to lash out against reported articles showing the behind-the-scenes drama of his Administration or to praise his media supporters. He most-frequently mentions Fox News on Twitter: there are more than 350 mentions of the organization (excluding Retweeted segments) on his Twitter account out of approximately 7,000 tweets.
By comparison, Trump has mentioned The New York Times more than 180 times, CNN on more than 100 occasions, and MSNBC just 24 times. A frequent target of Trump's media fire is The New York Times. The median score of those tweets is -33, which is similar to the overall American disapproval associated with the term "fake news."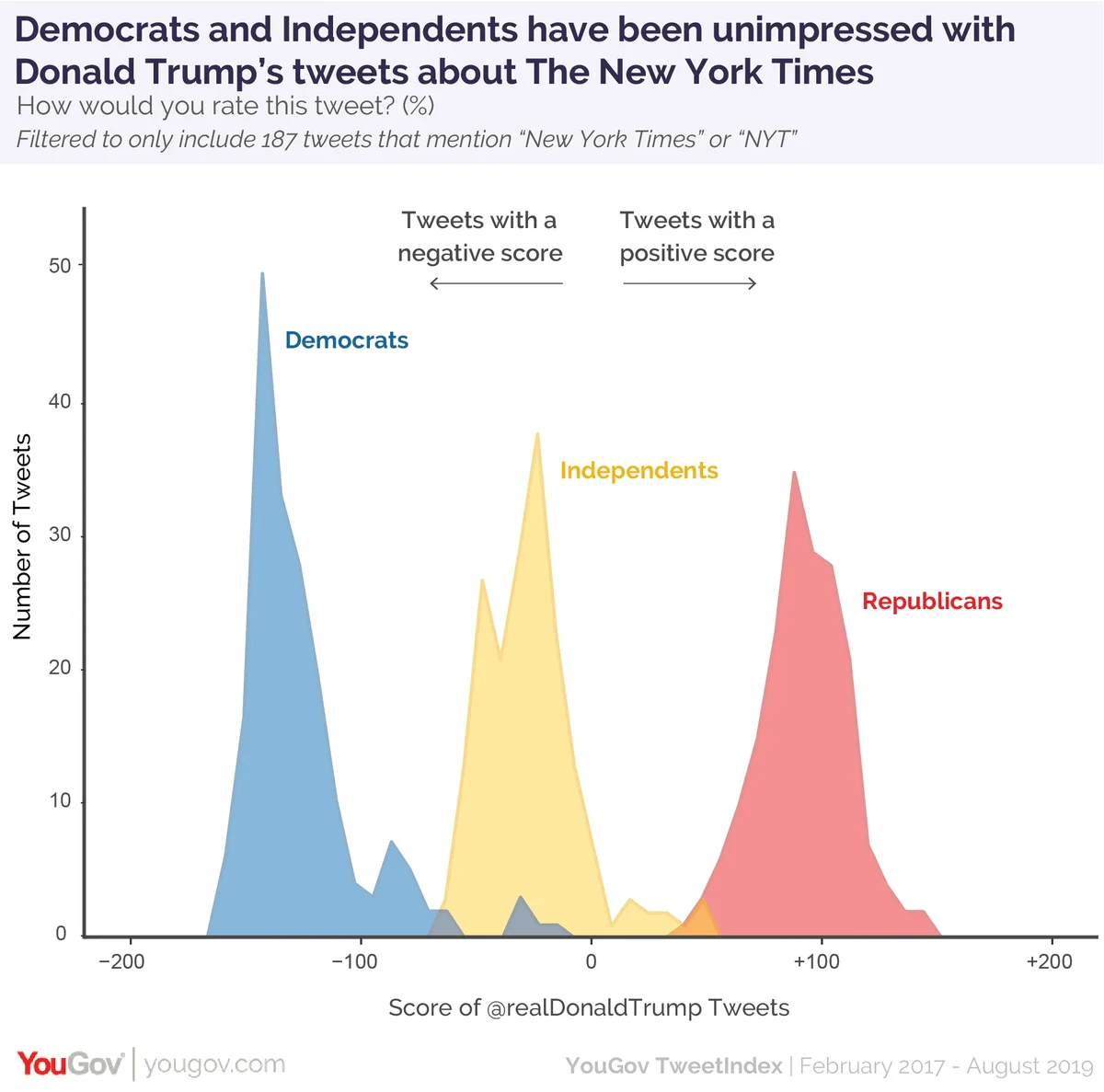 Republicans tend to view the president's media attacks in a favorable light, unlike most Americans. That group's lowest-rated media-related tweets, however, include tweets in which the president insisted that he does not watch 4-8 hours of television a day (+40), criticized Fox News for moderating a conversation with Bernie Sanders in April (+45), and his reminder that the candidate he endorsed for the Alabama Senate primary, Luther Strange, "went up MANY points" before losing (+31).
Methodology: YouGov TweetIndex shows how the public rate each tweet from President Donald Trump's official Twitter account. At the end of every day, YouGov shows a representative sample of US adults the tweets sent in the past 24 hours by President Trump. The panelists are asked to rate the posts on a scale Great (+2), Good (+1), OK (0), Bad (-1), and Terrible (-2). Theoretically, scores can range from -200 (if everyone thought the tweet was "Terrible") to +200 (if everyone thought the tweet was "Great").
Related: Americans are wary of President Donald Trump's Twitter posts amid China trade conflict