Shortly after a mass shooter who espoused white supremacist beliefs shot and killed 22 people in El Paso, Texas Fox News host Tucker Carlson said that white supremacy is not a problem in the United States.
"It's actually not a real problem in America," Carlson said. "This is a hoax, just like the Russia hoax. It's a conspiracy theory used to divide the country and keep a hold on power."
Most Americans disagree: A recent YouGov poll found that 49 percent view white supremacy as a very serious problem in the United States. Another 19 percent say it is a somewhat serious problem.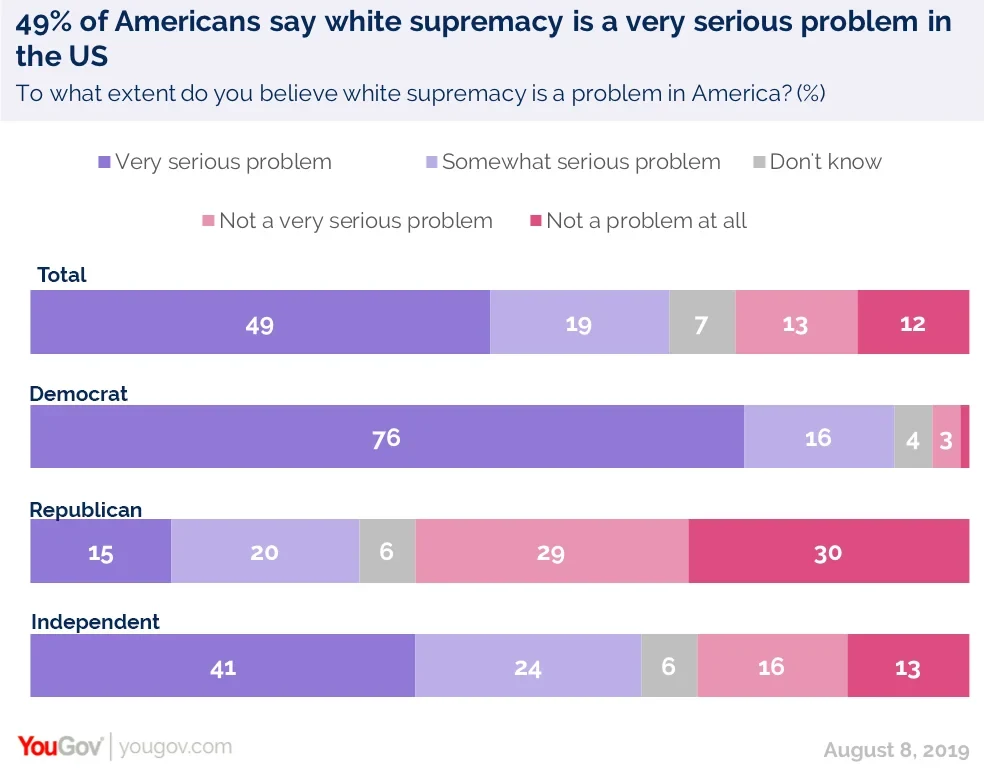 Democrats (76%) are the most likely to identify white supremacy as a very serious problem, though a plurality of independents (41%) say the same. Roughly one in seven (15%) Republicans see it as a very serious problem.
Republicans are twice as likely to say it's not a problem at all (30%) as they are to say it's a serious problem. Only 1% of Democrats and 13% of independents say that it's not a problem at all.
Women (57%) are 15 points more likely than men (42%) to believe that white supremacy is a very serious problem. Men (16%) are twice as likely as women (8%) to believe it's not a problem at all.
Carlson isn't the only figure to remark on the topic of white supremacy in recent weeks. President Donald Trump denounced it when speaking about the recent mass shootings in El Paso and in Dayton, Ohio. "In one voice, our nation must condemn racism, bigotry, and white supremacy," he said.

Rep. Steve King came under fire earlier this year for his statements about white supremacy. "White nationalist, white supremacist, Western civilization — how did that language become offensive?" he said in an interview with The New York Times.
How serious of a problem do you believe white supremacy is in America today? Join our panel to share your opinions.
Image: Getty