A majority of Americans (58%) say that a white person wearing blackface makeup is unacceptable, according to an Economist/YouGov poll from February 2019.
YouGov is in the process of asking Canadians their feelings on the subject after Canadian Prime Minister Justin Trudeau apologized on Wednesday for wearing brownface makeup to an Arabian Nights party when he was a 29-year-old teacher at West Point Grey Academy in 2001.
In his apology, Trudeau said, "I shouldn't have done it. I should have known better, but I didn't, and I'm really sorry." The Canadian leader, who is up for reelection on October 21, subsequently apologized for wearing blackface makeup in high school to sing a Jamaican folk song. YouGov has surveyed people's opinions about blackface but has not asked about brownface specifically.
Do you think wearing blackface or brownface as a costume is appropriate? Sign up to be a part of our panel in Canada or the United States and give your opinion.
Last time YouGov asked in the United States, a majority of white Americans (57%) said it is "unacceptable" to wear blackface, while nearly three-fourths of Black Americans (73%) say the same. Republicans are more likely than those identifying as Democrats or Independents to say that a white person using blackface makeup is acceptable.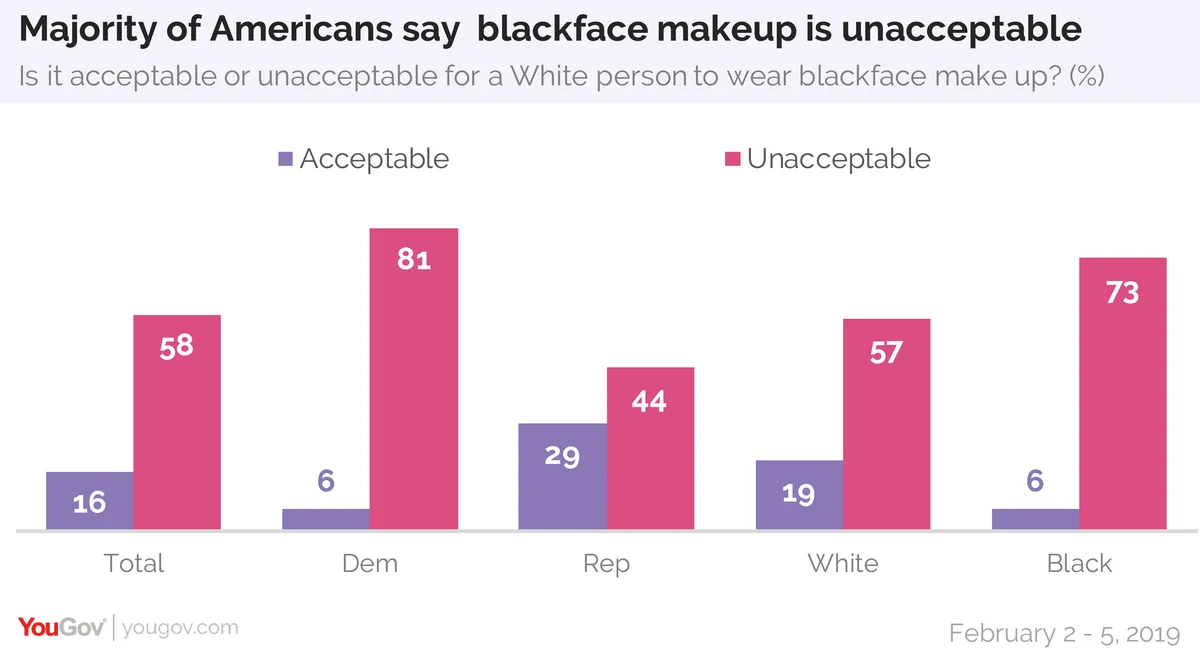 Wearing blackface makeup has grown increasingly unacceptable in recent years, according to public opinion. A separate October 2018 poll conducted by YouGov found that half (51%) of Americans considered blackface makeup racist. An October 2015 poll revealed that 52% of white Americans thought it was "acceptable" for a white person to wear blackface makeup as part of a Halloween costume. An October 2013 poll showed that 43% of Americans said blackface costumes were acceptable, 37% said they were unacceptable, and 20% were unsure.
Trudeau has faced criticism before for embracing other cultures' garb in a way that many believed bordered on appropriation. He acknowledged that longstanding controversy on Wednesday to a reporter, saying, "The fact of the matter is that I've always—and you'll know this—been more enthusiastic about costumes than is sometimes appropriate."
Image: Getty