A year before the 2020 election may be too early to start projecting what will happen when a Democrat – as yet unknown – faces off against incumbent Republican President Donald Trump. But it is clear from the latest Economist/YouGov Poll that most registered voters are happy to make their current preference known. For the last few months, the unknown "Democrat" has been leading Trump in the polls, this week by a margin of six points, 47 to 41 percent.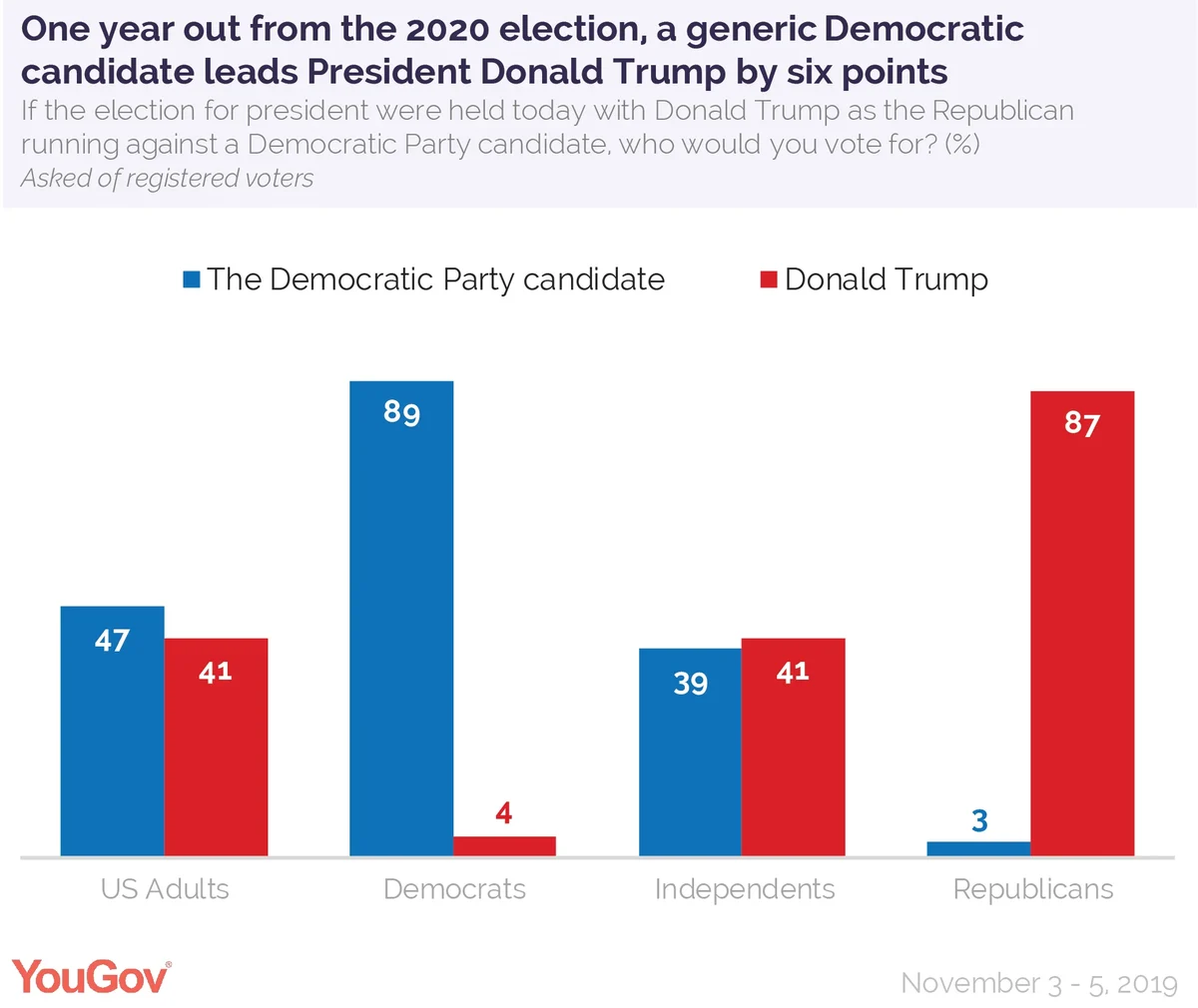 Only 2 percent of registered voters claim they will not vote in 2020. But nearly nine in 10 do have a choice. But there are differences – by party – in the voters who at this point won't say or don't know their preference. For these voters, a small percentage of the total, the Democratic nominee could make a difference. However, at this point, the names of the candidates may not be helpful, as some of them – even now – are still not known enough by potential voters.
Although nearly all registered voters have an opinion about former Vice President Joe Biden and Vermont Senator Bernie Sanders, 10 percent can't give one for Massachusetts Senator Elizabeth Warren, and one in four don't know whether they like or dislike South Bend Mayor Pete Buttigieg.
Most, however, can choose between the President and a generic Democrat. Only one in 20 Democrats don't choose (and just 4% would defect). GOP defections are also few, though about one in ten Republicans are undecided, twice the share of undecided Democrats. Independents are closely divided, with 17 percent undecided. Three years ago, in exit polls, candidate Trump led among independents by four points.
Ideologically moderate independents are especially likely to say they don't know what they will do and 23 percent in this group have no choice yet.
That may or may not suggest that a moderate Democratic nominee could be more likely to win this group's support. But we are still a long way away from the election, and the undecided independents are far less attentive to the current campaign than independents who have a choice. They are also more likely to be paying less attention to the campaign. One in five have no opinion of Biden, more than a quarter have no opinion of Warren, and six in ten (60%) have no opinion of Buttigieg.