Sean Spicer, the former White House press secretary, got the axe from "Dancing with the Stars" Monday night, despite weeks of Twitter support from President Donald Trump. Trump tweeted several messages that encouraged his more than 66 million followers to vote for Spicer in the TV competition.
The DWTS scoring model balances scores from professional dance judges and popular votes from the audience via online voting and texting. Spicer earned weeks of low scores from the judges but stayed in the competition because of his popular support. But even the power of Trump's endorsement wasn't enough to spare him in the quarterfinals.
It's not clear the messages of support for Spicer particularly helped Trump. Those tweets earned relatively low scores among Republicans (+68 and +69) compared with the way Republicans usually feel about Trump's tweets. The median Republican score (+102) for Trump's tweets since he entered the White House.
These scores are sourced from regular Americans who consider themselves affiliated with a political party. Every day, YouGov asks a nationally representative sample of US adults to rate the president's tweets on a five-point scale from Great (+2) to Terrible (-2), which produces an overall score for how the general population feels about the tweet on a scale from -200 (if everyone thinks it is terrible) to +200 (if everyone thinks it is great).
Among Republicans, the respective scores (+68 and +69) given to tweets where Trump asked people to "vote for Sean Spicer on Dancing with the Stars" landed well below the median score for Republicans, according to YouGov TweetIndex data.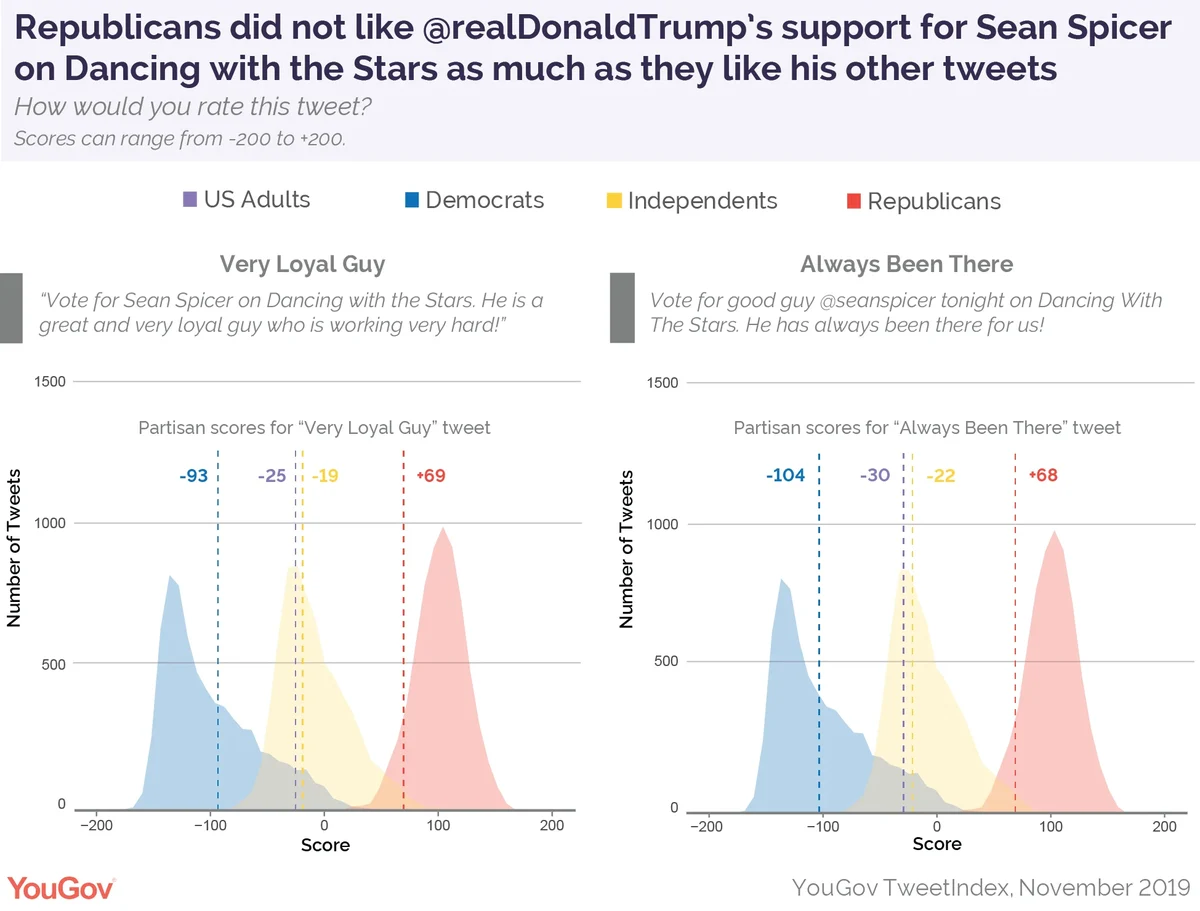 While there is no clear pattern in why Republicans gave the Spicer tweets relatively low scores, history suggests that he is simply not that popular with Trump's base. In July 2017 after Spicer resigned, Trump tweeted that "Sean Spicer is a wonderful person who took tremendous abuse from the Fake News Media - but his future is bright!" That missive only scored +71 among Republicans.
For comparison, various resignation announcements via Twitter for Sarah Huckabee Sanders (+130), Scott Pruitt (+93), John Bolton (+83), Alex Acosta (+82), Anthony Scaramucci (+76) were generally rated higher by Republicans.
The supportive Spicer messages rated slightly higher than the Democrat median (-114) and fairly on-the-nose for Independents (-16). Since the YouGov TweetIndex began collecting data, the median score for Trump's tweets among the US population as a whole is -21.
Ahead of the Dancing with the Stars episode on Monday when Spicer was eliminated, Trump tweeted another endorsement for his former employee: "Vote for Sean Spicer on Dancing with the Stars. He is a great and very loyal guy who is working very hard. He is in the quarterfinals - all the way with Sean!" Once Spicer was eliminated from the reality show, Trump seemingly deleted the endorsement and wrote, "A great try by @seanspicer. We are all proud of you!"
In response, Spicer wrote, "I can't begin to express how much your continued support has meant, especially during my time on @DancingABC."
Related: Following declassification of military dog photo on Twitter, President Donald Trump earns high marks
Methodology: YouGov TweetIndex shows how the public rate each tweet from President Donald Trump's official Twitter account. At the end of every day, YouGov shows a representative sample of US adults the tweets sent in the past 24 hours by President Trump. The panelists are asked to rate the posts on a scale Great (+2), Good (+1), OK (0), Bad (-1), and Terrible (-2). Theoretically, scores can range from -200 (if everyone thought the tweet was "Terrible") to +200 (if everyone thought the tweet was "Great").
Image: Getty