We may soon learn more hear from the Supreme Court's about Congress' ability to subpoena President Donald Trump's accountants for copies of the president's tax returns. Lower courts have refused to block subpoenas from a House of Representative Committee on Oversight and Reform or the Manhattan District Attorney. Now the Supreme Court has issued a stay on the lower court's decision to compel Trump to release his taxes and have asked lawyers to submit statements while the Trump administration appeals.
There is little precedent for this appeal to the Supreme Court. Trump broke with modern presidential campaign practice by not releasing his tax return. He cited a variety of reasons, including an audit by the Internal Revenue Service. The president's lawyers now also argue that the Court requiring disclosure could weaken the Executive Branch.
In 2016, at about the time when the president accepted the GOP presidential nomination, Americans in the Economist/YouGov Poll – including about half of Republicans (48%) – said he should release his tax returns. But once Trump was inaugurated, GOP opinion changed. Less than a third of Republicans (29%) in February 2017 and even fewer today (18%) support the release of President Trump's taxes. There has also been a drop among Independents, but a plurality of them (43%) still want the tax returns made public.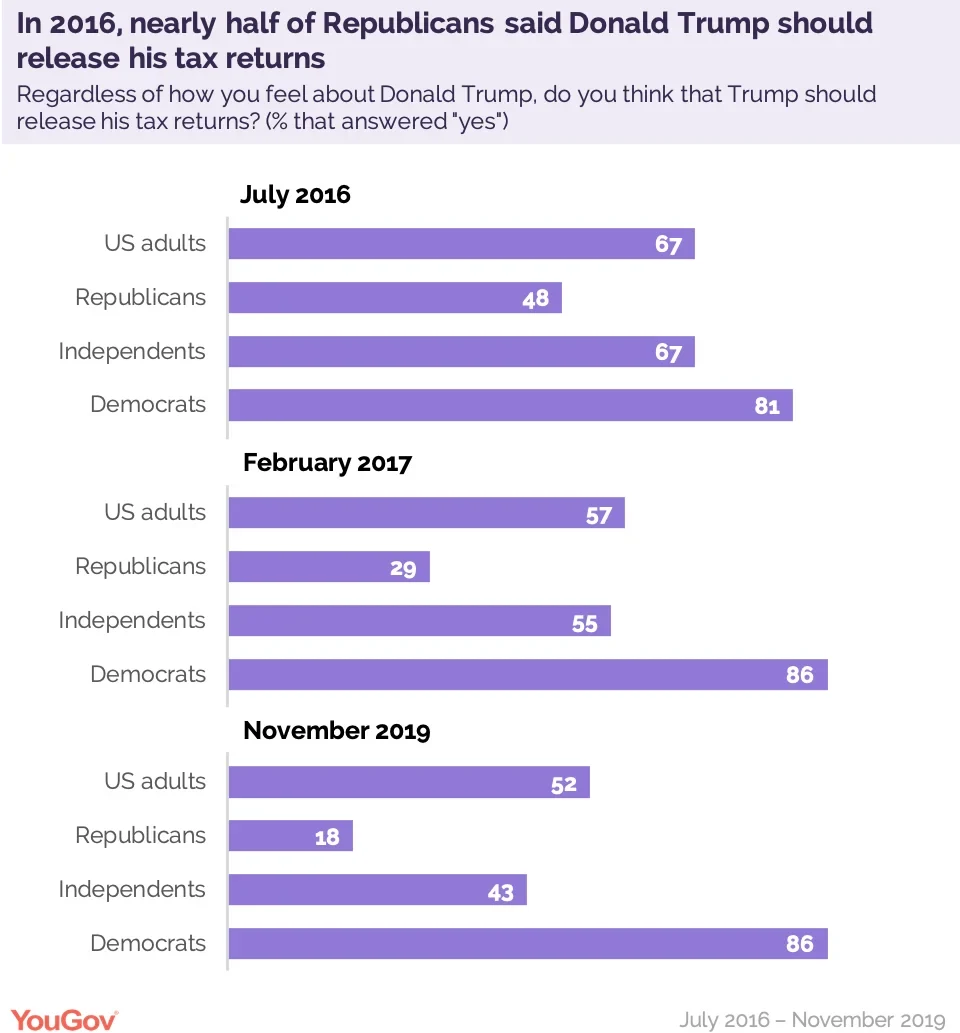 Independent support for releasing the tax returns is different between Independents who lean toward the Republican Party and those who lean toward the Democrats. Nearly nine in 10 Independents who lean Democratic favor release; nearly eight in 10 of those who lean Republican oppose it. In both cases, ore independents who lean one way or the other support the "party" position, than do those who identify themselves as partisans.
More than three in four Republicans (78%) and almost half of independents (47%) now say the president's taxes are getting "too much" attention from the media, an eight-point increase among independents, and a 25-point jump among Republicans.