Newt Gingrich's rise in the polls began just a few short weeks ago, but the former House Speaker is no longer as clear a preference among registered voters who say they will vote in a GOP presidential primary or caucus next year. In the latest Economist/YouGov Poll (Week of 12/17/2011), Gingrich's support has slipped to 27%, with former Massachusetts Governor Mitt Romney six points behind.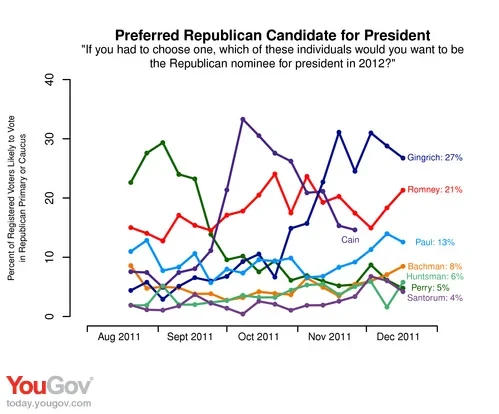 Romney had been a clear second for the last two months, first to businessman Herman Cain, who suspended his campaign, and then to Gingrich. Gingrich's lead has narrowed from 11 points to six in the last week. Gingrich remains the leader among Republican voters who identify with the Tea Party (getting 32% of that group). But Romney runs even with him among the larger group of GOP voters who do not identify with the Tea Party.
Texas Congressman Ron Paul is in third position, with 13% support.
The changing GOP race is especially clear looking at the percentages of Republican voters who find each of the candidates "acceptable" in one way or another. Adding together first choice, second choice and a positive answer to a question about whether they would "consider" supporting someone, Romney has the lead. Romney does better than Gingrich on this – with 61% of Republicans willing to consider Romney in some way, and 57% willing to consider Gingrich. 
"Acceptability" of Republican candidates among registered voters who are likely to vote in a Republican primary or caucus
Preference

Mitt Romney

21%

21%

19%

61%

Newt Gingrich

27%

12%

18%

57%

Michele Bachmann

8%

15%

23%

46%

Rick Perry

5%

13%

25%

43%

Rick Santorum

4%

11%

24%

39%

Ron Paul

13%

12%

13%

38%

Jon Huntsman

6%

5%

13%

24%
Minnesota Congresswoman Michele Bachmann and Texas Governor Rick Perry are behind the two frontrunners. And while Ron Paul is third when it comes to first choice, he is only sixth in acceptability.
There is a lot of overlap between the two frontrunners. When it comes to their second choice, 41% of Gingrich supporters choose Romney; 30% of Romney voters pick Gingrich. And with the Iowa caucuses and the beginning of the nominating process less than two weeks away, there is still room for a great deal of movement. Only 34% of GOP voters say they have actually decided on their 2012 nomination vote.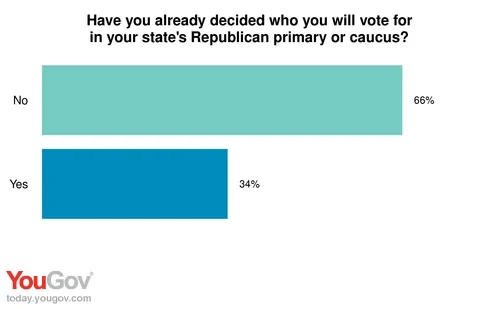 Photo source: Press Association