This poll is a part of the CBS News/YouGov Tracker of convention delegates, which measures the estimated winner of Democratic convention delegates in early primary and caucus states
In February, the Democratic primaries and caucuses will help winnow a crowded presidential field.
The latest January CBS News/YouGov Battleground Tracker shows a strong set of four leading candidates heading into primary and caucus months. Senator Bernie Sanders and former Vice President Joe Biden carry a slight advantage in the earliest states, with Sanders appearing to draw more enthusiasm from his Iowa base than other leading candidates. The CBS News/YouGov data also indicates that Sanders is succeeding in intriguing first-time caucus-goers in Iowa.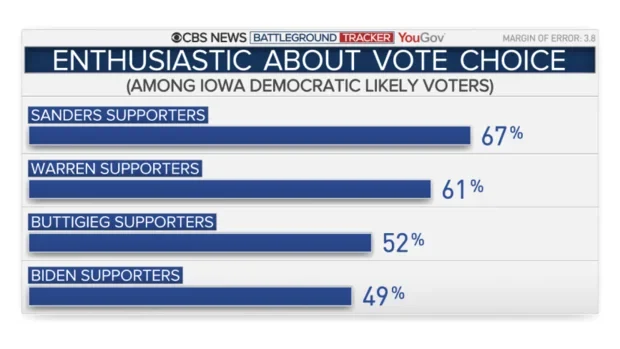 Despite the enthusiasm in Iowa, Sanders (23%) still faces a 3-way tie with Biden (23%) and South Bend Mayor Pete Buttigieg (23%). Senator Elizabeth Warren (16%) and Senator Amy Klobuchar (7%) trail the three leading candidates in the Midwestern state. Warren regains the third-place spot in New Hampshire, where she has previously shown strength. If the New Hampshire primary was held today, Sanders (27%) and Biden (25%) are the top candidates with Warren (18%) and Buttigieg (13%) trailing.
The early contests are anticipated to trim the crowded Democratic field and push the conversation toward which Democrat can beat President Donald Trump in the general election.
Biden is still seen as the most likely to defeat the incumbent president, according to Democrats in Iowa (38%) and New Hampshire (36%). Slightly behind Biden is Sanders—one-third (33%) of Democrats in New Hampshire believe he'd beat Trump compared to 29 percent of Democrats in Iowa.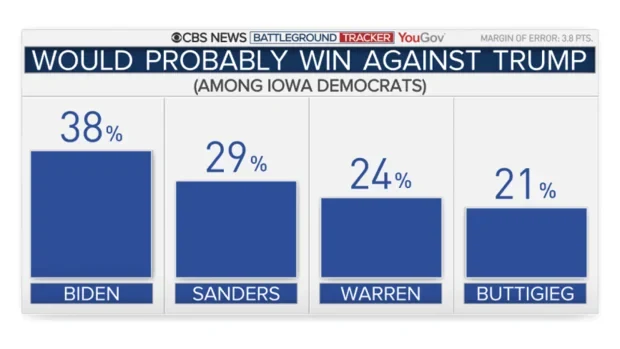 Methodology: These CBS News surveys were conducted by YouGov between December 27, 2019 and January 3, 2020. A representative sample of 2,000 registered voters in Iowa was selected, including 953 self-identified Democrats and Democratic-leaning Independents. A representative sample of 1,100 registered voters in New Hampshire was selected, including 519 self-identified Democrats and Democratic-leaning Independents. The samples were weighted according to gender, age, race, and education based upon voter registration lists and the U.S. Census Current Population Survey, as well as 2016 presidential vote. Respondents were selected to be representative of registered voters within Iowa and New Hampshire, respectively. The margin of error +/- 3.8 points in Iowa and +/- 5.3 points in New Hampshire.
Explore more data from CBS/YouGov polls and see the full survey results from Iowa and New Hampshire
Graphics courtesy of CBS News and cover image courtesy of Getty.