President Donald Trump has made Americans more nervous about the state of the world since he ordered the drone strike that killed Iranian General Qassim Suleimani. A majority (54%) in the latest Economist/YouGov Poll now says it is likely that President Trump will get the country into a war – up 11 points since before Suleimani was killed.
The increased concern comes from Democrats and Independents. In the last week, the share of Democrats who say it is "very likely" the president is leading the country into war rose 19 percentage points. Among Independents, it rose 12 percentage points.
The Economist/YouGov poll was conducted before Iran's attack on two American bases in Iraq that led to no American casualties. In a speech on Wednesday, President Trump indicated that there would not be additional military confrontation from the US. The president's initial handling of Iran earned a negative assessment, however: 41 percent approved, while 51 percent disapproved.
By 46 to 32 percent, Americans view the killing of Suleimani as an "act of war," though nearly two-thirds of Republicans disagree (63%). Democrats are especially likely to say the airstrike could be described as an act of war (70%).
Overall, Americans do not appear to have an appetite for another war in the Middle East. They say it is more important to avoid war with Iran (45%) than it is to confront Iranian aggression (36%). President Hassan Rouhani of Iran indicated on Wednesday that there remains a long-term goal of removing the American military from the Middle East, saying on Twitter that "Our final answer to his assassination will be to kick all US forces out of the region."
Americans have worried that the situation with Iran could escalate. More than two-thirds (71%) say this is likely, and about the same percentage are concerned about a possible war with Iran (73%), according to the poll conducted January 5 - 7. While Republicans are less likely than Democrats and Independents to be "very concerned" about the likelihood of war, and less likely to say it's "very likely" the current situation will lead to a bigger conflict, most still worry (58%) and believe a bigger conflict is likely (64%).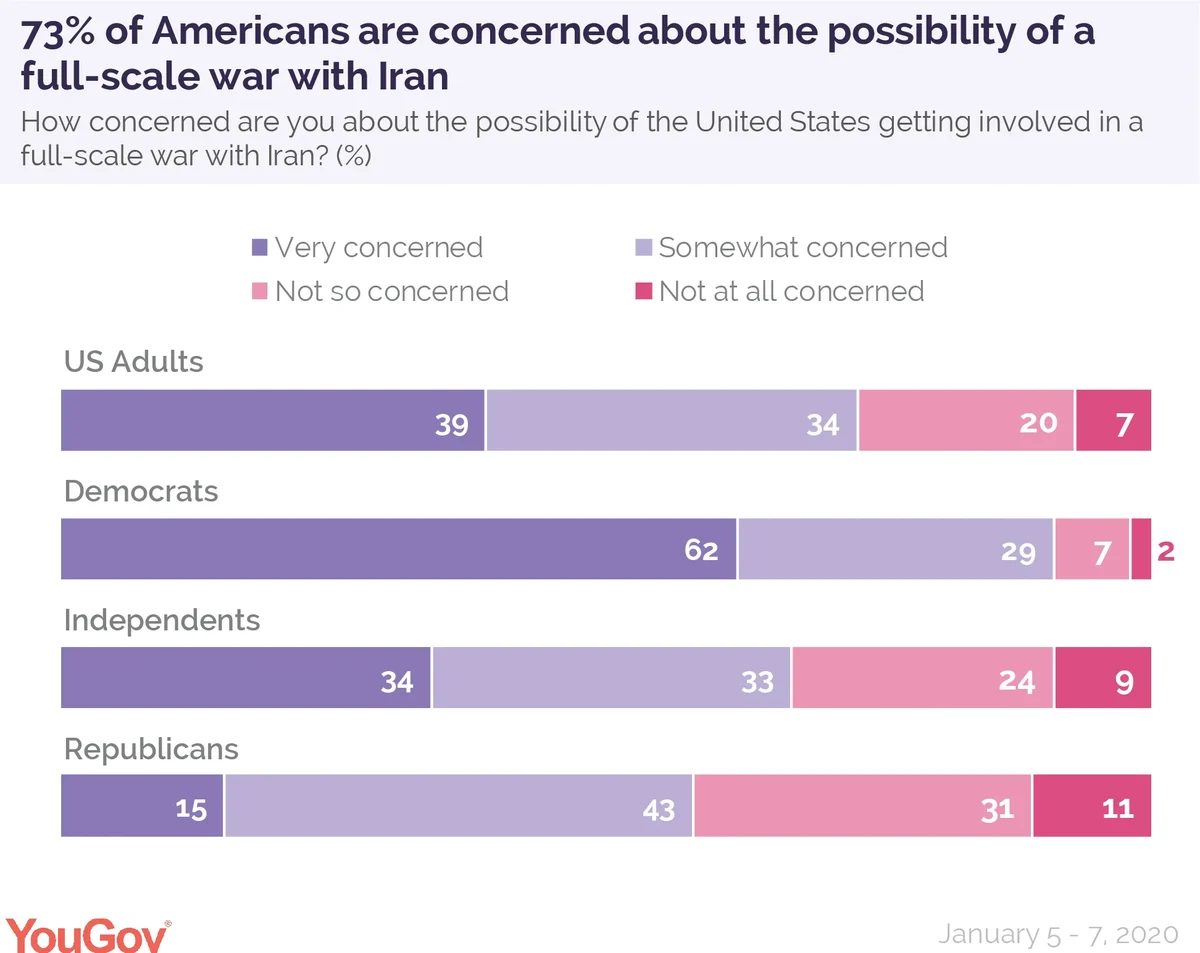 There were other examples of increasing public jitters immediately following Suleimani's death. Last week, only 16% of US adults described the chances of a major terrorist attack against the United States in the next 12 months as "more likely than not." Now that figure is 29%, and all the increase has taken place among Democrats and Independents.
Last week, Democrats and Republicans were equally likely to be worried about terrorism, now twice as many Democrats as Republicans are worried. The share describing Iran as an immediate and serious threat to the United States has risen ten points since October to 31% today.
Most Americans (58%) say they have heard "a lot" about the killing of Suleimani. The Suleimani killing itself and the US response divide the country along typically partisan lines. The public marginally approves of the killing itself (44% approve and 38% disapprove), but is evenly split when it comes to deploying more US troops to the Middle East (41% approve and 41% disapprove).
The public continues to have questions about President Trump's decision-making practices: by more than two to one (48% to 23%) Americans say he mostly ignores the advice of his advisers, by 49% to 38% they think he mostly has bad judgment, and by more than two to one (73% to 27%) they believe he reacts and speaks without thinking carefully.
Those results are similar to what Americans have expressed in previous polls, and the events of the last week have had little impact on Americans' feelings about impeachment. The overall public approves of the House impeachment votes (48% to 41%), not much different from opinion in polls taken throughout the impeachment process. There is narrow disapproval of House Speaker Nancy Pelosi holding back the articles from the Senate (40% to 35%) and doubt about whether or not the Senate will hold a fair trial. Even a third of Republicans are doubtful the trial will be fair.
One way of satisfying the public concerns might be for the Senate to call additional witnesses – something Americans favor 50% to 23%.
Related: Americans cannot agree on what behaviors are anti-Semitic
See the toplines and table results from this Economist/YouGov poll
Image: Getty