The killing of Iranian General Qassim Suleimani may have made foreign policy more important but not just when it comes to how Americans look at President Donald Trump. It seems to matter in how they evaluate the men and women trying to defeat him.
Foreign policy may not be at the top of voters' minds, but three in five (60%) of Democratic primary voters in the latest Economist/YouGov Poll call it a "very important" issue, up eight points from a week ago. More than half (54%) call the use of military force a very important issue, up 15 points in the last week.
While slightly more Democratic primary voters say that they have confidence in the way their party's frontrunner, former Vice President Joe Biden, would handle an international crisis (71%), two in three are confident in how Massachusetts Senator Elizabeth Warren (66%) and Vermont Senator Bernie Sanders (65%) would fare.
Less than half (45%) of Democratic primary voters say they are "confident" that former South Bend Mayor Pete Buttigieg, could deal wisely with an international crisis.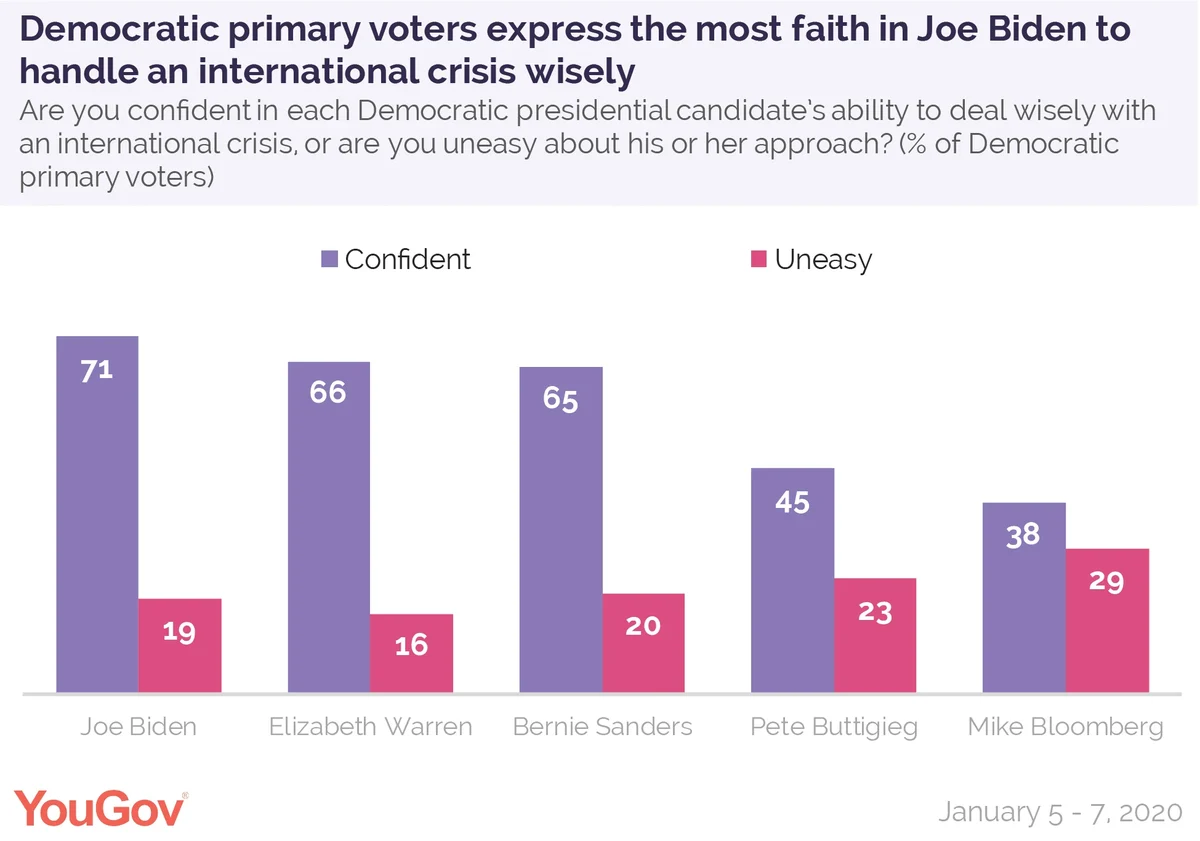 Both Sanders (20%) and Warren (22%) run close to Biden (27%) when Democratic voters nationally are asked for their first choice. Buttigieg (7%) is a distant fourth, followed by four candidates, including Minnesota Senator Amy Klobuchar (3%), former New York City Mayor Mike Bloomberg (3%), businessman Andrew Yang (3%) and Hawaii Representative Tulsi Gabbard (3%).
When Democratic voters are asked about all the candidates they are considering (and two-thirds of Democratic voters have at least two choices), Biden (50%), Warren (49%), and Sanders (46%) remain at the top, but each candidate's share increases – although by different amounts. Six times as many Democratic voters are considering Klobuchar (18%) and Bloomberg (18%) as call them their first choice, while Gabbard (6%) only doubles in voter interest.
Only 1 percent of Democratic voters say New Jersey Senator Cory Booker is their first choice, but 17 percent are considering him.
Biden's largest leads come from Democratic voters 45 and older and from African-Americans (51% of black Democratic voters name Biden as their first choice). Women favor Biden (29%), while men are evenly split between Biden (24%), Warren (23%), and Sanders (23%).
A third (34%) of Democratic voters whose family incomes exceed $100,000 choose Warren as their top pick. Biden trails her by 12 points among Americans in households of six figures, with Buttigieg (10%) and Sanders (10%) even farther behind.
The pattern of candidate support is basically the same among those describing foreign policy and the use of military force as very important issues to them. Democratic voters believe none of the four leading candidates are likely to get the country into a war, something nearly nine in ten (87%) of Democratic voters think President Donald Trump is likely to do.
With less than a month to go before the Iowa Caucuses on February 3, one in four Democratic voters (26%) say they wish there were more candidates. Right now, that group gives Biden a double-digit lead over Warren and Sanders. But the biggest concern for Democratic voters is electability. By two to one, they prefer a nominee who can defeat President Trump (33%) over one whose policy positions they agree with (65%).
Those looking for a candidate they agree with choose Sanders and Warren over Biden, but those looking to support a winner put Biden in the first place.
Not all Democratic voters believe the Democratic nominee, whoever that might be, will win the election, however. Fewer than one in five (16%) think the President will be re-elected.
Related: A majority of Americans are concerned about war with Iran
See the toplines and table results from this Economist/YouGov poll
Image: Getty