President Donald Trump successfully campaigned for the White House, in part, by slamming the Iran nuclear agreement brokered by his predecessor, President Barack Obama. Trump called the deal "terrible" and said it was negotiated "from desperation." He promised to be much tougher with the Islamic republic.
A poll from Yahoo News/YouGov shows that in Trump's third year in office, a plurality of Americans now believe Trump's approach is less effective than Obama's strategy. The survey was conducted in the days after Trump ordered the killing of Iranian General Qassim Suleimani, a decision that led to heightened tensions, a strike against an American military site, and an announcement from Iran that it would be working to develop nuclear activity again.
A plurality of Americans (40%) say that Trump made the wrong decision in backing out of the nuclear treaty with Iran in 2018 — effectively allowing them to produce nuclear fuel without adhering to America's restrictions — a decade ahead of the time-table originally outlined by the Obama Administration. A plurality of Americans opposes (42%) Trump's overall approach to dealing with Iran.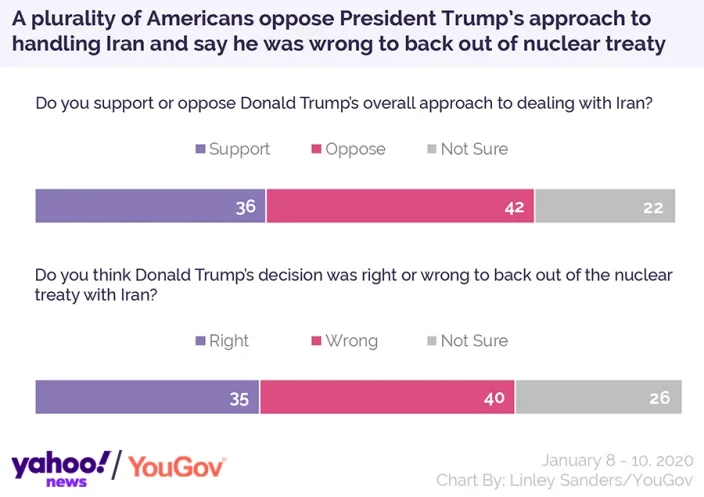 Older data from YouGov revealed that a plurality of Americans (43%) supported the Iranian international agreement in 2015, even if a majority (59%) were not confident that it would prevent Iran from developing a nuclear weapon.
Not only do Americans appear to prefer the Obama Administration's strategy on Iran that kept America in the nuclear deal, but they also seem to prefer Obama at the negotiating table. About two in five (41%) say that Trump is less effective than Obama in dealing with Iran. One-third of Americans (34%) say Trump is more effective than Obama.
There are overwhelming political splits, however: a majority of Democrats (76%) favor Obama as a negotiator on Iran and most Republicans (77%) favor Trump. Independents are split (32% vs. 33%) between whether Trump is more or less effective than the 44th president.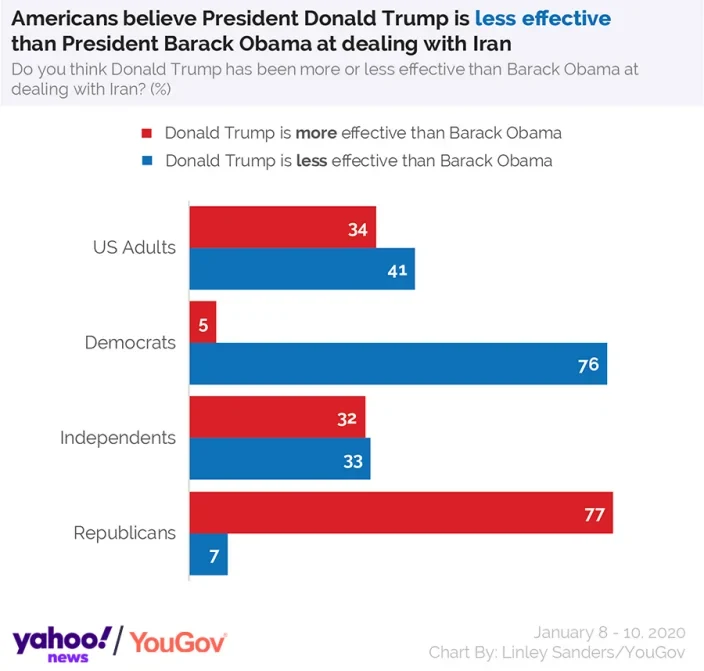 While a majority of Americans approve of Trump's decision to not retaliate against Iran further (63%), there is doubt that his newest economic sanctions will keep Iran from attacking Americans in the future.
Fewer than one in ten (9%) say the sanctions will be "very effective" while about one-third (34%) say they will be "not effective at all." A majority fall somewhere in the middle, believing the sanctions will be "slightly effective" (30%) or "somewhat effective" (28%).
Related: Foreign policy matters in the Democratic race, but not as much as electability
Methodology: The survey was conducted by YouGov for Yahoo News. A representative sample of 1,500 U.S adults from YouGov's research panel were interviewed online. The sample was weighted by age, race, gender, education, voter registration and 2016 presidential vote. The margin of error for the full sample was 2.8 percent.
Image: Getty