President Obama delivered his second annual State of the Union address last Tuesday. In his speech, he focused on his administration's economic policies, saying that they had "broken the back of the recession." Last week, immediately before his speech, approval for his handling of the economy reached a six month high of 41%. However, the steady gains in approval over the past month were reversed this week as Americans gave his economic policies an approval rating of 35%. The speech did not boost his overall approval ratings either. At 44%, approval for the President is virtually unchanged from last week's Economist/YouGov poll.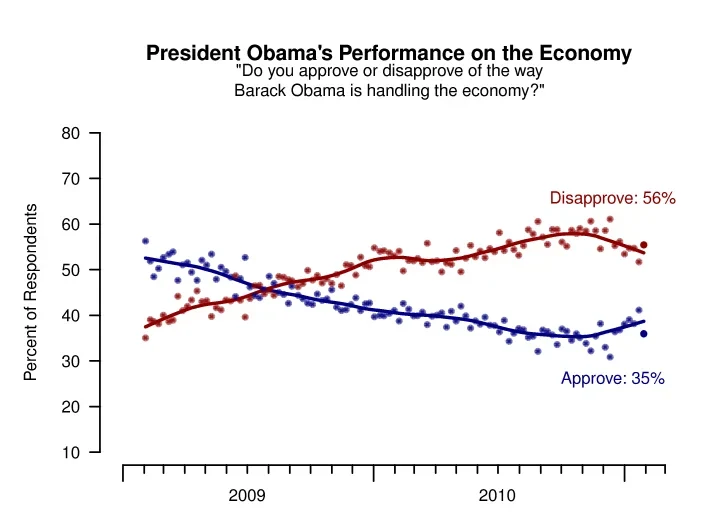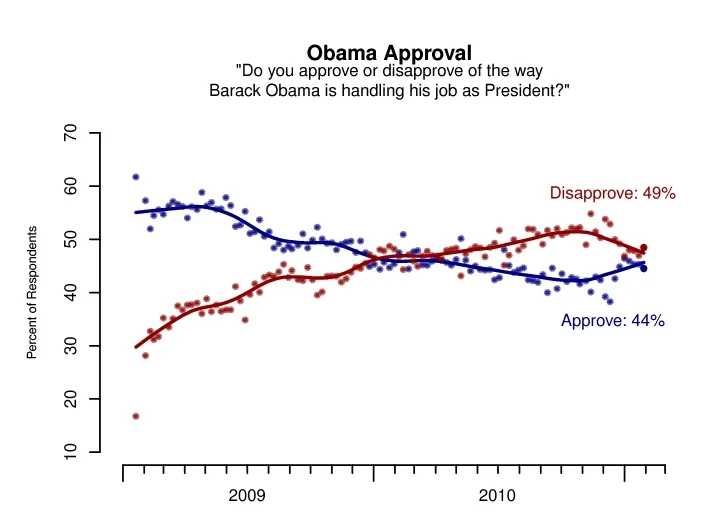 In his speech, President Obama announced plans to control the budget deficit through a five-year domestic spending freeze. But approval for his handling of the budget deficit failed to move from 30%, where it has hovered for months. A plurality of Americans would support such a freeze (46% support, 18% oppose, and the remainder express no opinion); but most Americans don't believe the President will succeed in implementing this pledge.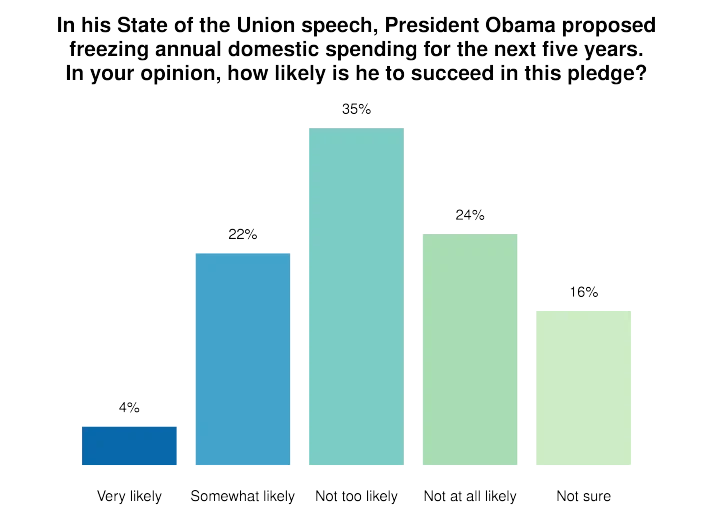 While skeptical about the chances of this particular deficit control measure, 9 in 10 Americans are concerned about the size of the federal budget deficit. 64% of those who are concerned say that they are VERY concerned. And there are signs that people are willing to accept the tough measures necessary to control the deficit. Compared to last July, more Americans support a reduction in government spending, and the percent of Americans calling for tax decreases has dropped 9%. The reduction in the number of people advocating tax decreases comes from members of all parties and income levels.
Overall, do you think that the federal government should increase or decrease the amount it spends?
Jul. 2010
Jan. 2011

Increase

14%

2%

6%

12%

1%

3%

Keep the same

21%

4%

14%

18%

3%

13%

Decrease

49%

90%

70%

54%

93%

78%

Not sure

12%

3%

10%

15%

2%

6%
Do you think that the federal government should increase or decrease taxes?
Jul. 2010
Jan. 2011

Increase

21%

4%

16%

32%

4%

26%

Keep the same

33%

24%

26%

30%

39%

27%

Decrease

33%

68%

48%

24%

55%

41%

Not sure

13%

4%

9%

14%

2%

6%
When asked what should eventually happen to the tax cuts that were recently extended for two more years, Americans are split on whether to make them permanent or to let them expire. Opinion on this issue divides by party, with Democrats favoring letting them expire, Republicans favoring making the permanent, and independents divided between the two options.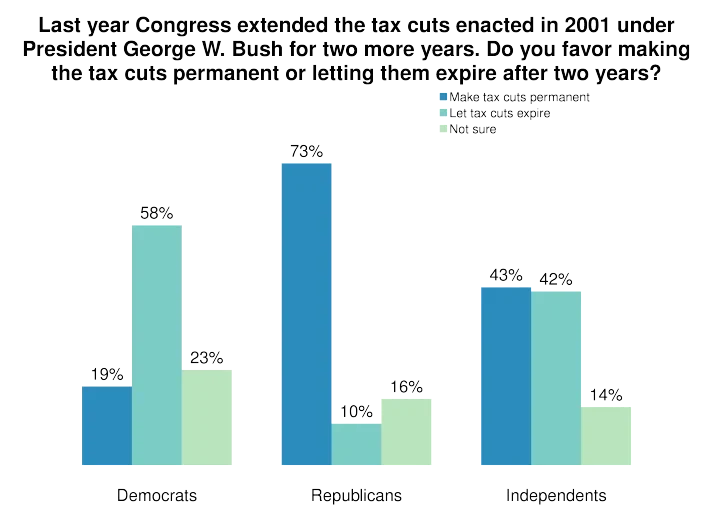 Following the deadly rampage outside of a Tucson, Arizona supermarket on January 8th, the President also used his State of the Union address to remember the victims and call for greater civility in political discourse and cooperation between opposing parties. To demonstrate bipartisanship, many members of Congress broke with the tradition of sitting with their own party members and sat instead next to colleagues from the opposing party. About 2/3 of Americans did not see this seating arrangement as a sign of greater willingness of the parties to cooperate with one another, but rather as a one-time gesture intended to generate publicity.