Can a single word or phrase make a difference to a voter? Joe Biden is viewed as "patriotic." Bernie Sanders is viewed as "passionate." Elizabeth Warren is viewed as "honest," and Pete Buttigieg is seen as "cool."
We know that because each day, YouGov Ratings asks US adults to pick out the adjectives they believe best describe high-profile Americans. An analysis of the eight leading presidential candidates' positive descriptors provides a glimpse at how the general public views the leading contenders for the Democratic presidential nomination, what traits they share, and where they have carved out a unique identity.
The words shared above are some of the adjectives used to set the candidates apart, but there are others that connect them. The leading Democratic candidates are all described as "intelligent" by their fans. Those with a positive opinion of President Donald Trump believe he is intelligent, as do fans of President Barack Obama.
The three front-runners for the Democratic nomination—former Vice President Joe Biden, Senator Bernie Sanders, and Senator Elizabeth Warren—share the mantle of standing up for ordinary people with Obama. These three top candidates are the most likely to be described similarly to Obama, according to the YouGov Ratings data collected from November 2018 to November 2019.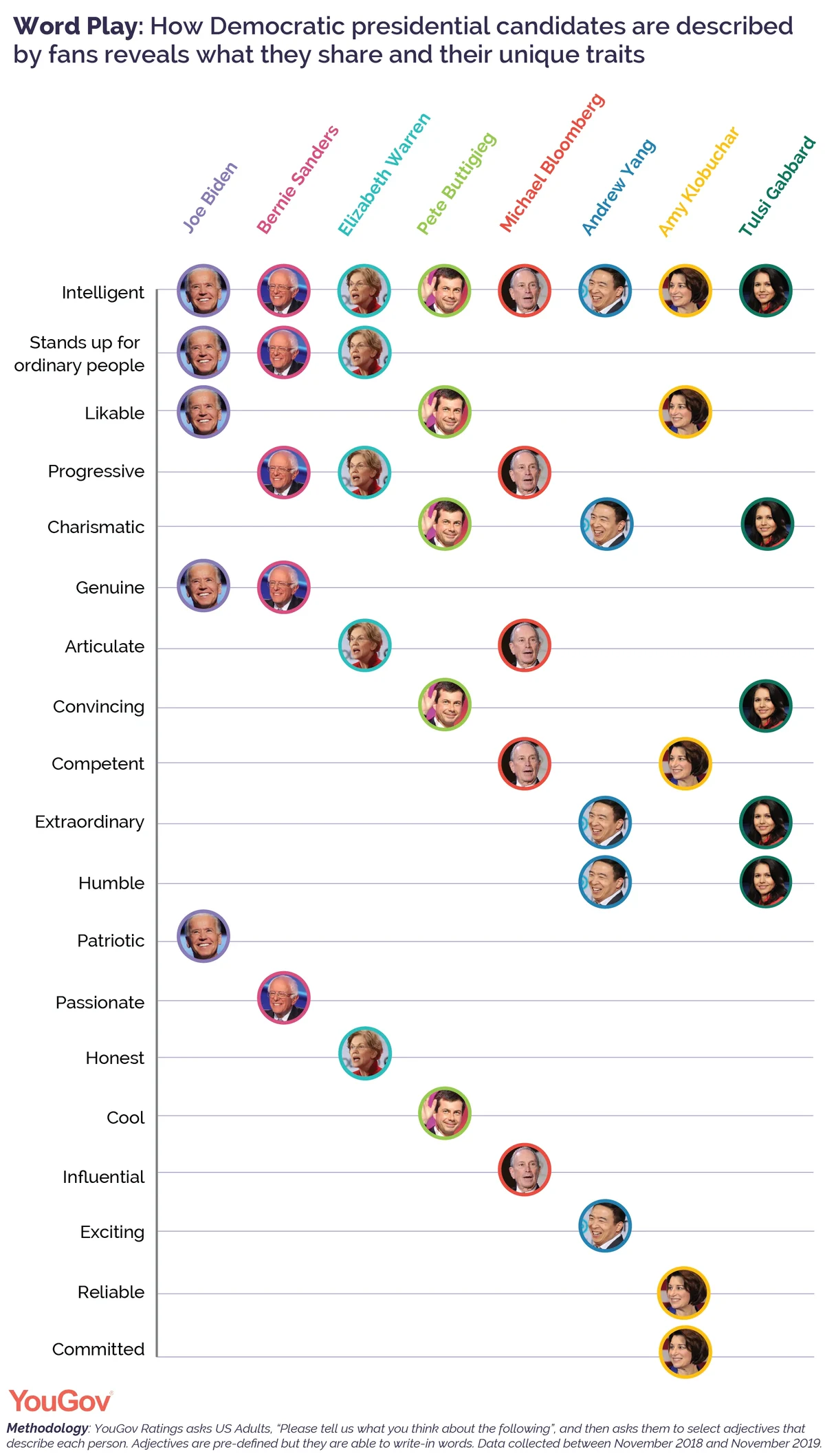 While Obama shares those words ("intelligent" and "stands up for ordinary people") with the three Democratic front-runners, he has other adjectives associated with him that no other candidate in the field currently does: presidential, a good speaker, and a leader.
Biden shares the attribute of likability with former South Bend Mayor Pete Buttigieg and Senator Amy Klobuchar, all of whom are considered more moderate candidates within the Democratic field. Sanders and Warren share the trait of being "progressive" with Michael Bloomberg, the wealthy former mayor of New York City.
In addition to being likable, Buttigieg is described by fans as charismatic. It's a trait he shares with Entrepreneur Andrew Yang and Representative Tulsi Gabbard. Yang and Gabbard have the most overlap in the top adjectives used to describe them. Both are considered intelligent, charismatic, extraordinary, and humble.
Every candidate analyzed except Gabbard has a trait that is unique to them. Biden is the only Democratic candidate considered particularly "patriotic," which is a descriptor also given to former President George W. Bush and President Trump. Klobuchar is the only candidate to have two unique words associated with her: reliable and committed.
A few of the Democratic candidates share adjectives with President Trump, too. The Republican president is described as intelligent, patriotic, strong, passionate, and competent by those who have a positive opinion of him. Biden, Sanders, Bloomberg, and Klobuchar each share two traits with him, while Trump is uniquely described as strong.
Related: What the Confederate flag means in America today
Methodology: YouGov Ratings asks US Adults "Please tell us what you think about the following", and offers a 5-point scale as well as a "not heard of" option. The 5-point scale ranges from strongly negative, slightly negative, neutral, slightly positive, to strongly positive. The words displayed as each candidates' top five are those submitted by those who have a positive opinion of that person. Pre-defined adjectives are offered, but panelists are also able to write-in their own descriptors.
Image: Getty