With the withdrawal of former Utah Governor Jon Huntsman from the GOP horserace, the state of the GOP horserace remains more or less unchanged. Republican primary voters continue to give former Massachusetts Governor Mitt Romney the status of frontrunner; and in this week's Economist/YouGov Poll (Week of 1/14/2012) he leads former House Speaker Newt Gingrich, who is in second place, by ten points.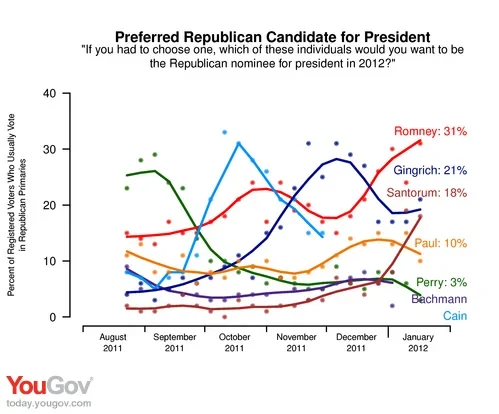 Former Pennsylvania Senator Rich Santorum is in third place among registered voters who say they will vote in a GOP primary or caucus this year. He has 18% support; Texas Congressman Ron Paul gets 10%. Texas Governor Rick Perry is almost a footnote: the former frontrunner is the first choice of only 3% of GOP voters.
Romney has a 16-point lead over Gingrich among Republican voters who say they do not identify with the Tea Party; he trails both Santorum and Gingrich among the third of GOP voters who say they are part of the movement. 
If you had to choose one, which of these individuals would you want to be the Republican nominee for president in 2012?
Registered voters who usually vote in Republican primaries

Mitt Romney

31%

21%

35%

Newt Gingrich

21%

24%

19%

Ron Paul

10%

12%

8%

Rick Santorum

18%

30%

13%

Rick Perry

3%

2%

3%

Other

9%

10%

8%

No preference

9%

1%

13%
But the impact of the Tea Party on the Republicans nominating process goes beyond that third that identifies with the movement. 68% of GOP voters, more than two-thirds, say they support the goals of the Tea Party.
And there continues to be doubt about the GOP presidential field. Only 45% of GOP voters in this poll say they are satisfied with their choices. 30% want someone else to enter, and another 25% aren't sure. This lack of sureness extends to both those who don't identify with the Tea Party (43% satisfied) and those who do (50% satisfied). 
Photo source: Press Association