Apologies to most of the Founding Fathers, but it seems America's political memory is short.
Partisan Americans chose their most recent party leaders as America's best president, according to a YouGov poll. Three in 10 (30%) Republicans believe President Donald Trump is America's best president, while about a quarter (23%) of Democrats say President Barack Obama was the best president.
The second-most-popular choice among Democrats was President Franklin Roosevelt (FDR), who led America through the Great Depression and enacted The New Deal (13%). About one in five (22%) Republicans believe President Ronald Reagan, who ended the Cold War, was the best president.
America's first Commander-in-Chief, George Washington, was the only Founding Father to land in the top five for Republicans' and Democrats' list of best presidents. One in 10 (10%) Republicans chose him as the best, and slightly fewer (7%) Democrats did the same.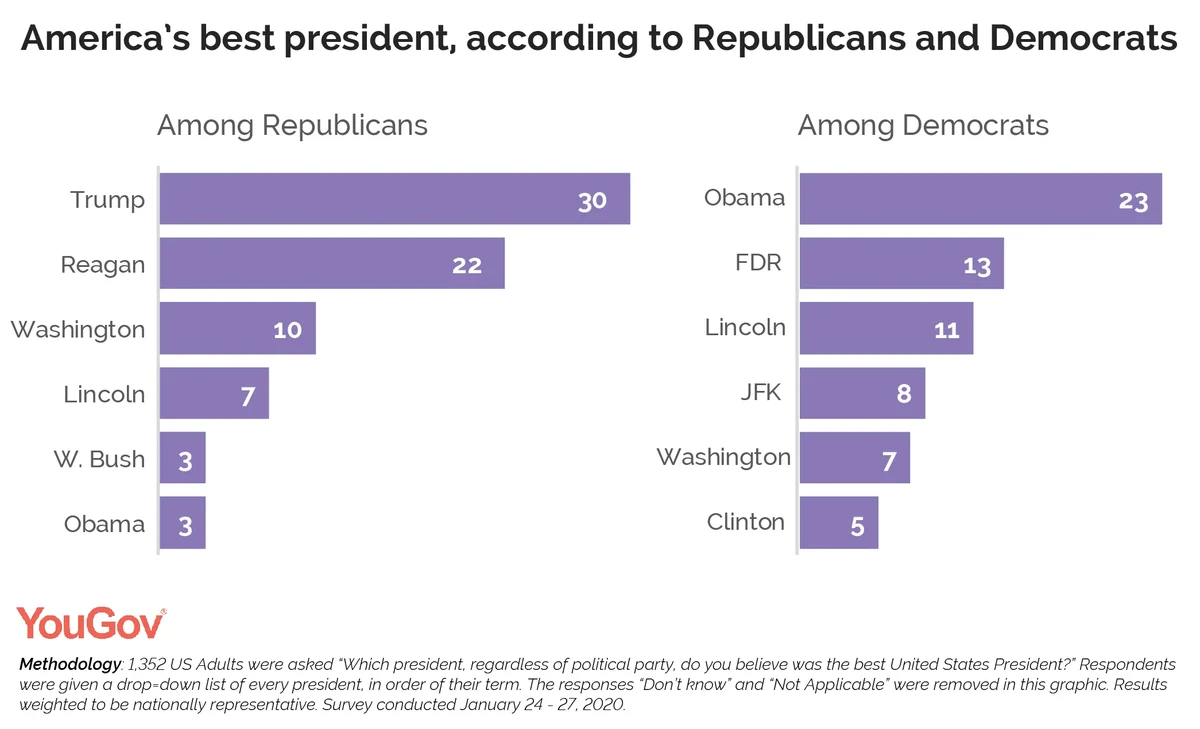 The poll follows Economist/YouGov survey from December 2019 that asked Americans to choose whether President Trump or President Abraham Lincoln — who led the nation through the American Civil War and issued the Emancipation Proclamation that freed slaves — was the better president. In that head-to-head comparison, a majority of Republicans (53%) selected Trump over Lincoln (47%). In this poll, where Republicans were offered a list of all presidents, Trump (30%) was still named more frequently than Lincoln (7%).
Both parties did this, though. About a quarter of Democrats named Obama (23%) as the best president while about one in ten (11%) chose Lincoln.
The general population names Obama (14%), Trump (11%), Lincoln (10%), Reagan (8%), and Washington (8%) as the best presidents. About one in 10 say they "don't know" who the best president was. Black Americans are especially likely to say Obama was the best president (40%).
Which GOP President Do Republicans Today Align With?
About half of Republicans and Republican-leaners (49%) feel that Trump's presidency best aligns with their views when compared to other recent Republican presidents. About three in 10 Republicans say they are Reagan Republicans (31%). Just 6 percent say George W. Bush best represents their views, and even fewer (3%) say George H.W. Bush does.
A majority of Americans who say they are "strong Republicans" (60%) and "lean Republicans" (53%) believe Trump best aligns with their viewpoints. In contrast, a plurality of those who say they are "not very strong Republicans" identify most with Reagan (36%), followed by Trump (26%).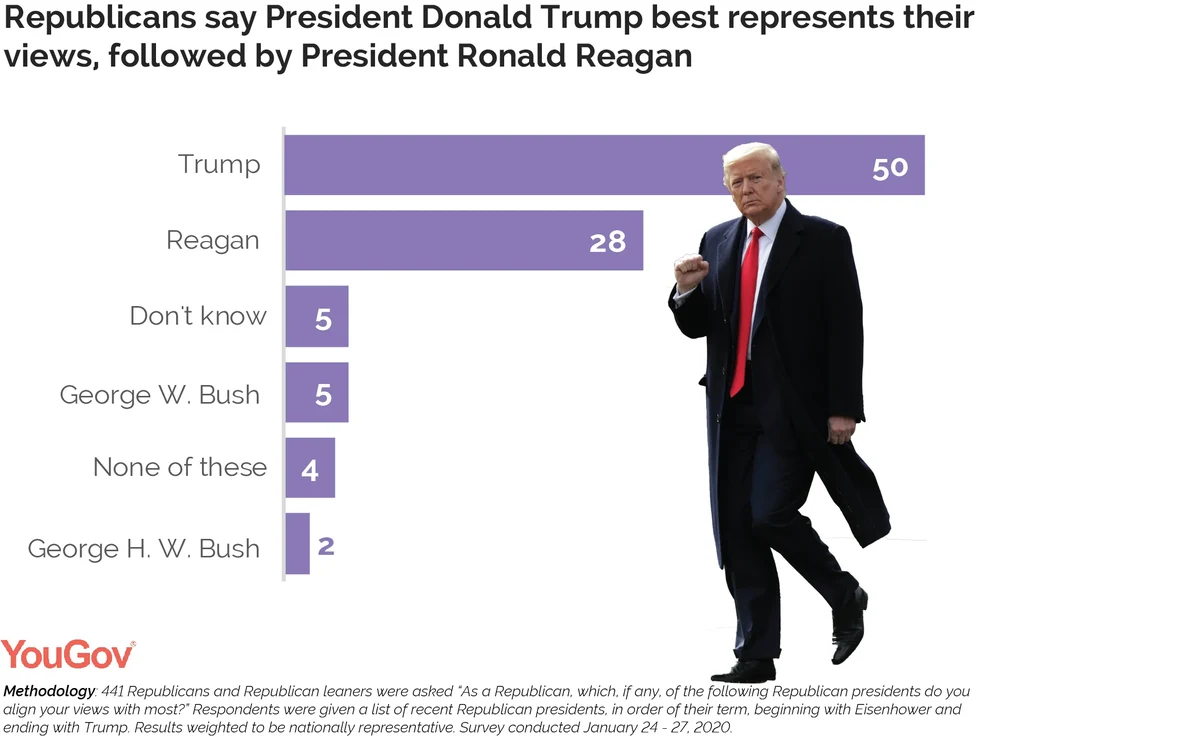 Which President Do Democrats Today Align With?
About four in 10 (42%) Democrats and Democratic-leaners call themselves Obama Democrats, a sentiment that is held by a plurality of strong, lean, and not very strong Democrats.
President Roosevelt was named by 14 percent of Democrats as the best representation of their views. One in 10 (10%) Democrats are not sure which Democratic president they most align with, and about one in ten (9%) are JFK Democrats.
President Clinton was named by 8 percent of Democrats, and one in twenty (5%) said President Carter is the Democratic president that they most align with.
Who's America's Worst President?
If America's memory is short when naming the best US president, the same flaw applies when naming the worst. More than two-thirds of Democrats (69%) believe President Trump is the worst president in American history, and a majority (54%) of Republicans say the same about President Obama.
Overall, about four in ten (41%) Americans say President Trump is the worst president, and about one in five (21%) say it's President Obama. One in ten (10%) are not sure who the worst president was, and 3 percent named President Richard Nixon, who resigned from office after being impeached. Another 3 percent named President George W. Bush as the worst president.
Related: Democratic voters' minds remain unchanged compared to six months ago
Methodology: Total unweighted sample size was 1,352 US adults, which included 514 Democrats and 326 Republicans. There were 444 Republicans and Republican-leaners and 654 Democrats and Democratic-leaners included in this poll. The figures have been weighted and are representative of all US adults (ages 18+). Interviews were conducted online between January 24 - 27, 2020.
See the full survey results here and sign up to be a part of the YouGov panel
Image: Getty