More than two in five Canadians want to cut ties with the Queen.
However, it doesn't look like it's personal. More than half of Canadians hold a positive opinion of the head of state, according to new YouGov data gathered in the wake of Prince Harry and Meghan Markle's decision to move to Vancouver in January.
The YouGov survey data shows 44 percent of Candians strongly or somewhat support abolishing the monarchy in Canada, while 29 percent strongly or somewhat oppose the notion. Canadians age 35-44 are more likely than any other age group to support the idea.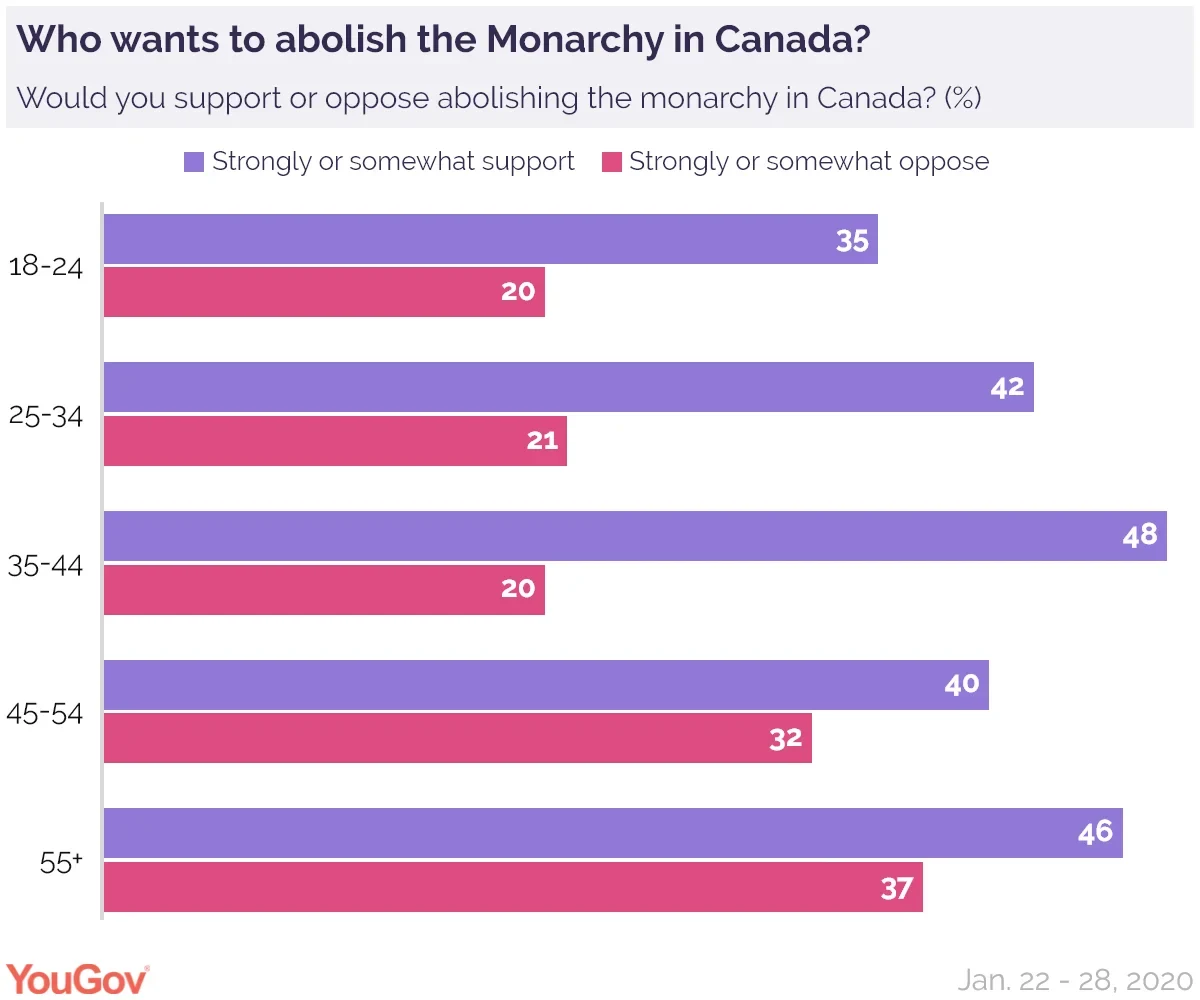 YouGov asked Canadians about their views of high-profile members of the Royal Family, including the Queen, and 57 percent say they hold a somewhat very positive opinion of Her Majesty while only 14 percent hold a negative opinion.
While many Canadians hold fuzzy feelings about the Queen, her popularity in Canada pales in comparison to her home country: The vast majority of Brits (80%) have a positive view of her.
The same can't be said for Harry and Meghan, whose decision to move to Canada and distance themselves from the Royal Family caused a media storm on two continents.
YouGov asked panelists in both the UK and Canada about the couple's move and Canadians seem much more supportive, with 71 percent of Canadians in support compared to 46 percent of Brits.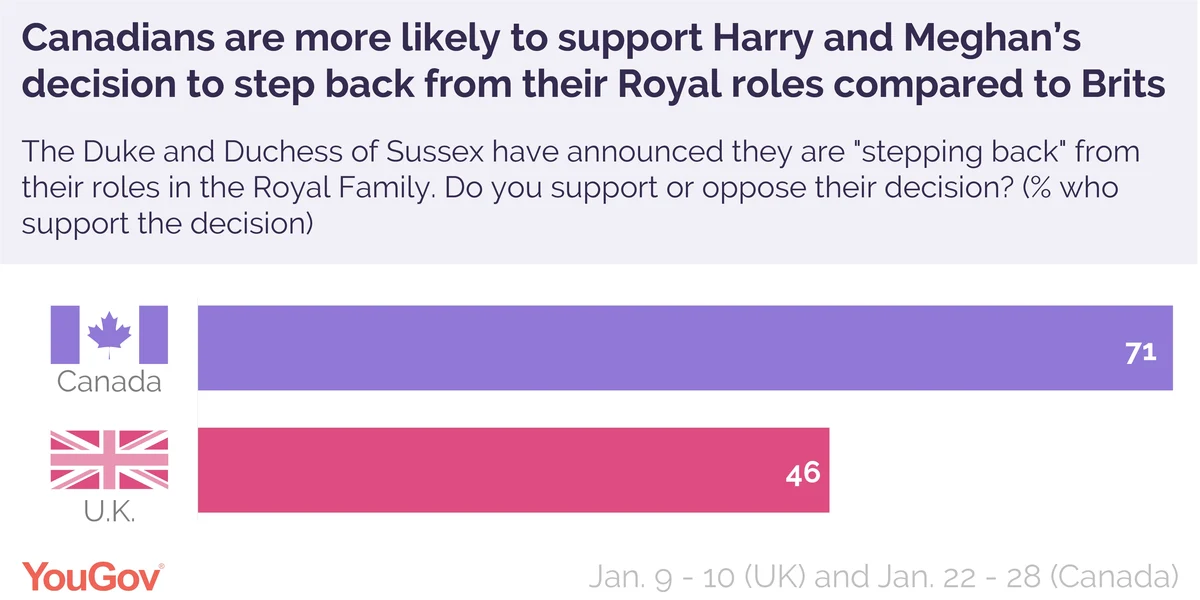 Meghan seems to be more liked among residents of her new home in Canada compared to the UK, with 45 percent holding a positive opinion of the Duchess compared to 38 percent among Brits. Harry garners the same positive numbers as at home.
Just over a third (37%) of Canadians are pleased to have them in their country, while 48 percent are indifferent. One in ten are displeased that Harry and Meghan took up residence in Canada.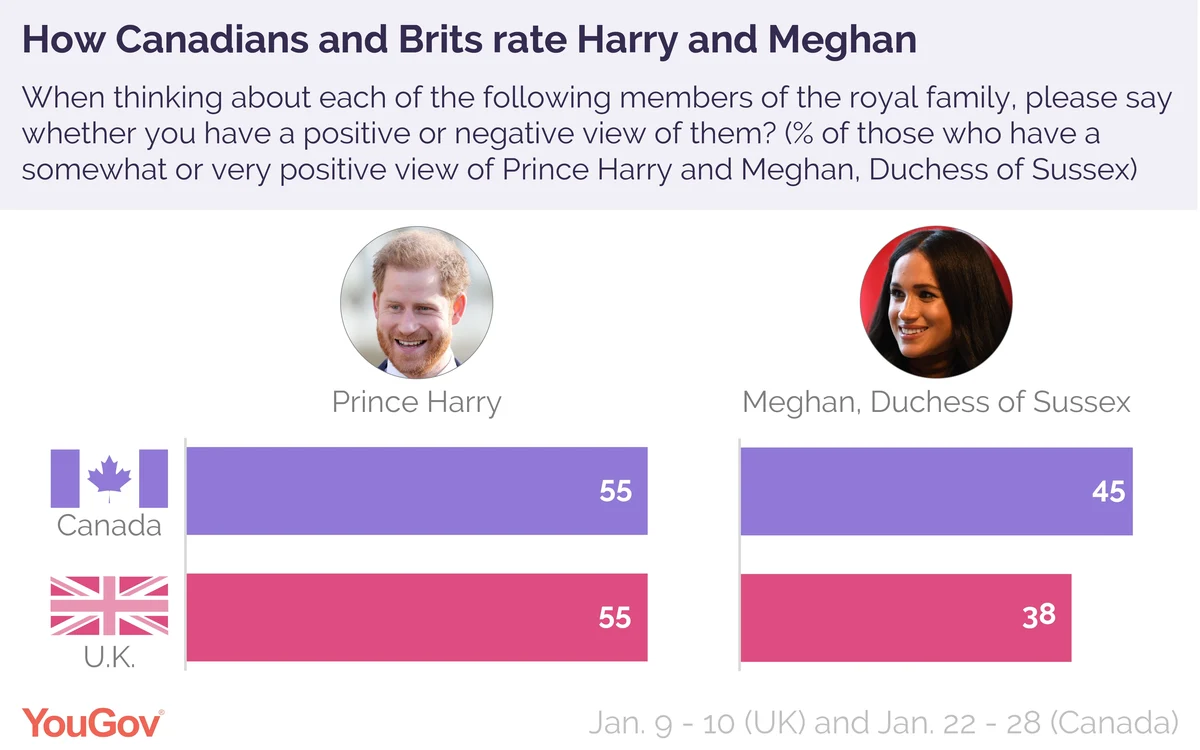 From where Canadians are sitting, half (50%) of them say the couple have been treated unfairly by British media, while nearly two thirds (64%) believe Canadian media have treated them fairly.
Overall, Canadians are fine with Harry and Meghan living in Canada -- but a majority say they should pay their own way. A lot has been made about who will pay for the couple's security detail while in the country and 68 percent of Candians are opposed to the idea of the government covering the cost of security required to protect them. One in five (21%) support the idea. Residents of their home country too don't want their government to pay: 66 percent of Britons say the government shouldn't continue to fund the cost of security.
View Canda results here and U.K. results here and here.
Image: Getty
Methodology: Total Canadian sample size was 1201 adults. Fieldwork was undertaken between Jan. 22 - 28, 2020. The figures have been weighed and are representative of all Canadian adults. Total U.K. sample size was 1,624 adults. Fieldwork was undertaken between Jan. 9 - 10, 2020. The survey was carried out online. The figures have been weighted and are representative of all GB adults