Vermont Senator Bernie Sanders leads the Democratic field, and he also appears to triumph over other leading Democratic presidential candidates in one-on-one contests — countering the narrative that Sanders is only succeeding because he's consolidated the party's liberal vote.
A Yahoo News/YouGov poll released on Thursday shows that Sanders would effectively defeat other strong, moderate Democratic candidates. His closest direct competitor appears to be Massachusetts Senator Elizabeth Warren, who was defeated by Sanders within the margin of error (+/- 2.7%). In that particular race, more than one in 10 of those who will vote in a Democratic primary (14%) were undecided.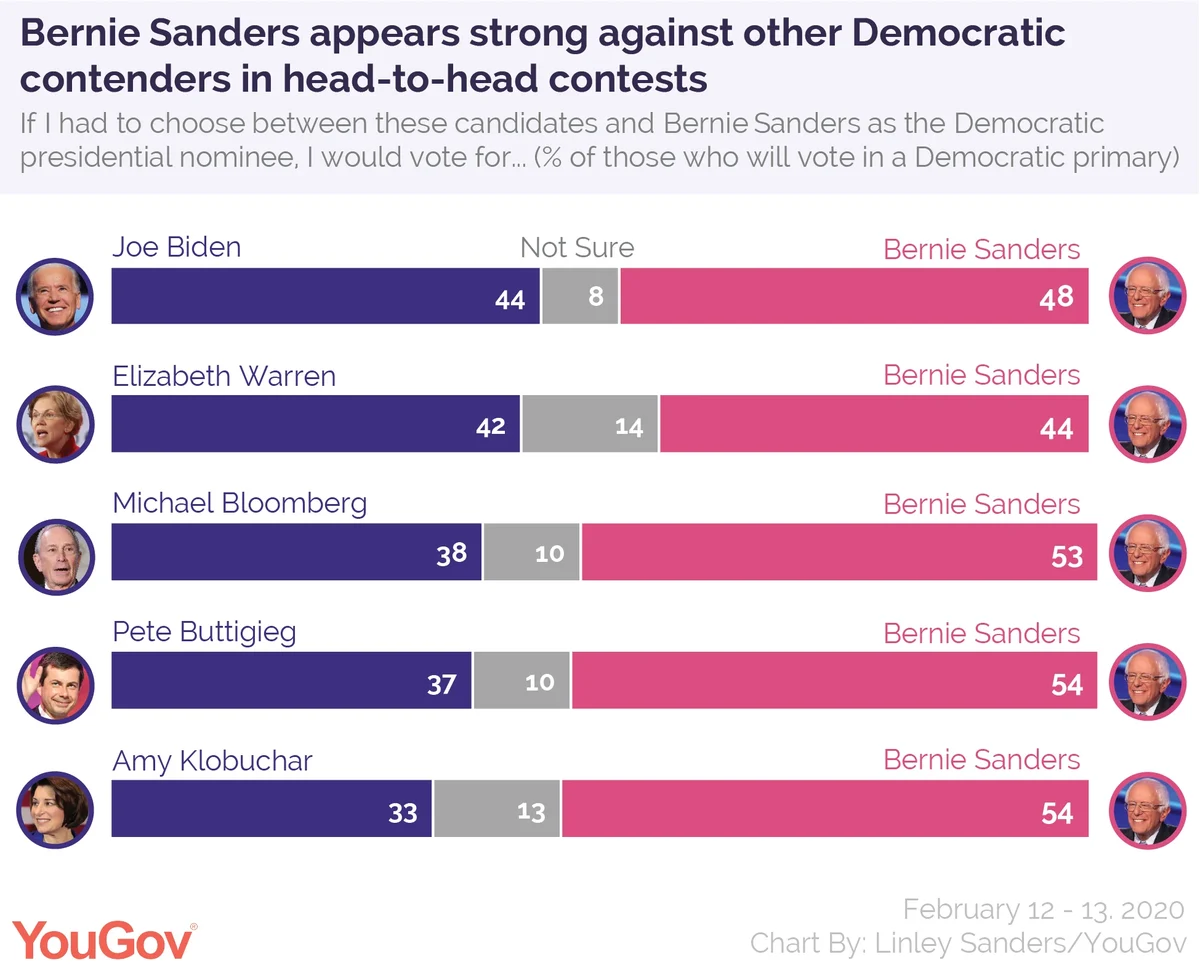 Former Vice President Joe Biden narrowly loses to Sanders (44% to 48%). The Vermont Senator boasted the strongest victory over former South Bend Mayor Pete Buttigieg (37% to 54%), who beat him for the most delegates in Iowa, and Minnesota Amy Klobuchar (33% to 54%), who delivered a third-place performance in the New Hampshire primary last week.
The contests were less promising for former New York Mayor Michael Bloomberg. He lost each of his match-ups — though at least one in 10 voters were "not sure" of who they would select in each of his contests. On Tuesday, Bloomberg qualified for his first Democratic debate, which will take place on Wednesday in Las Vegas.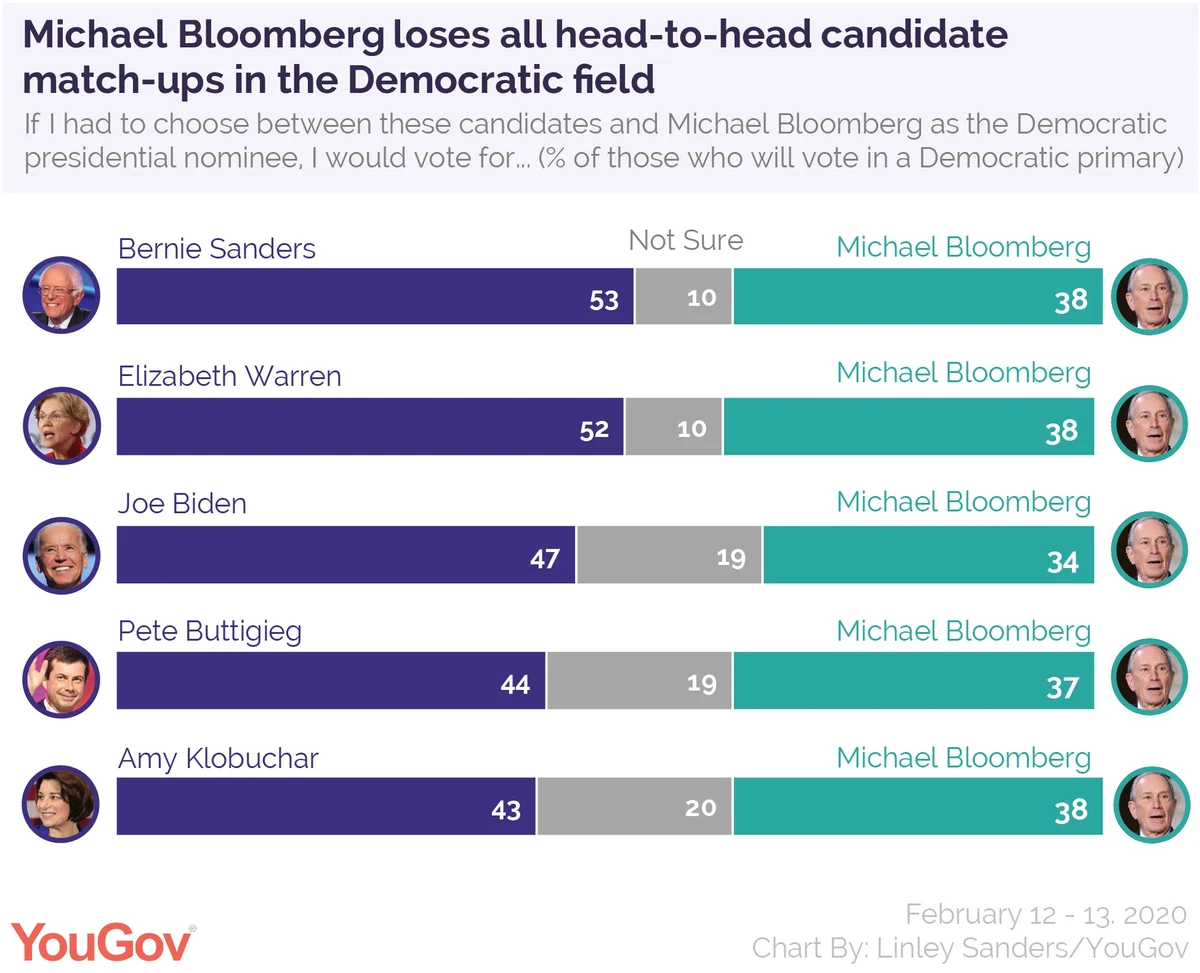 After Sanders, Warren appears to perform the strongest in head-to-head contests. The fellow progressive beat Klobuchar by 19 points (50% to 31%); Buttigieg by 18 points (52% to 34%); Bloomberg by 14 points (52% to 38%); and Biden by eight points (49% to 41%).
Biden, once the national front-runner, only wins a clear margin of victory over Bloomberg (47% to 34%). He loses by eight points against Warren in a head-to-head (49% to 41%) and loses by four points to Sanders (44% to 48%).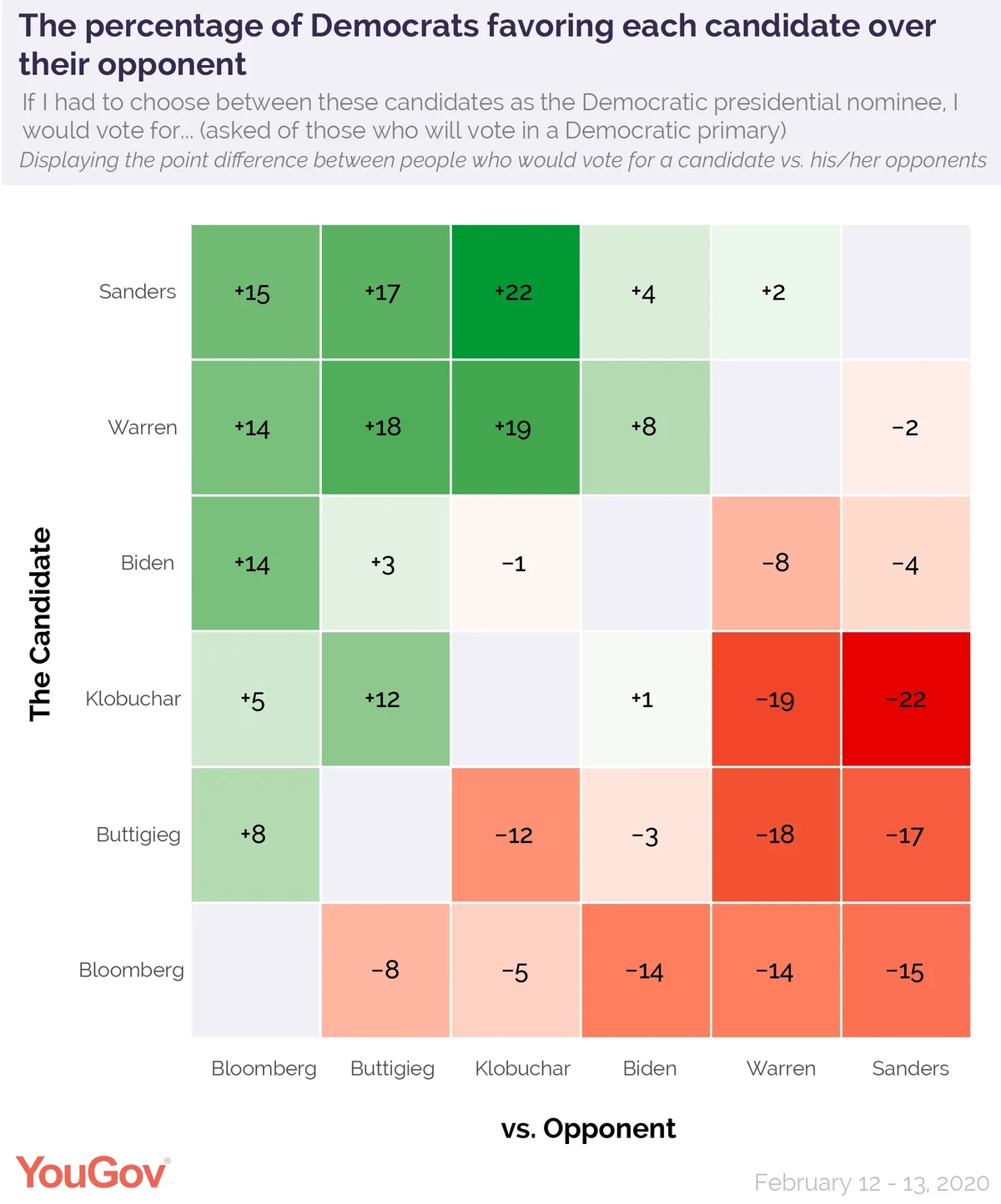 Related: Bernie Sanders is now the first choice for Democrats
See the toplines and table results from this Yahoo News/YouGov poll
Methodology: The survey was conducted by YouGov for Yahoo News. A representative sample of 1,530 US adults from YouGov's research panel were interviewed online. The sample was weighted by age, race, gender, education, voter registration, and 2016 presidential vote. The margin of error for the full sample was 2.7 percent.
Image: Getty