Former New York Mayor Michael Bloomberg started his presidential campaign later than most candidates, but he is already beating President Donald Trump in one metric: the number of registered voters who have seen his political advertisements.
Bloomberg, who announced his candidacy in late-November, was not on the ballot for early Democratic contests in Iowa and New Hampshire. To offset the late start, Bloomberg has poured $124 million into advertising for states that will vote on Super Tuesday — the day when the most states will hold their primaries and caucuses. Bloomberg also spent a projected $10 million on a Super Bowl advertisement designed to get "under Trump's skin," and has contracted with viral meme-makers to increase his reach on Instagram.
A Yahoo News/YouGov poll shows that Bloomberg's advertising-heavy strategy appears to be working. About two-thirds of registered voters (68%) have seen an advertisement for Bloomberg, while fewer than half (47%) have seen an advertisement for Trump.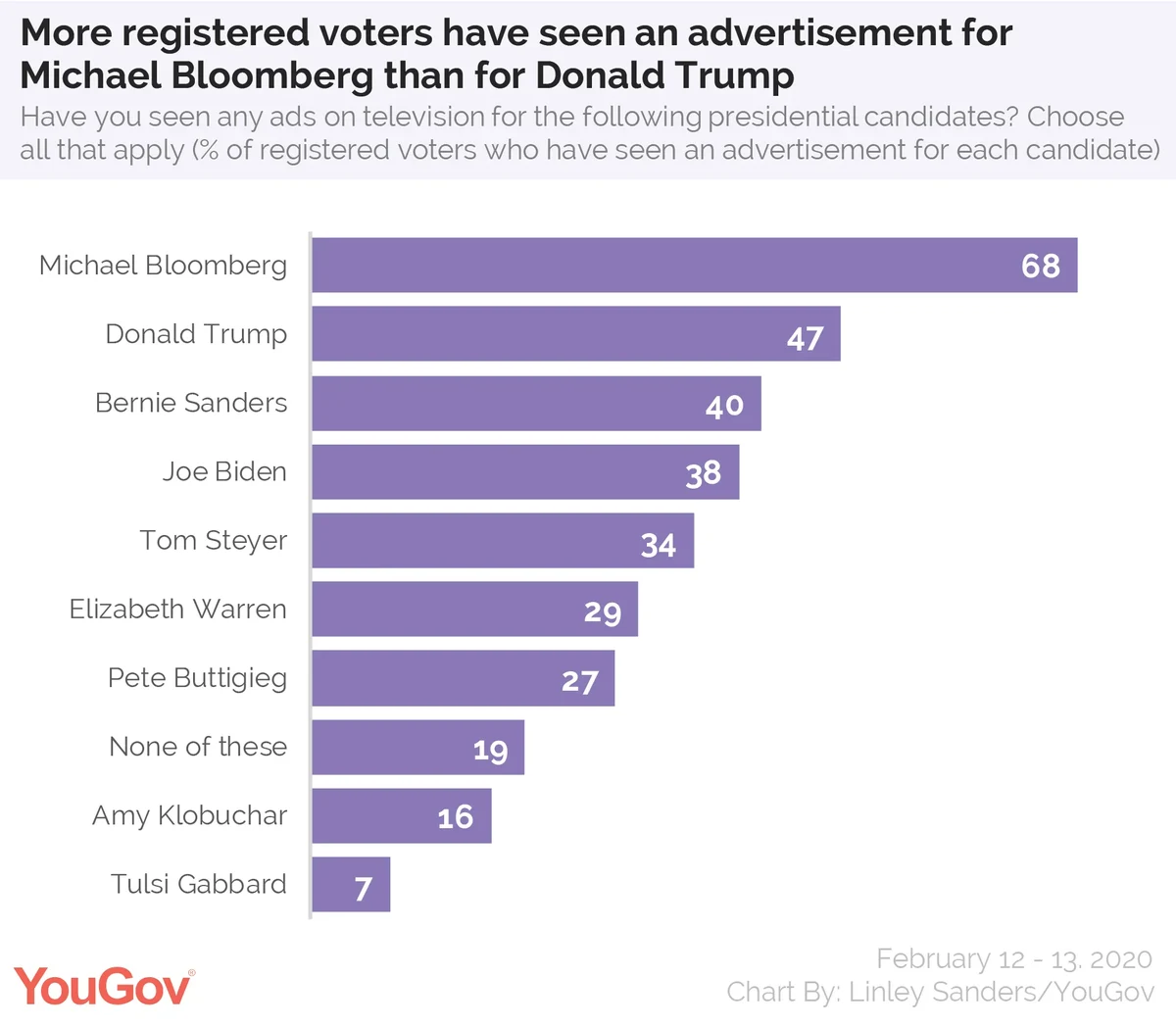 Just two in five (40%) registered voters have seen an advertisement for Vermont Senator Bernie Sanders, who leads the Democratic field and triumphs over other leading Democratic presidential candidates in one-on-one contests. Fewer than two in five registered voters have seen advertisements for Biden (38%), billionaire Tom Steyer (34%), Warren (29%), Buttigieg (27%), Klobuchar (16%), and Hawaii Representative Tulsi Gabbard (7%).
Sanders and other Democrats have criticized the billionaire businessman for funneling money into the presidential race, accusing him of attempting to "buy the presidency." And while a plurality of Americans say that a billionaire should be allowed to spend unlimited amounts on campaign advertising when running for President (45% say this should be allowed, while 37% say it should not be), Democrats feel differently. A plurality of Democrats (45%) says a billionaire should not be allowed to spend unlimited amounts on campaign advertising, while about two in five (39%) say they should.
Other data from the Yahoo News/YouGov poll indicates that while Bloomberg may be winning the advertisement contest, he faces tough match-ups against the other leading candidates. Bloomberg lost each head-to-head contest against other Democrats — though at least one in 10 voters were "not sure" of who they would select in his contests.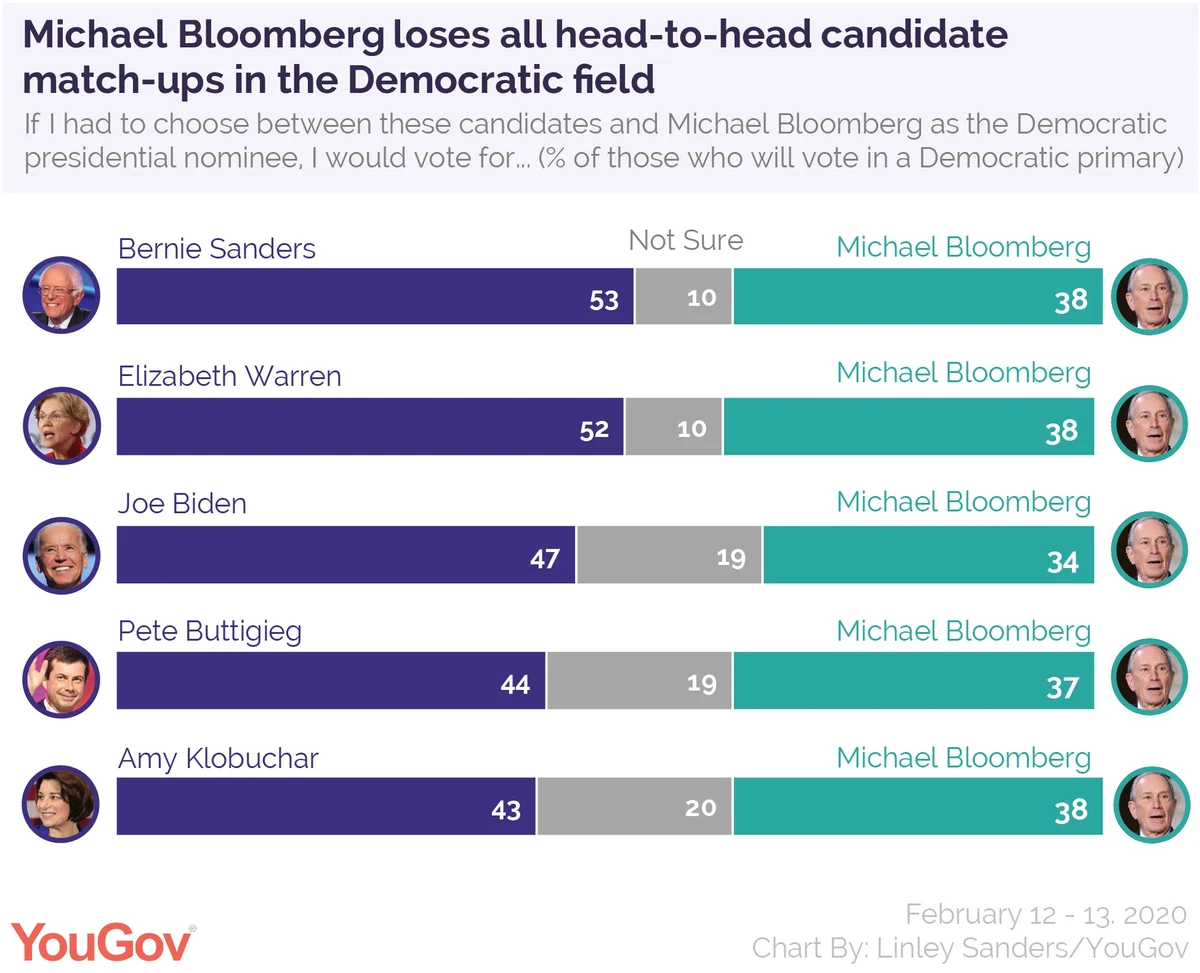 At this stage, Bloomberg loses to Sanders by 15 points in the direct competition (53% to 38%). He faces a similar defeat against Massachusetts Senator Elizabeth Warren (52% to 38%). Former Vice President Joe Biden beats Bloomberg, as well (47% to 34%). He is also bested by South Bend Mayor Pete Buttigieg (44% to 37%) and Minnesota Senator Amy Klobuchar (43% to 38%), though by slimmer margins.
On Tuesday, Bloomberg qualified for his first Democratic debate after a surge in qualifying polls. He will appear at the ninth Democratic debate in Las Vegas ahead of the Nevada caucuses on Saturday, February 22.
Related: Bernie Sanders appears strong in Democratic match-ups
See the toplines and table results from this Yahoo News/YouGov poll
Methodology: The survey was conducted by YouGov for Yahoo News. A representative sample of 1,530 US adults from YouGov's research panel were interviewed online. The sample was weighted by age, race, gender, education, voter registration, and 2016 presidential vote. The margin of error for the full sample was 2.7 percent.
Image: Getty