This poll is a part of the CBS News/YouGov Tracker of convention delegates, which measures the estimated winner of Democratic convention delegates in early primary and caucus states
After months as the lead candidate in South Carolina, former Vice President Joe Biden appears to face a tough fight in the state he once called his "firewall."
The latest CBS News/YouGov Battleground Tracker indicates that while Biden is the most likely first choice in South Carolina (28%), Vermont Senator Bernie Sanders is close on his heels (23%) ahead of the state's primary on Saturday. The CBS News/YouGov data also shows that Tom Steyer (18%), Massachusetts Senator Elizabeth Warren (12%), and former South Bend Mayor Pete Buttigieg (10%) are the only other candidates earning double-digit support among South Carolina's likely voters.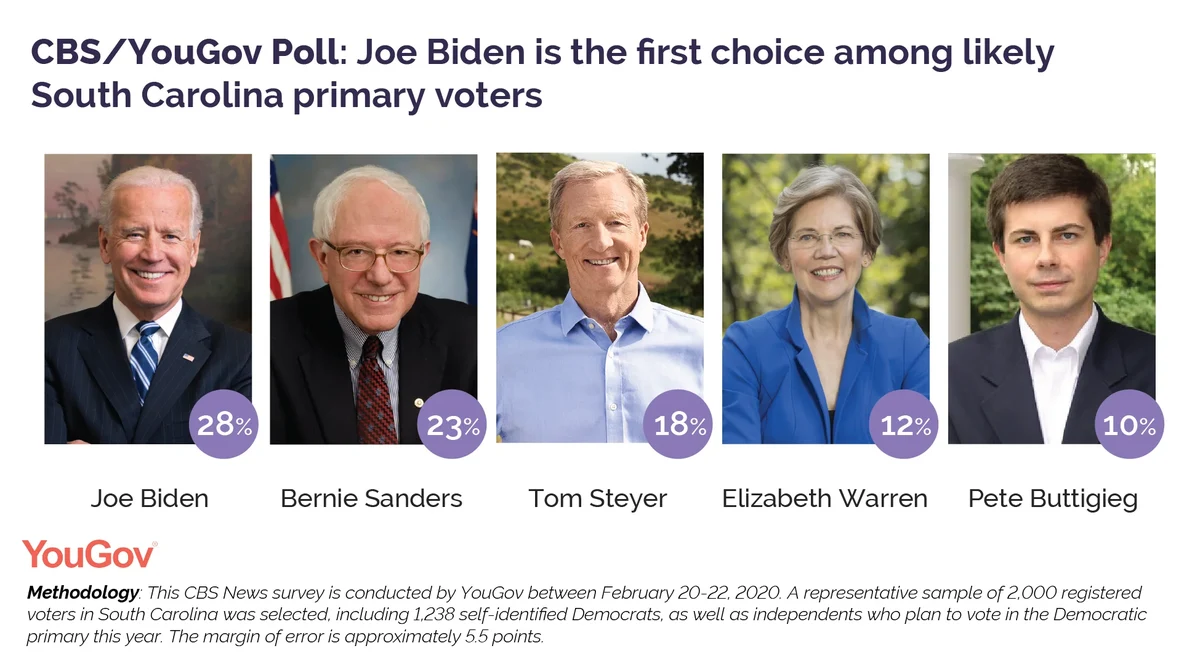 The poll raises the stakes for Biden, who acknowledged on Meet the Press last week that he needs to "do really well" in South Carolina — a state where a majority of the Democratic electorate is black. The former Vice President noted that his standard for doing "really well" does not necessarily mean getting first place in the state, however.
Throughout the campaign, Biden has remained the favored candidate of Black Americans — but he's also lost ground in the last few months. The latest CBS News/YouGov poll found that more than one-third (35%) of Black primary voters in South Carolina name Biden as their top choice, followed by Steyer (24%) and Sanders (23%).
That is a significant dip from the majority (54%) support among Black primary voters in South Carolina that Biden commanded over the fall.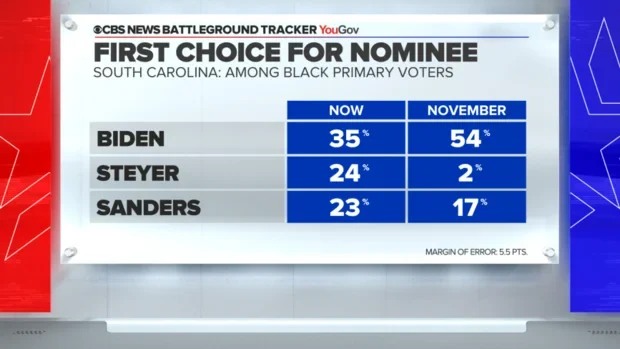 When asked to consider how much each presidential candidate cares about the needs of Black Americans in a recent Economist/YouGov survey, Sanders (63%) and Biden (61%) were given the best marks for caring "a lot" or "some." Black Americans believe that each Democratic candidate cares more about the problems of Black people than President Donald Trump — nearly seven in ten (69%) say Trump cares "not much" or "not at all."
Following the South Carolina primary on Saturday, the Democratic candidates will face Super Tuesday — the day when 14 states will grant their primary delegates.
Methodology: This CBS News survey is conducted by YouGov between February 20-22, 2020. A representative sample of 2,000 registered voters in South Carolina was selected, including 1,238 self-identified Democrats, as well as independents who plan to vote in the Democratic primary this year. This sample was weighted according to gender, age, race and education based upon voter registration lists and the U.S. Census Current Population Survey, as well as the 2016 presidential vote. The margin of error is approximately 5.5 points.
Explore more data from CBS/YouGov polls and see the full survey results from Iowa, New Hampshire, and South Carolina
Image: Getty