Former Vice President Joe Biden could be Democrats' best chance to beat President Donald Trump in key battleground states, according to data from Yahoo News/YouGov.
The poll, which was taken before Biden's win in South Carolina, asked registered voters to choose between leading Democratic candidates and Trump, revealed that Biden is the only candidate that beats Trump by a significant margin among registered voters nationally and in battleground states.
In a national trial heat against Trump, Biden led 50 percent to 41 percent among registered voters. In key battleground states — Michigan, New Hampshire, Wisconsin, Pennsylvania, Florida, Minnesota, Nevada, Maine, North Carolina, and Arizona — Biden carries 50 percent of the vote compared to 43 percent for Trump.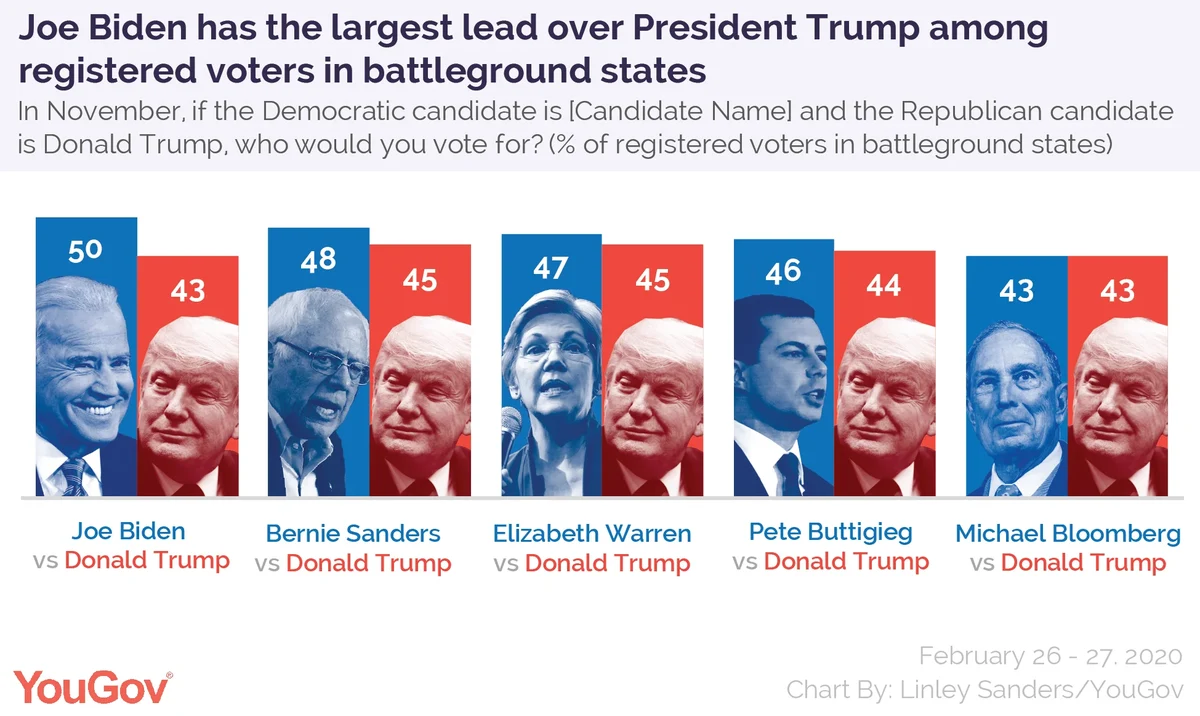 Vermont Senator Bernie Sanders — the national frontrunner — beats Trump in the national head-to-head contest (48% to 42%), but falls within the three-point margin of error in key battleground states (48% to 45%). In a sign of his political strength among young Americans, Sanders carries a 25-point lead over Trump among 18-to 29-year-olds in the trial heat. He boasts a 16-point lead among 30-to 44-year olds.
But Sanders falls short of Biden among other groups that will be vital in the 2020 election. Biden leads Sanders among swing voters — the voters who switched to vote for Democratic House or Senate candidates in the 2018 Midterm election after casting their ballots for Trump in the 2016 presidential election. Among swing voters, Biden leads Trump by 12-points (51% to 39%) while Sanders leads Trump by only four points (48% to 44%).
Biden's strength among Black Americans, which carried him to victory in South Carolina, continues to dominate other candidates. More than four in five (84%) Black Americans say they would vote for Biden over Trump. About three-fourths (76%) would choose Sanders over Trump.
Massachusetts Senator Elizabeth Warren slightly leads Trump among registered voters in battleground states (47% to 45%) while former New York Mayor Michael Bloomberg performed the worst (43% to 43%) out of the candidates tested.
Related: Debate watchers believe Bernie Sanders made the best case for defeating President Trump
See the topline results and crosstabs from this Yahoo News/YouGov survey
Methodology: This Yahoo News/YouGov survey is based on 1,662 interviews of US registered voters, including an oversample of 465 battleground state voters and 254 2016-2018 vote-switchers. The battleground states included Michigan, New Hampshire, Wisconsin, Pennsylvania, Florida, Minnesota, Nevada, Maine, North Carolina, and Arizona. This survey was conducted from February 26 - 27, 2020. The margin of error is 3% points.
Image: Getty