The U.S. government's study absolving Toyota of electronic problems in the recall of millions of its cars last year didn't ameliorate the worries of many Americans – in the latest Economist/YouGov Poll 36% blame Toyota's electronic problems as a cause of the acceleration issues. But more blame sticky gas pedals and improperly installed floor mats (things the government did cite in its report).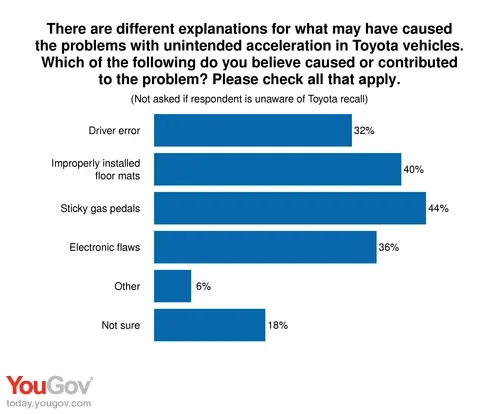 Favorable views of American cars have risen in the last year, but Toyota (along with other foreign car manufacturers) has seen little change in its image. Majorities have favorable images of five of six brands (three foreign and three domestic), but Toyota finishes behind Volkswagen, Honda and Ford, and only slightly ahead of General Motors. Ford is at the top of the list – 74% of Americans have a favorable opinion of Ford, while just 17% are unfavorable.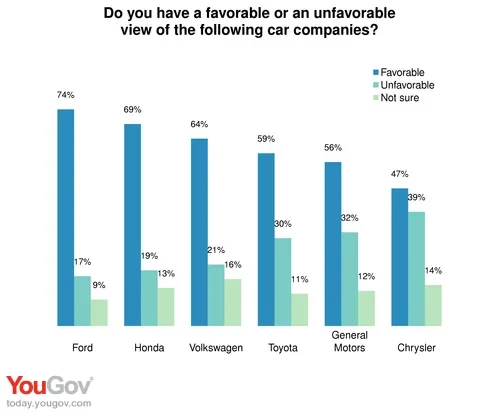 However, Chrysler's favorable rating remains below 50%. But all American brands have improved in the public's estimation since last year.
Do you have a favorable or an unfavorable view of the following car companies?
Jan. 31-Feb. 2, 2010
Feb. 12-15, 2011

General Motors

51%

38%

11%

56%

32%

12%

Ford

70%

20%

10%

74%

17%

9%

Chrysler

41%

45%

14%

47%

39%

14%