On Saturday, former Vice President
won the South Carolina primary, in part because of the strength of his support among African-American voters. Over the next several days he earned the endorsement of two former rivals, former South Bend Mayor
and Minnesota Senator
. The latest
Economist
/YouGov Poll, which was conducted Sunday through early Tuesday, before the 14 Super Tuesday state results were known. Much of the polling took place before the Buttigieg and Klobuchar endorsements, and before
dropped out on Wednesday.
The poll results demonstrate the enormous impact of Biden's South Carolina victory on the country's Democratic voters. Biden changed positions with Vermont Senator
when it came to voters' first choice for the nomination. Sanders had been riding high in the polling conducted after his victory in the previous weekend's Nevada caucuses. Biden gained eight points among Democratic primary voters after South Carolina, while Sanders lost six points in the poll.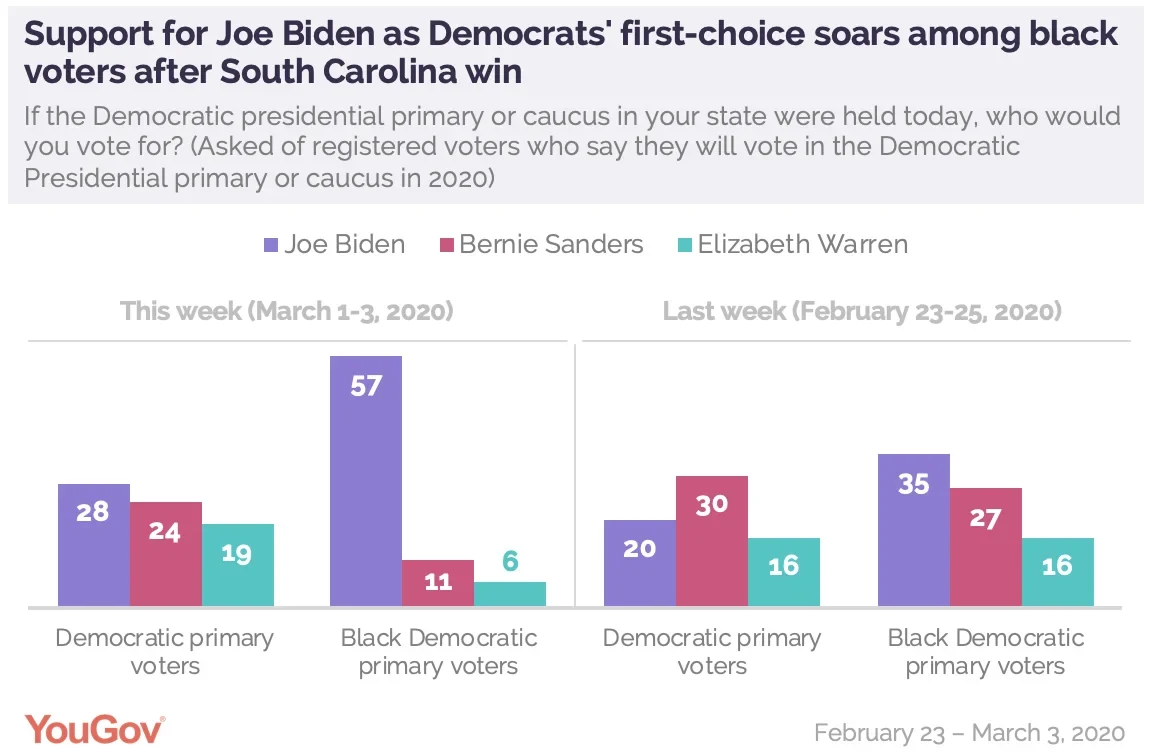 African-American support for Biden had been slipping in recent weeks. Before South Carolina, only a third of black voters said he was their first choice. He was only eight points ahead among black voters. But after the Nevada caucuses, House Majority Whip James Clyburn of South Carolina endorsed Biden, and former Vice President Biden consolidated black support: 57 percent of black Democratic voters nationally now say Biden is their first choice; Sanders' support among black Democratic voters was cut by more than half.
There were notable gender differences in this poll. Biden (31%) led Sanders (20%) by 11 points among women (Massachusetts Senator
(21%) did just as well with women as Sanders). Men, however, favored Sanders (30%) over Biden (24%) by six points. And voters under 30 overwhelmingly supported Sanders (46%), as nearly half of Democratic voters under 30 called him their first choice.
Biden also performed well in last week's debate, according to the poll. More than one in five (21%) Democratic voters said he did the best job, more than the 17 percent who named Sanders or cited Warren. Biden also has the mantle of electability among Democratic voters. Nearly two in three (64%) believe he can defeat Donald Trump, higher than the 52 percent who think Sanders can.
After South Carolina but before Super Tuesday, Sanders' voters in the polls expressed negative opinions about the Democratic Party, opinions which could affect their vote for the Democratic nominee in the November election. Twice as many Sanders voters said they thought the Democratic Party was corrupt, nearly twice as many as supporters of other candidates or of all Democratic voters.
Some Sanders supporters aren't sure they will be voting Democratic in November: 15 percent of them say it depends on whom the Democrats nominate and another 5 percent say they will vote for the President instead of the Democratic candidate. The smaller number of those supporting Michael Bloomberg are also conflicted. One in four of them will either vote for the President or say it depends on the nominee.
Read the full toplines and tables results from this week's Economist/YouGov poll
Image: Getty