The idea of getting intimate with a robot may sound like science fiction, but in reality, more and more Americans are considering it.

More than one in five Americans (22%) say they would consider having sex with a robot, according to a study conducted by YouGov in February 2020. That's six percentage points higher than the national rate in 2017, the last time YouGov asked these questions.



Men (+6 points), women (+5) and adults in virtually every age group are more willing to consider sex with robots in 2020 when compared with 2017. The increase in consideration is particularly significant among American adults aged 18- to 34-years-old (+12 points).

Sexual acts with robots buck normal human conventions of intimate relationships. In 2020, just 27 percent of Americans say they would consider it cheating if they had a partner who had sex with a robot (down from 32% in 2017). This may be because people view engaging in sex with a robot as closer to masturbation (31%) than actual intercourse (14%). To further the point, nearly half of Americans say that paying a robot should not be considered as prostitution (48%).

The data also reveals that people believe having sex with a robot is safer than having sex with a human stranger (42%). Men (49%) are especially likely to believe this when compared with women (36%). Just 7 percent of Americans believe having sex with a robot would be less safe.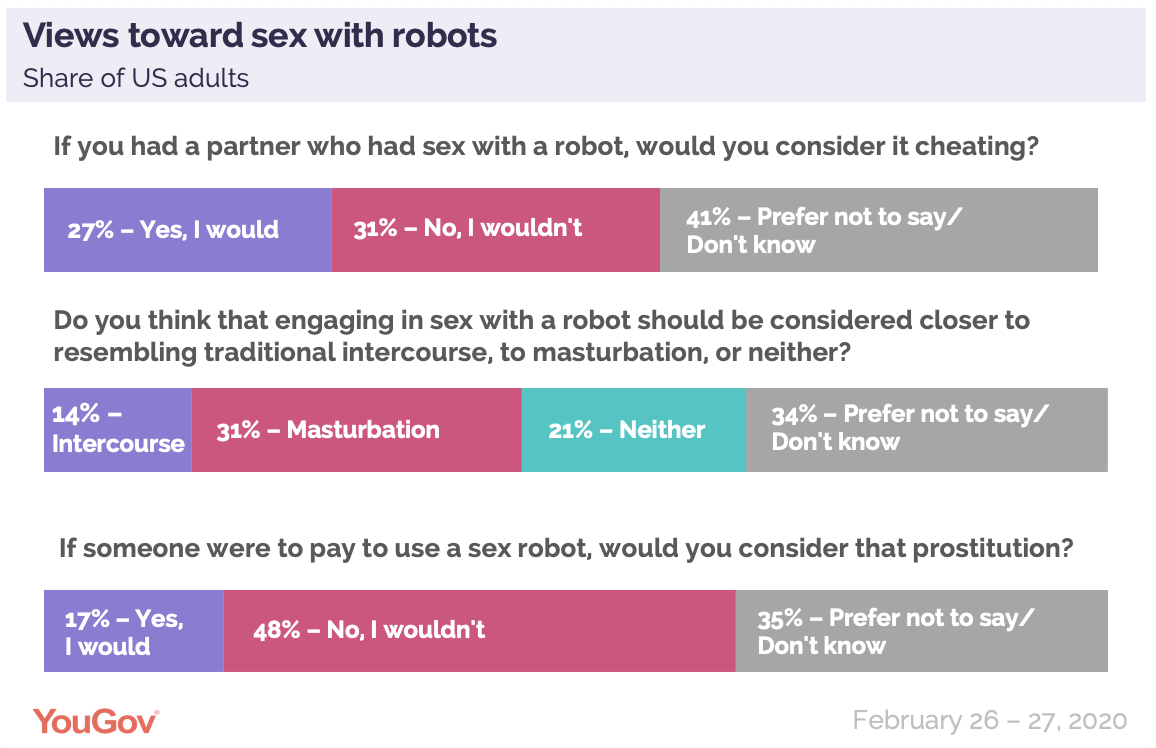 Sex with robots in popular culture

Today, robots already play vital roles in speeding up manufacturing and packaging, assisting healthcare providers in medicinal settings, and even delivering food in some cities. A Bloomberg report outlining Amazon's plans for an Alexa-powered robot that follows and helps you around the home may redefine how these machines service humans in the near future.

In the last few years, HBO's hit show Westworld has raised philosophical and ethical questions of how humans should treat machines with artificial intelligence (AI). The sci-fi show, based on Michael Crichton's novel of the same name, drew an average of 13.2 million viewers per episode its first season according to Variety.

The show's intrigue lay in its premise: human guests pay to live out their Wild West fantasies in a simulation often at the expense of hosts (AI-powered robots). It explores the basest desires of human nature and the extent to which we can be cruel to things we don't perceive as sentient.

On March 15—Westworld's season 3 premiere—online conversation around HBO's sci-fi thriller surged. Data from YouGov Signal—a platform that tracks the volume and sentiment of online conversations—shows that during the time between the release of the season 3 trailer (February 19) to the night of its premiere, Twitter mentions with the word "Westworld" increased by 2,600 percent and the daily number of page views on Westworld's Wikipedia page soared by 737 percent.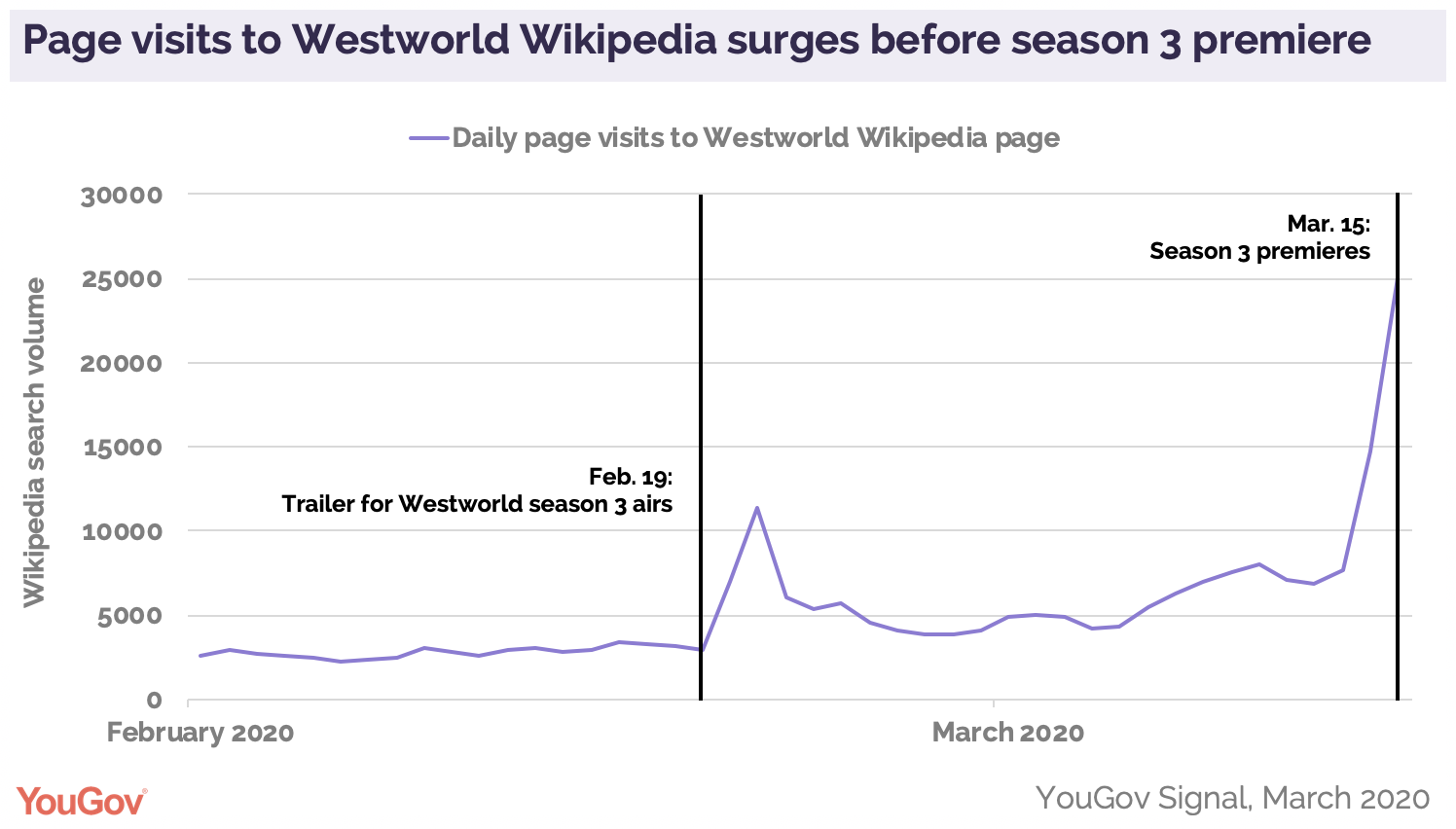 A few of Westworld's plot elements may become common practice over the next few decades. According to data from YouGov's February study, one in two (48%) Americans say using robots for sex will become a commonly accepted practice within the next 50 years.

Methodology: This YouGov study is based on 1,206 interviews of US adults aged 18 and over. The survey was conducted online and fielded between February 26 and 27, 2020. Read the full results from the poll here.

Image: Getty