This poll is a part of the Yahoo News/YouGov Poll partnership and was cited in the Yahoo News article "Coronavirus hitting the working class much harder than the wealthy."
As the COVID-19 pandemic devastates the US economy, a Yahoo News/YouGov poll shows that economic pain is felt most acutely by working-class Americans.
Those with a family income of less than $50,000 annually are much less likely to have jobs that can easily transition to a work-from-home model (18% vs. 66%). They are more likely than their wealthy peers to have their pay or hours reduced (34% vs 24%), and they are less likely to be able to pay their rent or mortgage. Those who earn less than $100,000 annually are twice as likely (36%) as wealthier American households (18%) to think it is likely they will lose their job during the coronavirus outbreak.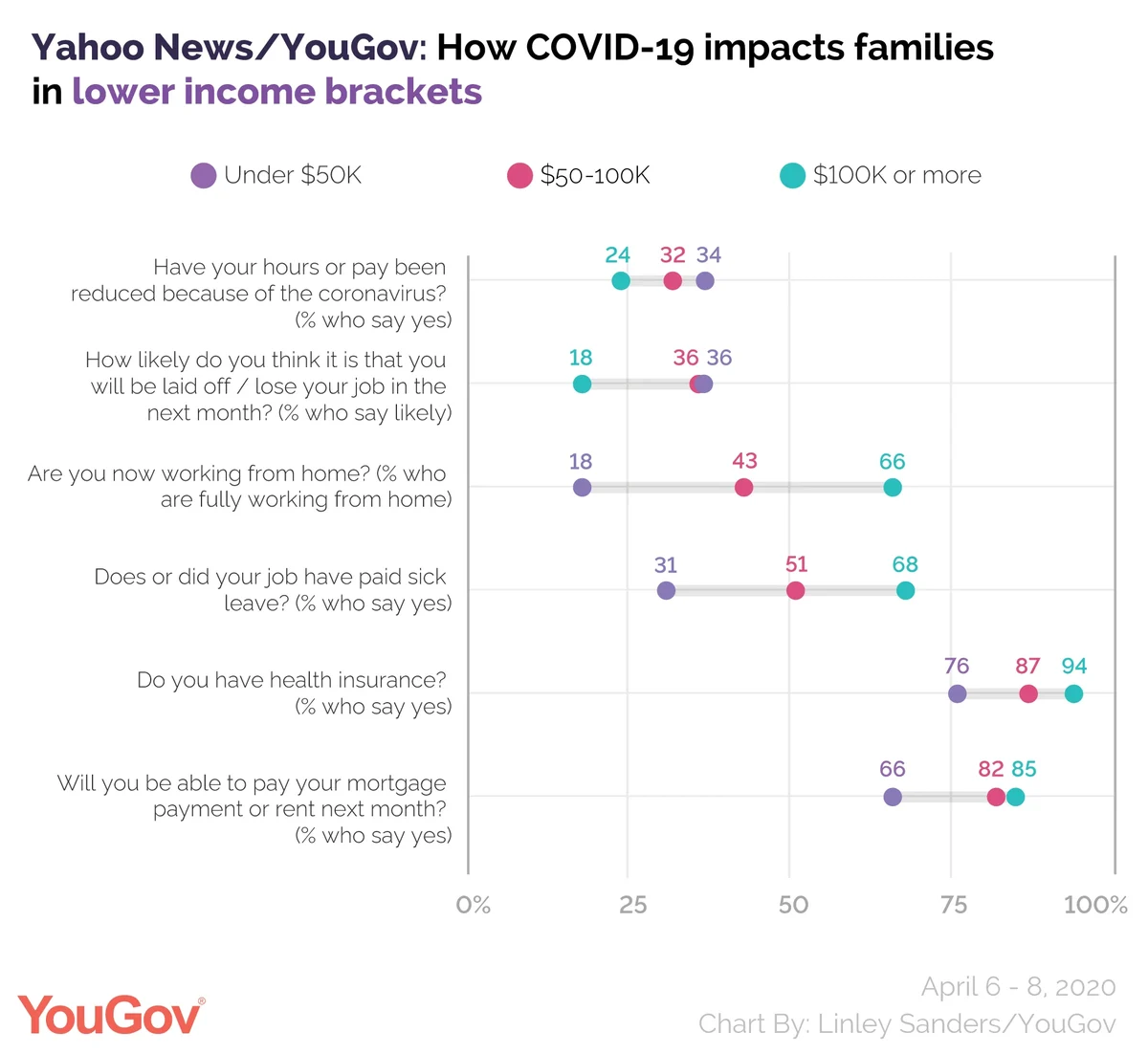 More than nine in 10 Americans (94%) earning $100,000 or more annually say they have health insurance. Close to nine in 10 Americans (87%) earning between $50,000 and $100,000 have access to health insurance. But only about three-fourths (76%) of those making less than $50,000 annually have health care.
Those making less than $50,000 annually are also much less likely (31%) to have jobs that provide paid sick leave. About half of those (51%) making between $50,000 and $100,000 have sick leave and about two-thirds (68%) of individuals making more than $100,000 do.
About one-third (36%) of Americans in the lower-income bracket say their families are "worse off financially" than they were a year ago. Only about a quarter (25%) of Americans making between $50,000 and $100,000—or making more than $100,000 annually (26%)—say the same. A plurality of each group says they are financially "about the same" as a year ago.
As lower-income Americans are hit the hardest by the COVID-19 economic downturn, they are also the least likely to have a large financial cushion. A plurality of Americans (39%) earning less than $50,000 annually say that they would exhaust their savings within one month or less if they lost their job. Three in five (60%) say they could only last for two months.
In contrast, a plurality of Americans (46%) earning more than $100,000 annually say they could last more than a year before their savings ran out.
Related: Americans support voting by mail—and so do the states
See the toplines and crosstabs from this Yahoo News/YouGov Poll
Methodology: The Yahoo! News survey was conducted by YouGov using a nationally representative sample of 1,566 U.S. adult residents interviewed online between April 6-7, 2020. This sample was weighted according to gender, age, race, and education. Respondents were selected from YouGov's opt-in panel to be representative of all U.S residents. The margin of error is approximately 3.4 percent.
Image: Getty