One in three Americans say the emotion they feel most when thinking about the protests in Egypt is worry, according to the latest Economist/YouGov Poll, with Republicans and those over 65% the most worried about the outcome. But the emotions that closely follow worry are those of interest and hopefulness. 25% say they are interested, 20% hopeful. Just 9% say their strongest feeling is that of being scared (the same percentage that says they are "bored").



Americans give the Obama Administration generally positive ratings for its performance during the last few weeks of protests in Egypt. Although nearly half say they don't know how to evaluate the President's performance, by a margin of 30% to 23%, Americans say his actions generally made things in Egypt move in a positive direction. This assessment of the President, like almost all assessments of his performance, is party-driven, with Republicans negative, and Democrats positive.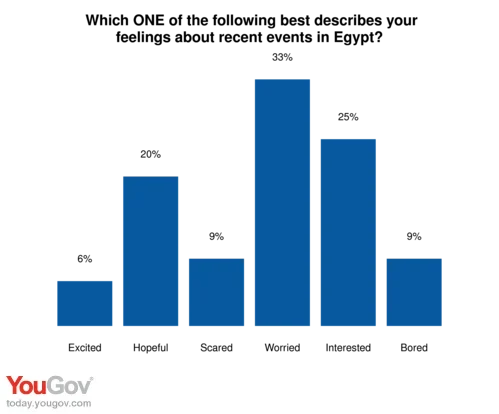 But the President's overall approval rating continues to languish. Just 43% in the week's poll approve of the way he is handling his job overall, while 50% disapprove.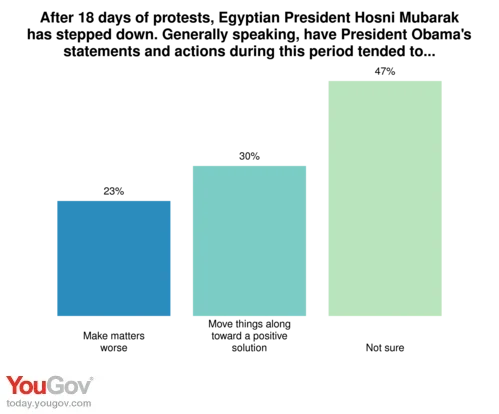 As protests in the Middle East continue, Americans want the Administration to be proactive - at least verbally. By a margin of 53% to 26%, those aware of the current protests in Bahrain want the Administration publicly to support the pro-democracy protests there. And that sentiment crosses party lines: Republicans and Democrats would like to see more public support.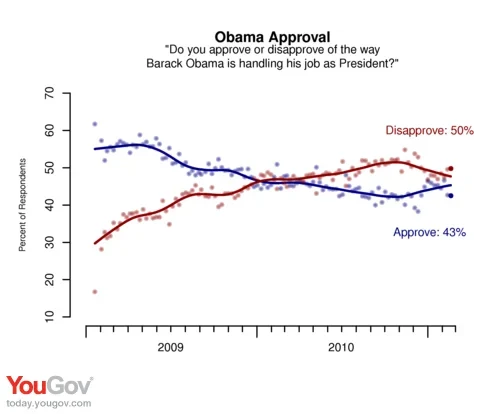 Should the Obama Administration publicly support the pro-democracy protesters in Bahrain?
| | Total | Democrats | Republicans | Independents |
| --- | --- | --- | --- | --- |
| Definitely yes | 19% | 25% | 19% | 14% |
| Probably yes | 34% | 31% | 35% | 35% |
| Probably no | 19% | 12% | 20% | 24% |
| Definitely no | 7% | 4% | 8% | 8% |
| Not sure | 22% | 28% | 19% | 19% |
| Asked of half of all respondents who have heard about protests in Bahrain | | | | |
Photo: flickr (Jonathan Rashad)