It's been less than a week since George Floyd, a 46-year-old black man, was killed by a white police officer in Minneapolis, Minnesota. In the days since, protests have swept the nation. American can be deeply partisan on certain issues, but a Yahoo News/YouGov Poll indicates that Floyd's death is not currently one of them.
Most Democrats (91%) and Republicans (88%) know Floyd's name. A majority of Democrats (76%) and Republicans (70%) have now seen the video of the police officer, Derek Chauvin, kneeling on Floyd's neck for several minutes as Floyd says, "I cannot breathe," and "don't kill me" as other police officers stand nearby. Most Democrats (79%) and Republicans (66%) strongly support the firing of all police officers involved, which happened on Tuesday.
When told that Chauvin had been charged with third-degree murder on Friday — meaning the offender did not mean to kill, but that someone died "by perpetrating an act eminently dangerous to others and evincing a depraved mind, without regard for human life" — and that if convicted Chauvin could be sentenced for up to 25 years in prison, most Democrats (95%) and Republicans (81%) say the charge is either appropriate or that it should be more serious.
Democrats (64%) are more than twice as likely as Republicans (29%), however, to say Chauvin should have been charged with a more serious crime. Three-quarters of black Americans (78%) say the charge is not sufficient compared to about two in five (41%) white Americans. But, just one in 25 Americans (4%) say Chauvin did not deserve to be charged with a crime at all. Most people (77%) say Chauvin is obviously guilty of a crime and, if anything, the authorities were too slow to arrest him.
A consensus has formed around Chauvin's guilt and how race impacted Floyd's death at the hands of police. Three in five (61%) Americans say race played a "major factor" in Floyd's death. Only one in 10 Americans believe it was not a factor at all. Republicans are more than twice as likely (22%) as Americans overall to say that race was not a factor, but a plurality (39%) still say race was a major factor.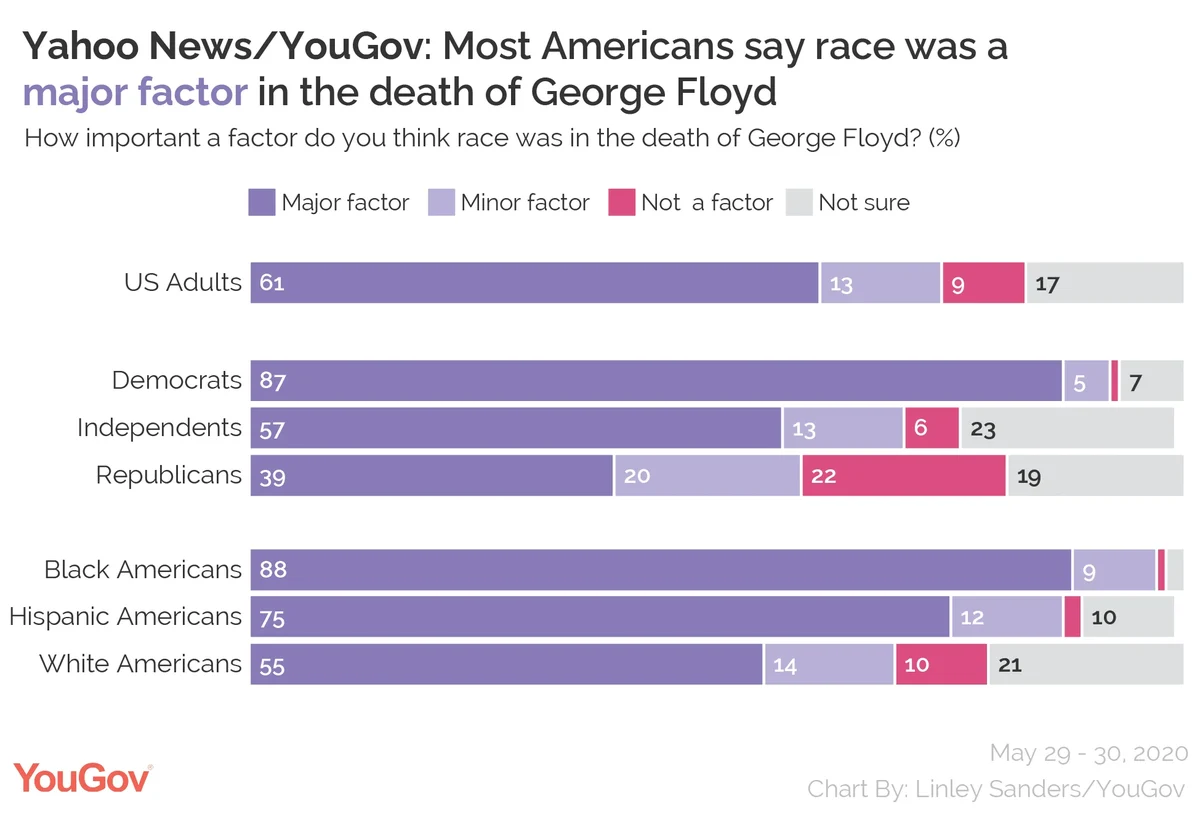 But Americans are less certain about how to classify the protests that originated in Minneapolis after Floyd's death and have spread across the world. Many protesters have marched peacefully in the streets, while others have engaged in looting or arson. The Minnesota Star Tribune reported that at least 255 businesses across the cities were vandalized as of Sunday morning.
Americans describe the protests in Minneapolis as "mostly violent riots" (51%) over "mostly peaceful protests" (10%). About two in five Democrats (42%) describe the protests as an equal mixture of peaceful and violent, while almost three-quarters of Republicans say the protests are mostly violent riots. White Americans (57%) are much more likely than Black Americans (32%) to believe that the Minnesota protests are defined by violence.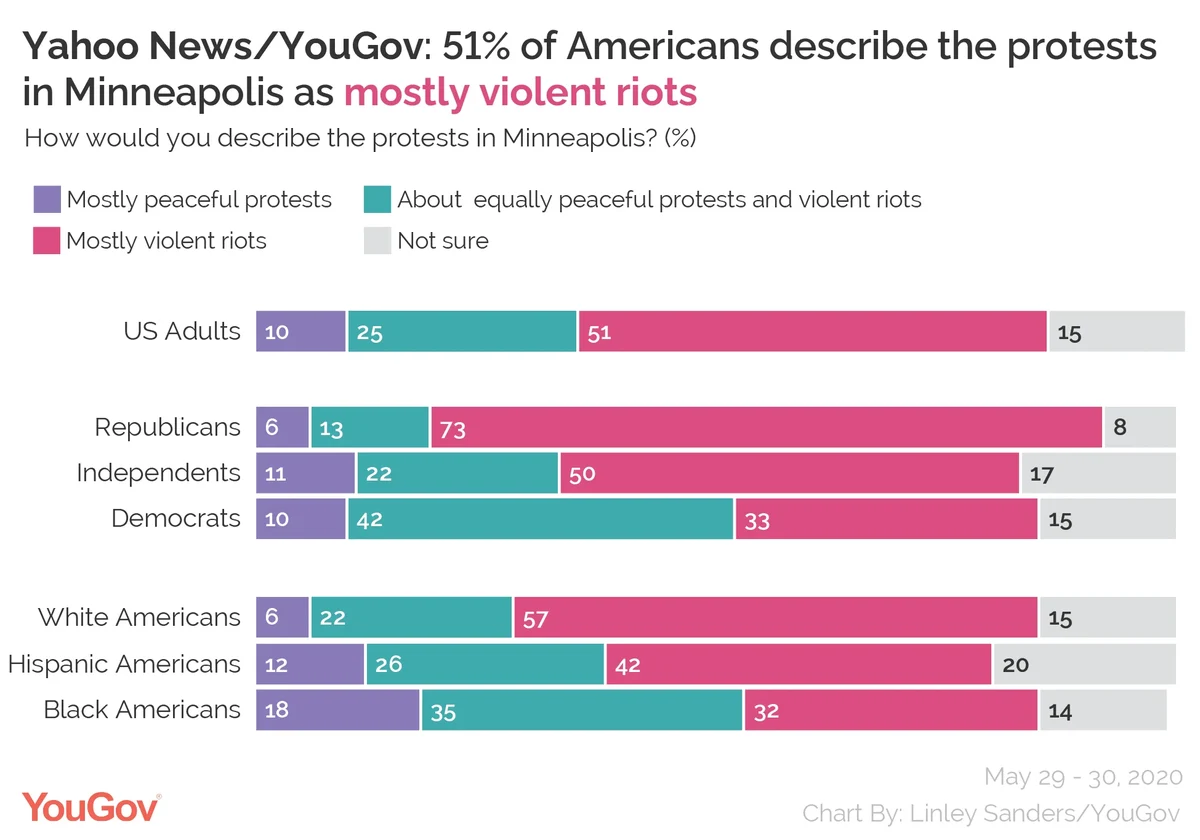 See the toplines and crosstabs from this Yahoo News/YouGov Poll
Related: How black and white Americans view police brutality
Methodology: The Yahoo! News survey was conducted by YouGov using a nationally representative sample of 1,060 US adult residents interviewed online between May 29-30, 2020. This sample was weighted according to gender, age, race, and education based on the American Community Survey, conducted by the US Bureau of the Census, as well as 2016 Presidential vote, registration status, and news interest. Respondents were selected from YouGov's opt-in panel to be representative of all US residents.
Image: Getty