In President Ronald Reagan's farewell address to the nation in 1989, he called America a shining city on a hill. President Reagan ended eight years in office by describing America as "a beacon, still a magnet for all who must have freedom, for all the pilgrims from all the lost places who are hurtling through the darkness, toward home."
A new Yahoo News/YouGov Poll conducted just before Independence Day reveals that while about half of Americans (52%) believe America was a shining city on a hill when Reagan gave his final speech as president, most Americans (62%) say the country is no longer a beacon and a model for the rest of the nations of the world.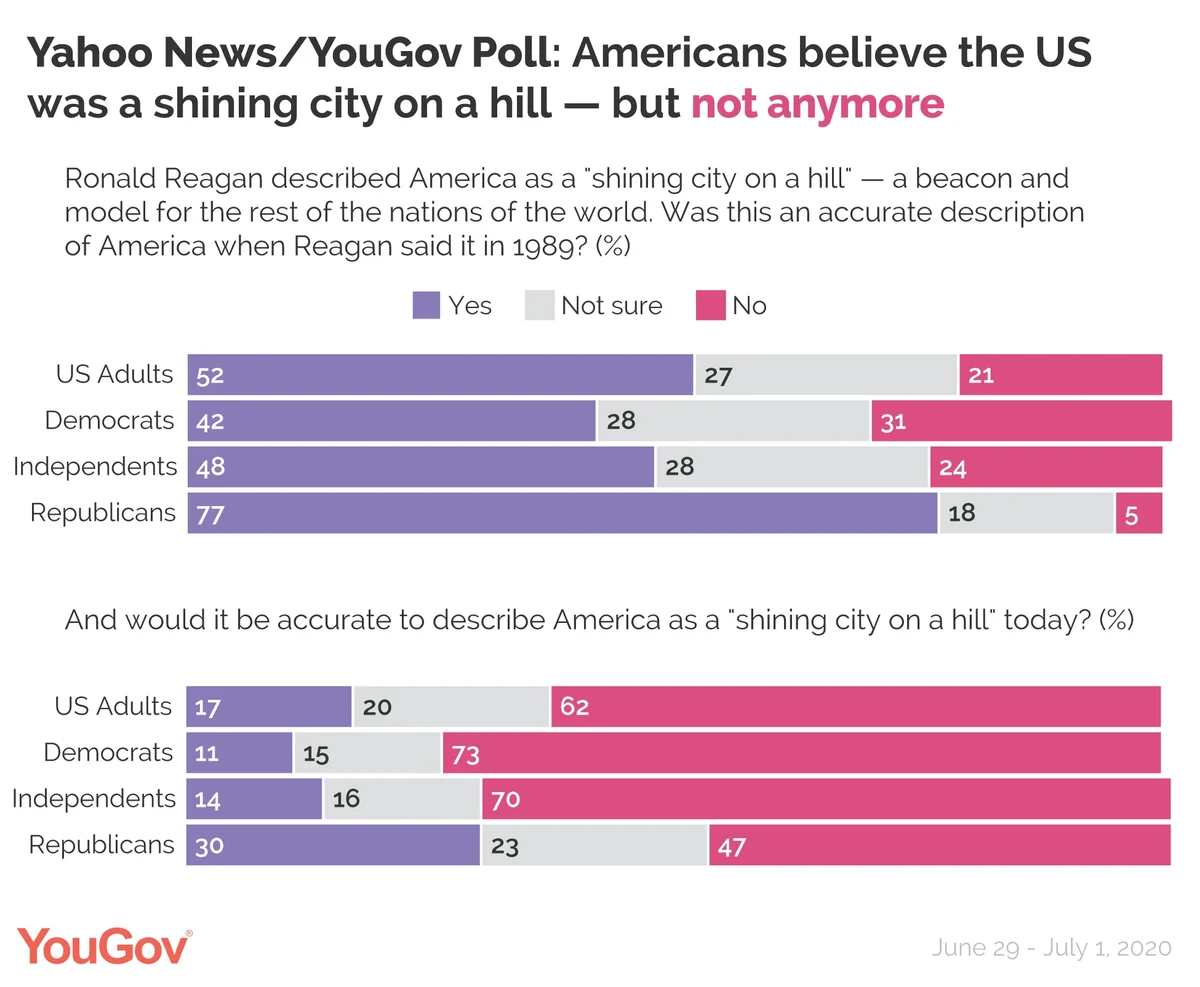 Republicans and Democrats are both less likely to describe modern-day America as a shining city on a hill when compared to 1989. About three-quarters (77%) of Republicans say the words were true when Reagan said them, but fewer than half (30%) say they still apply.
Fewer than half of Democrats (42%) said that America was a shining city on a hill when Reagan left office, and only 11 percent say it is true today. Among Independents, the shift is also stark. About half (48%) said the statement was true as Reagan's terms concluded, but 14 percent of Independents believe the words still apply.
See the toplines and crosstabs from this week's Yahoo News/YouGov Poll
Methodology: The Yahoo! News survey was conducted by YouGov using a nationally representative sample of 1,525 US adult residents interviewed online between June 29 - July 1, 2020. This sample was weighted according to gender, age, race, and education based on the American Community Survey, conducted by the U.S. Bureau of the Census, as well as 2016 Presidential vote, registration status, geographic region, and news interest. Respondents were selected from YouGov's opt-in panel to be representative of all US residents. The margin of error for the entire sample is ±3.2%
Image: Getty