Democratic candidate for president, Joe Biden, launched a six-figure, multi-state TV and digital ad campaign this week.
The spot features Biden speaking about America's fight against COVID-19. In the advertisement, the former vice president tells Americans, "If you're sick, if you're struggling, if you're worried about how you're going to get through the day, I will not abandon you. We're all in this together; we'll fight this together, and together, we'll emerge from this stronger than we were before we began."
A YouGov snap poll asked 1,000 registered voters to watch Biden's political advertisement and share their opinions. Seven in 10 registered voters (70%) considered the tone of commercial as positive, and just 11 percent thought it was negative.
A plurality of Republicans (43%) — who were asked to put aside their political affiliation while evaluating the clip — also rated the advertisement's tone as positive rather than negative (23%).
A majority of registered voters (62%), Independents (61%), and Democrats (93%) said the advertisement's message came across as honest. In contrast to the consensus about the advertisement's tone being positive, a plurality of Republicans (43%) said it was dishonest. Most registered voters (58%) found the spot inspiring, while one in five (21%) said it was uninspiring. Another one in five (21%) said it was neither inspiring nor uninspiring.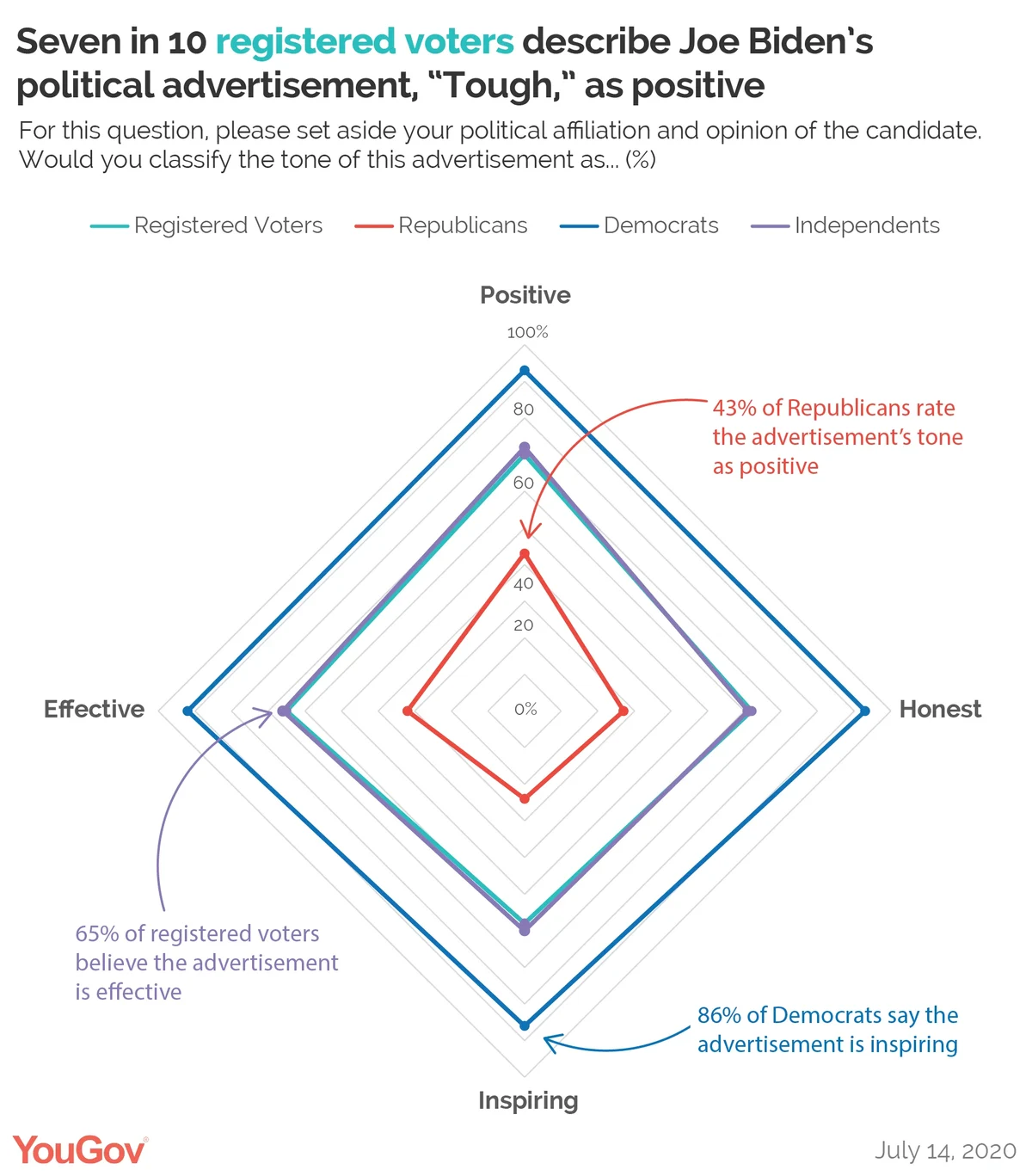 The voters were asked to share their opinion of Biden before watching the advertisement and after it. Positive opinion of Biden increased 12 points among Independents (45% to 57%), 7 points among registered voters overall (49% to 56%), 7 points among Republicans (6% to 13%), and four points among Democrats (86% to 90%).