Among his supporters, President Donald Trump projects strength. Challenger Joe Biden is seen by his supporters as someone who's honest.
That's according to the results of a Yahoo News/ YouGov poll from late July that asked respondents toabout the qualities they wanted in a president and to rate the candidates on a set of characteristics.
How supporters of each candidate view their choice seems to have a lot to do with what's important to them, ideologically. Republicans seem to value strength (76% percent say it's important), and Democrats value honesty (81%) and competence (77%). Democrats also tend to value empathy (69% vs. 48%) more highly than Republicans.
But believe it or not, Democrats and Republicans are somewhat aligned on the leadership quality theymost want in a president: taking responsibility.

For 85 percent of Democrats, and 80 percent of Republicans, the ability to take responsibility is very important, which makes it the top characteristic for members of both parties. A majority also say that honesty (81%) and competence (77%) are very important qualities for a president to have.

Among Republicans, 80 percent say the ability to take responsibility is very important for a president.
Which of these qualities do Americans think President Donald Trump and Democratic presidential candidate Joe Biden possess?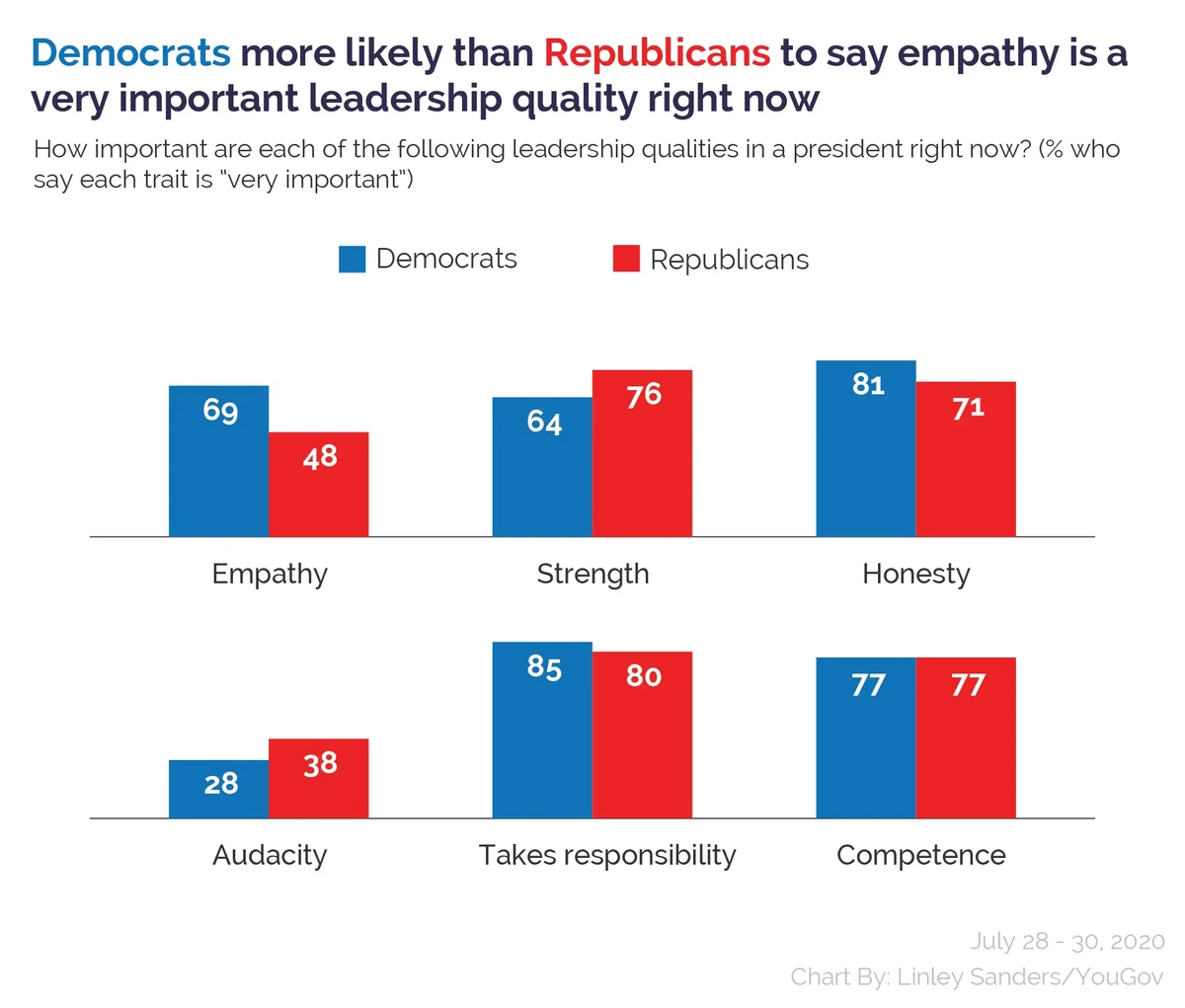 About three-quarters of Trump's supporters say he has competence (76%) and 67 percent say Trump takes responsibility.
Looking at Biden supporters, 78 percent say that the former vice president takes responsibility, while 74 percent believe he is honest and competent.
See the full toplines and crosstabs from this week's Yahoo News/YouGov poll
Methodology: The Yahoo! News survey was conducted by YouGov using a nationally representative sample of 1,506 U.S. adult residents interviewed online between July 28-30, 2020. This sample was weighted according to gender, age, race, and education based on the American Community Survey, conducted by the U.S. Bureau of the Census, as well as 2016 Presidential vote, registration status, geographic region, and news interest. The margin of error for the entire sample is ±3.3%.
Image: Getty