Several members of President Donald Trump's immediate family have been open about their political ambitions. It's not unthinkable that another Trump could run for president someday. But which family member would Americans want to carry on the Trump dynasty after Donald Trump leaves office?
The Daily Show teamed up with YouGov to figure out what might happen in a fantasy scenario in which members of the Trump family were all running against one another. The survey was taken before any of the family members spoke at the Republican National Convention.
The people have spoken and it's a tie: Melania or Ivanka should be the next President Trump.


Donald Trump's wife, Melania Trump, was chosen as the pick for president in 57 percent of the head-to-head matchups she faced. His daughter, Ivanka Trump, was also chosen as the winner in 57 percent of her head-to-head matchups.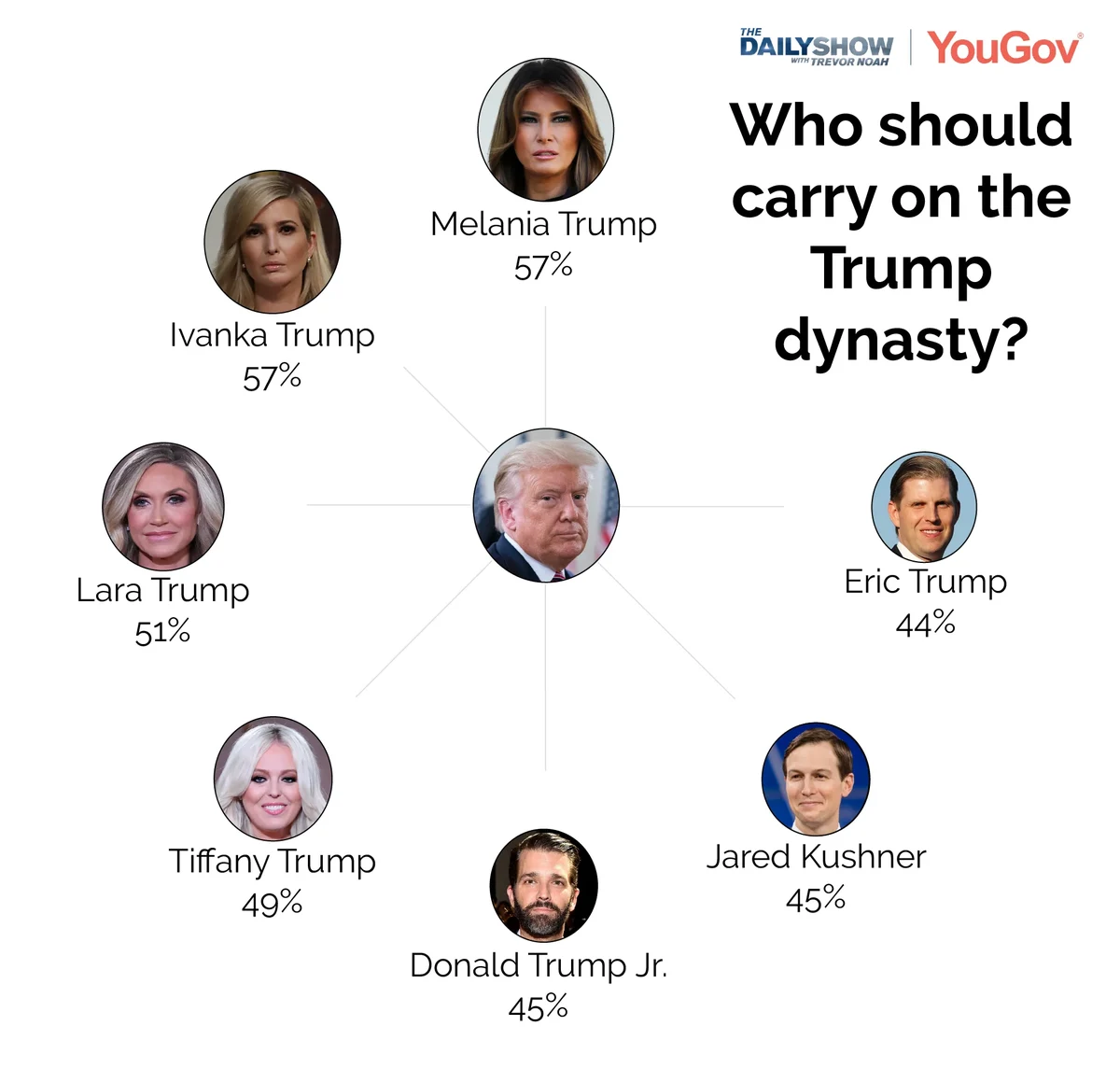 The next people on the list are Lara Trump (51%), Tiffany Trump (49%), Donald Trump Jr. (45%) and Jared Kushner (45%). Respondents put Eric Trump in last place, with 44 percent choosing him in a head-to-head matchup against other members of his family.
There are some notable partisan splits.
Among Democrats, the person who won the most matchups is perhaps the least-well-known member of the family: Tiffany Trump. She wins 75 percent of her matchups among Democratic respondents. The loser among this group is Tiffany's older brother, Donald Trump Jr., who succeeds in 25 percent of his matchups.
But that's not the case among Republicans. Among this group, Donald Trump Jr. comes out on top, with about two-thirds (65%) choosing him in head-to-head matchups. Tiffany Trump comes in last place with this group, with 25 percent of Republicans picking her in a head-to-head matchup. Talk about a sibling rivalry.
Methodology: The Daily Show/YouGov survey consisted of 1,133 panelists and ran between August 24 - 25. Every person was randomly assigned to see eight Trump family members, which appeared in four random head-to-head matchups. For each, respondents were asked to indicate which they would prefer to become the next president. YouGov scored individuals by looking at their "win percentage": how often were they selected in a head-to-head matchup. The survey was carried out online. The figures have been weighted and are representative of all US adults (aged 18+).
Image: Getty