In the latest CBS News/YouGov Poll, Joe Biden leads over President Trump nationally (52% vs. 42%), and in Wisconsin (50% vs. 44%).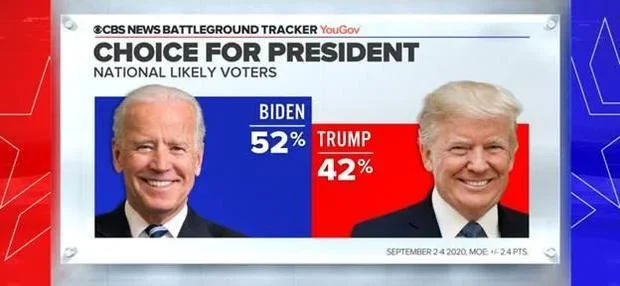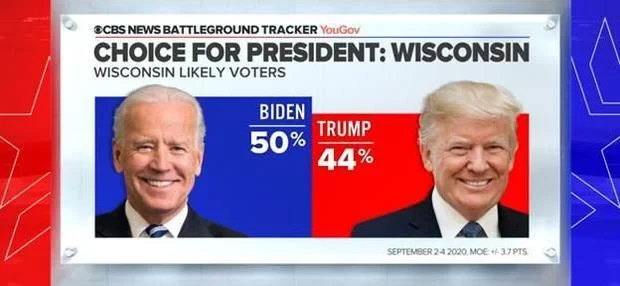 Biden also holds a lead over Trump with white women in Wisconsin (51% vs. 42%) and white Wisconsin voters with college degrees (53% vs. 40%).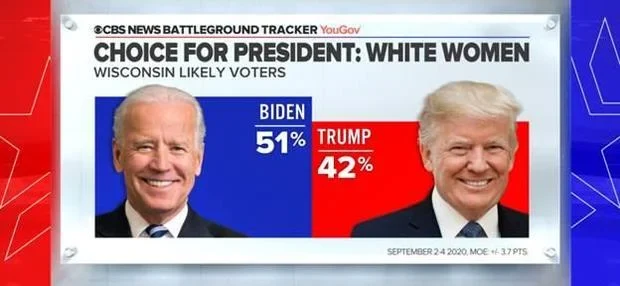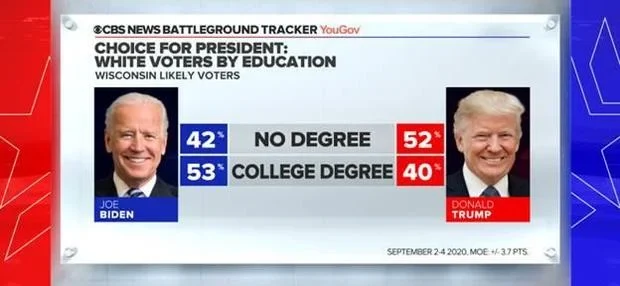 With escalating protests around the country, Americans say candidate Joe Biden is doing a better job handling the demonstrations.
According to the data, more registered voters say Biden is trying to calm the situation down than say that about President Donald Trump (49% vs. 39%). In contrast, Americans are more likely to say President Trump (47%) has encouraged fighting than Biden (30%).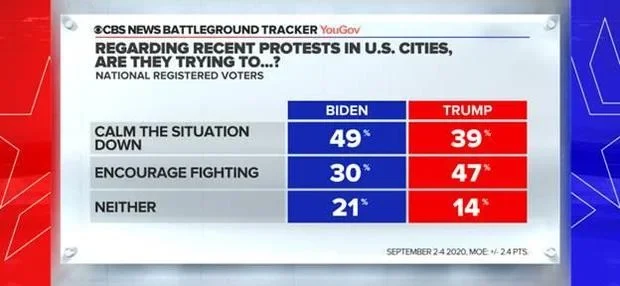 Three in five (60%) registered voters say police reform is the way to end protests – although Biden supporters are more likely than Trump supporters to say this (91% vs. 22%). Half (54%) of President Trump supporters say the best way to end the protests is by punishing protesters.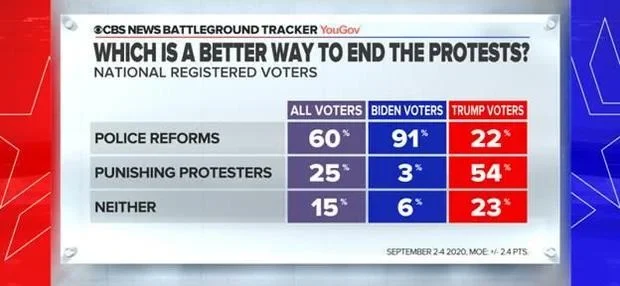 Half (48%) of national registered voters say Biden would make them feel safer, compared to 43 percent who say Donald Trump would make them feel safer.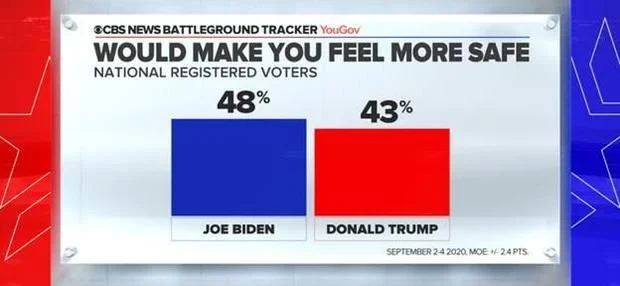 In contrast to previous months, the comparisons on who would do a better job handling the economy has become more competitive – with results virtually tied for both Biden and Trump (44% vs. 45%).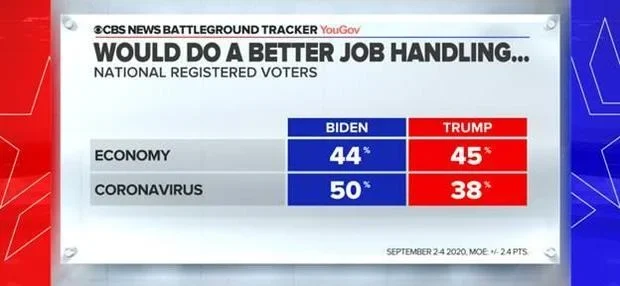 The data also finds President Trump supporters are most concerned about Biden's ability to handle economic issues (59%), compared to policing and protests (31%), race relations (7%), and issues related to COVID-19 (4%).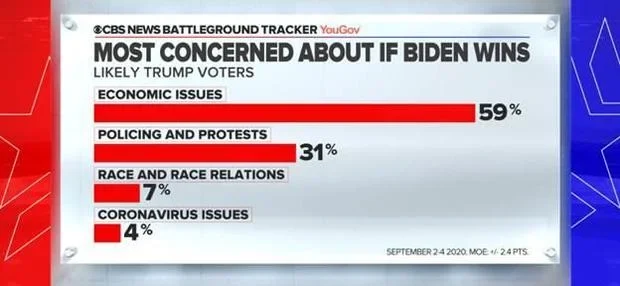 For Biden supporters, COVID-19 is their top concern if Trump wins the election (38%), followed by race relations (30%), policing and protests (17%), and economic issues (15%).
For those who say protests are a major factor in who they will vote for, both candidates are running about even in Wisconsin (46% Biden; 48% Trump).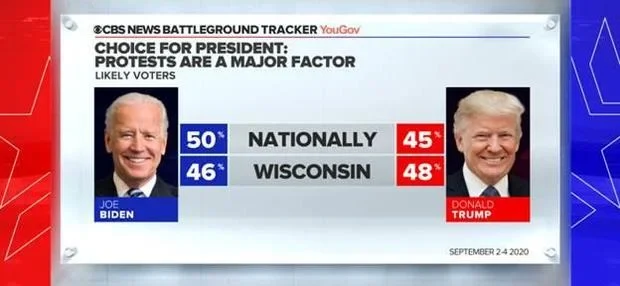 Biden's handling of recent protests have a slightly higher approval rate in Wisconsin and nationally, than of President Trump. Half (51%) of Wisconsin voters approve of Biden's handling of recent protests, compared to 45 percent of voters in Wisconsin who approve of Trump's handling of recent protests.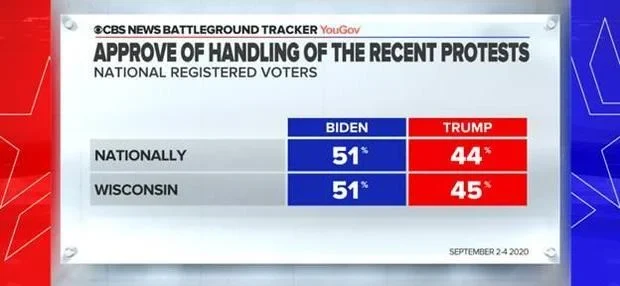 Half (55%) of likely voters say what President Trump has done so far will most impact their voting decision, compared to 45 percent of Biden voters, and 72 percent of Trump voters.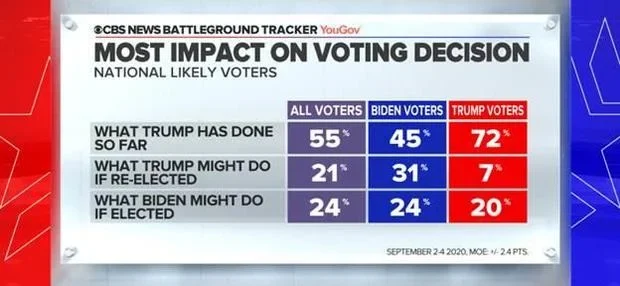 Biden is seen by voters as the candidate that cares about people (63%), while Trump is seen as having more energy (61%).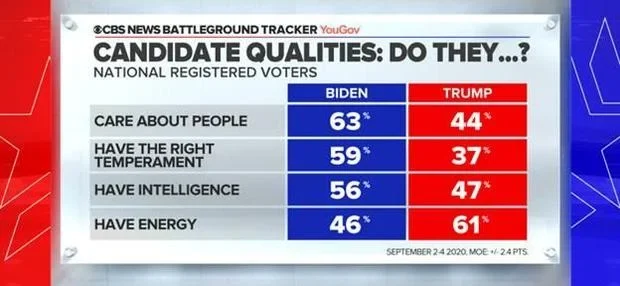 Reactions to President Trump's response to COVID-19 continues to shape voters. Half (50%) of registered voters say the Trump administrations coronavirus policies deserve blame for making the outbreak worse, while two in five voters (44%) say they expect the COVID-19 outbreak to get worse this fall.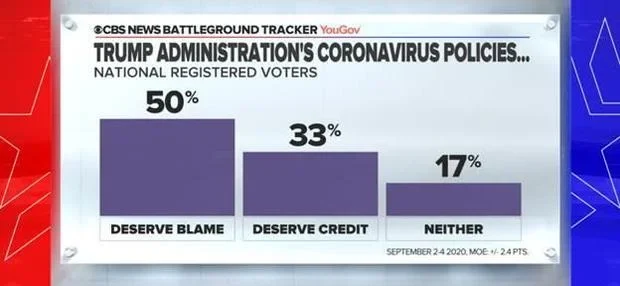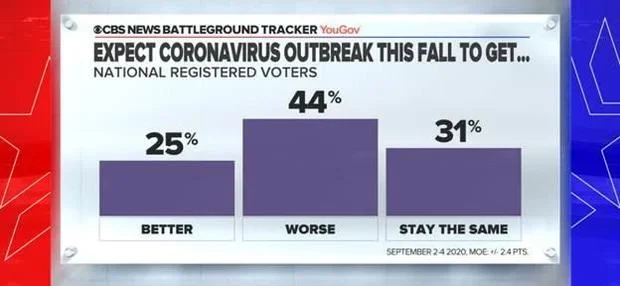 See the national toplines and Wisconsin toplines for the latest CBS News/YouGov Poll
Methodology: These surveys were conducted on behalf of CBS News by YouGov between September 2-4 2020. They are based on representative samples of 2,493 registered voters nationwide and 1,006 registered voters in Wisconsin. Margins of error for registered voters: National: +/- 2.4 points, Wisconsin +/- 3.7 points.
Image: Getty