Republican David Perdue holds the advantage in Senate race
New polling from CBS News/YouGov finds Donald Trump and Joe Biden in a close contest for Georgia's 16 Electoral College votes.
The President and his Democratic challenger are in a virtual dead heat among likely voters, with Trump currently on 47% and Biden on 46%. At the moment 5% are unsure and 2% intend to vote for someone else. The former Vice President holds a strong advantage among women (51% to 42%) but Trump is performing better among men (53% to 41%) and Independents (45% to 38%).
When YouGov last surveyed Georgia's likely voters in late July it was a similar picture, with Biden on 46% and Trump on 45%.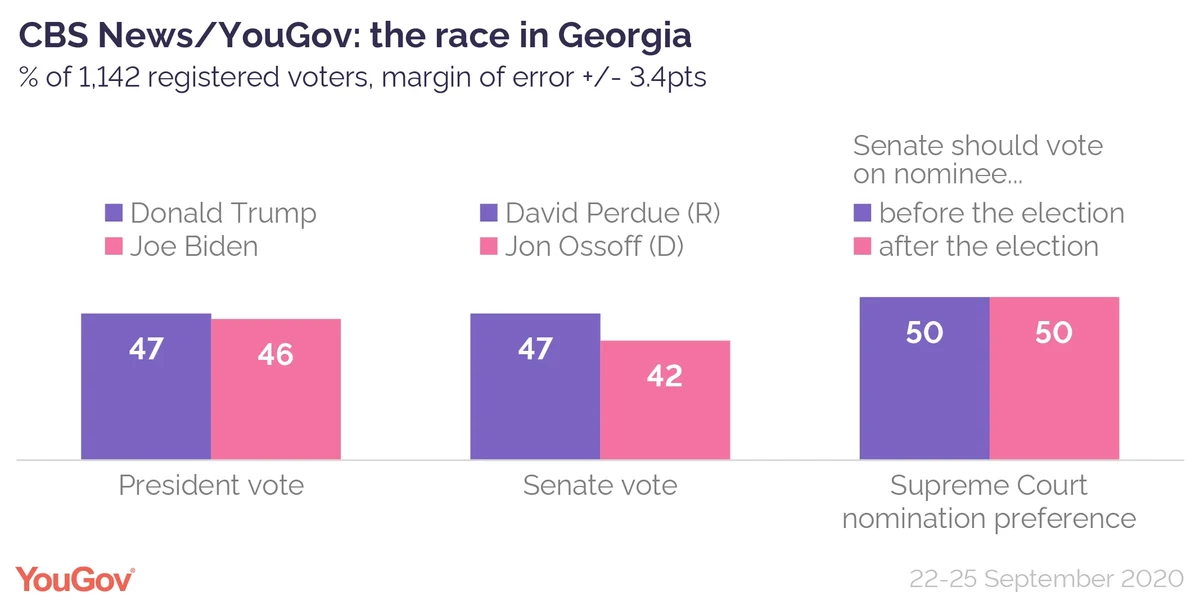 Senate race
The poll also shows the Republicans in front in Georgia's Senate race. The GOP's David Perdue currently leads Jon Ossoff, his Democratic challenger, by 47% to 42%, with 3% intending to vote for someone else and 8% unsure. Perdue is currently performing best among Independents (47% to 40%).
Supreme Court
Georgia voters are split down the middle on whether the Senate should vote on the new justice before November's election. While half (50%) think there should be a vote before the presidential contest, 50% think there should not. Although Democrats firmly believe there should not be a Senate vote yet (86% to 14%) and Republicans strongly think there should (83% to 17%), Georgia's independents are pretty evenly split, with 53% wanting a vote ahead of the election and 47% not wanting one.
See the data for the latest Georgia toplines and visit our CBS News/YouGov Poll page
Methodology: These surveys were conducted on behalf of CBS News by YouGov between September 22-25 2020. They are based on representative samples of 1,142 registered voters in Georgia. The margin of error for this poll is +/- 3.4 points.