Trump holds 10 point lead in presidential stakes
New polling from CBS News/YouGov finds Republican Senator Lindsey Graham is in a close contest to hold on to his seat in South Carolina.
Graham is in a virtual dead heat with Jaime Harrison among likely voters, with the Republican on 45% the Democrat on 44%, 2% picking someone else and 9% undecided. Graham holds a firm lead among men (52% to 40%) but the Harrison is picking up more support among women (47% to 39%).
Independent voters are closely split between the two candidates, with Harrison currently holding a slender advantage (43% to 39%). The poll also suggests that Republicans (10%) and Independents (13%) are more unsure than Democrats (3%) about who they will vote for in November's contest.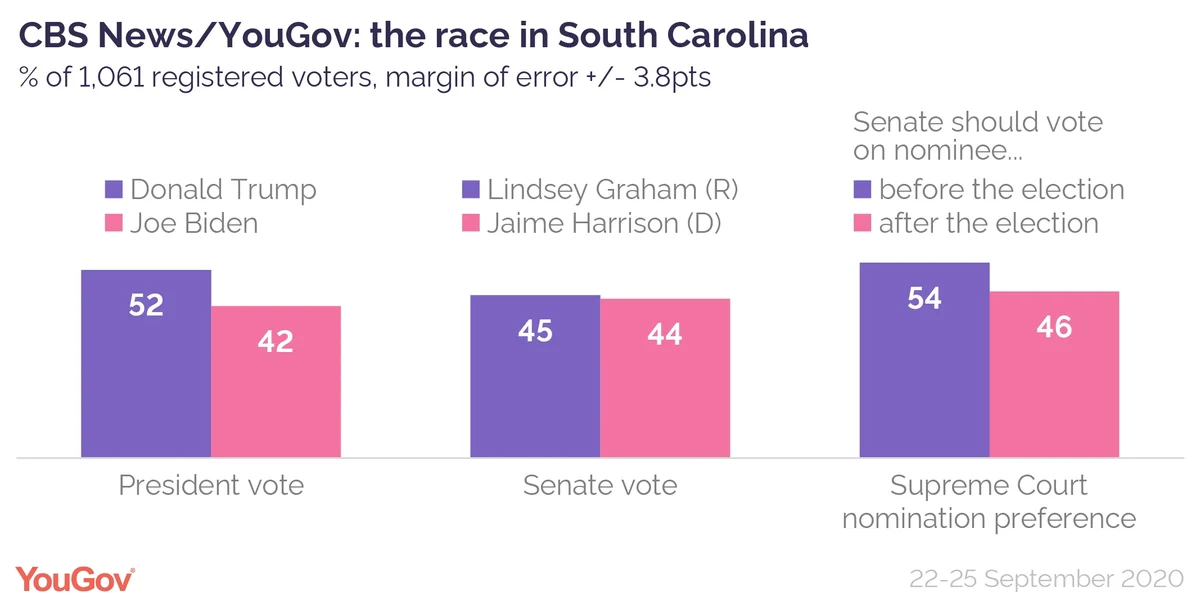 Presidential race
The YouGov News/YouGov poll also shows that Donald Trump has a big advantage in the presidential contest in South Carolina, leading Joe Biden 52% to 42%. As with Graham, Trump is doing better with men than his rival (59% to 36%) but they share equal support among women (47% each).
Supreme Court
A majority (54%) of South Carolinians believe that the Senate should have a vote on the new Supreme Court justice before the presidential election, while 46% think it should wait until after the results of November's contest. Most Republicans (86%) and half of Independents (53%) think Donald Trump's nominee should be in place by the time the votes are counted, while the overwhelming majority of Democrats (91%) think theyshould not.
See the South Carolina toplines for the latest CBS News/YouGov Poll
Methodology: These surveys were conducted on behalf of CBS News by YouGov between September 22-25 2020. They are based on representative samples of 1,061 registered voters in South Carolina. The margin of error for this poll is +/- 3.8 points.