Democratic presidential nominee Joe Biden leads President Donald Trump by 51% to 44% in Pennsylvania among likely voters, the latest CBS News/YouGov Battleground Tracker shows.
The poll, almost all of which was carried out before news of President Trump's positive test for COVID-19, finds that the Democrat candidate performing well among both Independent voters (50% to 40%) and women (56% to 38%) in the state, while the Republican incumbent is leading with men (50% to 45%).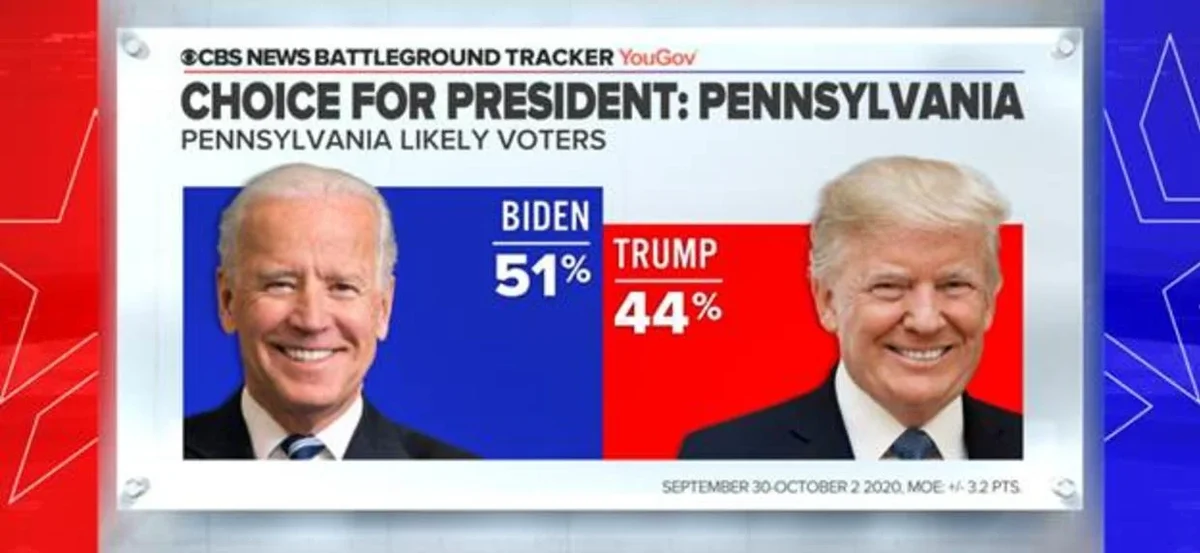 More than four in five (83%) likely voters in Pennsylvania have decided how they will vote, with 13% saying they probably won't change their choice, and 4% saying they still might. Almost all Democrats (89%) and Republicans (81%) have decided, as have around three-quarters (74%) of Independents.
YouGov's data shows that over half (57%) will vote in person on Election Day, with approaching four in five (78%) Republicans planning on doing so as well as half (54%) of Independents and two in five (39%) Democrats. Over a third (36%) of likely voters in the state plan to vote by mail or absentee ballot, including over half (55%) of Democrats and two in five (38%) Independents. Among Republicans, the figure is 13%.
In the week the president's COVID-19 infection was announced, two in three (66%) likely voters in Pennsylvania say that the coronavirus outbreak will be a major factor in how they cast their ballot. This is more the case among Democrats (89%) and Independents (63%) than Republicans (41%). GOP voters (40%) are more likely than Independents (22%) and Democrats (8%) to consider the pandemic a minor factor in their choice for president.
However, the poll shows that more likely voters consider the economy (83%) and healthcare (76%) to be major factors in how they will vote.
See the toplines from this week's CBS News/YouGov Poll
Methodology: This survey was conducted on behalf of CBS News by YouGov between September 30-October 2, 2020. They are based on representative samples of 1,128 registered voters in Ohio. The margin of error for registered voters is ±3.1 points in Pennsylvania.
Image: Getty