A majority of registered voters think President Donald Trump could have avoided contracting COVID-19 if he had been following public health guidelines like social distancing and wearing a face mask, according to a new Yahoo News/YouGov Poll.
The poll, conducted October 2 – 3, indicates that about three in five registered voters think the president underestimated the risks of the virus (59% vs 21%) that has killed more than 209,000 Americans. Most believe he has not been wearing a mask nor social distancing properly (59%), and about half (51%) believe he could have avoided contracting the disease altogether if he had followed guidelines from the Centers for Disease Control and Prevention.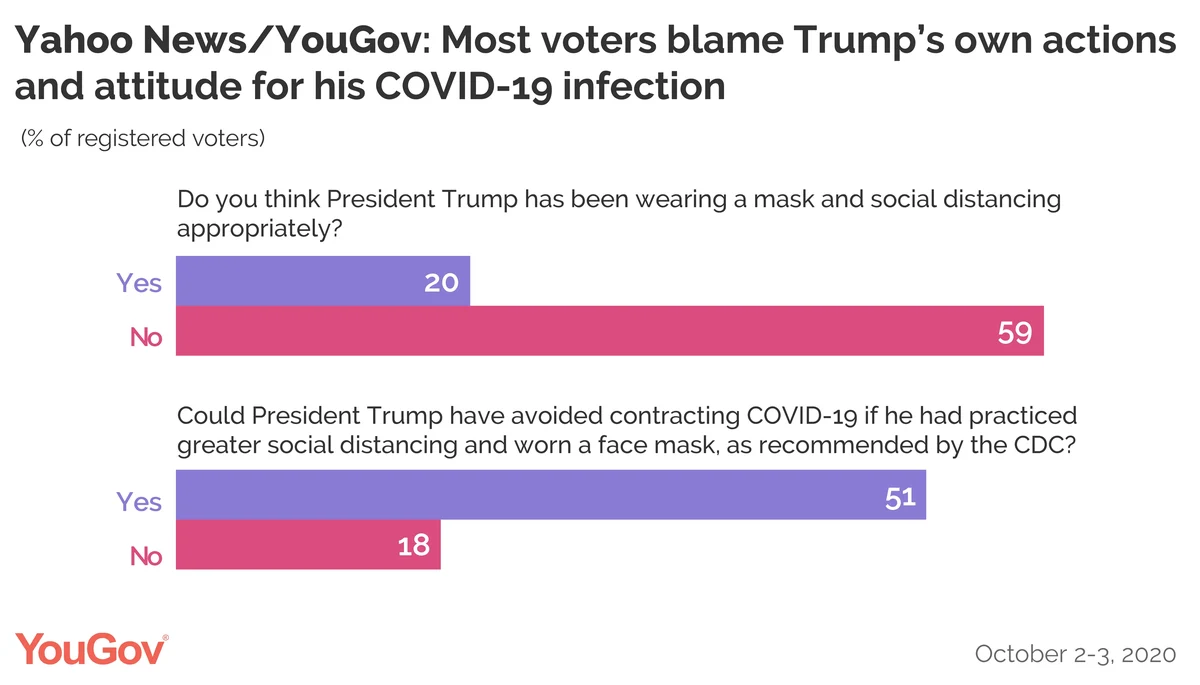 There has been increased scrutiny about when President Trump and the White House knew he tested positive for COVID-19, as well as whether he should have attended a New Jersey fundraiser after being told that a close adviser, Hope Hicks, tested positive. About two-thirds of registered voters (64%) say he should not have attended the fundraiser after hearing about Hicks' diagnosis, including about a plurality of Republicans (39%) and one-third of Trump supporters (33%).
As many as 87% of Democrats and about two-thirds of Independents (64%) say that the president should not have attended the fundraiser, which took place hours before he announced his COVID-19 diagnosis.
Related: What Americans think about Trump catching COVID-19
See the crosstabs from this Yahoo News/YouGov Poll
Methodology: This Yahoo News survey was conducted by YouGov using a nationally representative sample of 1,202 U.S. registered voters interviewed online from October 2 - 3, 2020. The sample were weighted according to gender, age, race and education based on the American Community Survey, conducted by the U.S. Bureau of the Census, as well as 2016 presidential vote, registration status, geographic region and news interest. Respondents were selected from YouGov's opt-in panel to be representative of all U.S registered voters. The margin of error is 4.6%.
Image: Getty