In the last few days, the United States has set new daily records for the number of positive COVID-19 tests reported. Recent infection levels have been higher than they were even during the July peak.
The latest Yahoo News/YouGov poll shows that the increase has not gone unnoticed by voters. The percentage of registered voters who say "the number of cases is increasing" in the United States jumped nine percentage points over the last week, from 63% to 72%.
That number has been steadily rising throughout October, and across party lines. At the beginning of the month, a quarter (24%) of Republicans saw the case count rising. This week, that recognition has doubled (48%). Two-thirds (68%) of Democrats in early October said coronavirus cases were increasing; this week, 90% believe this to be the situation.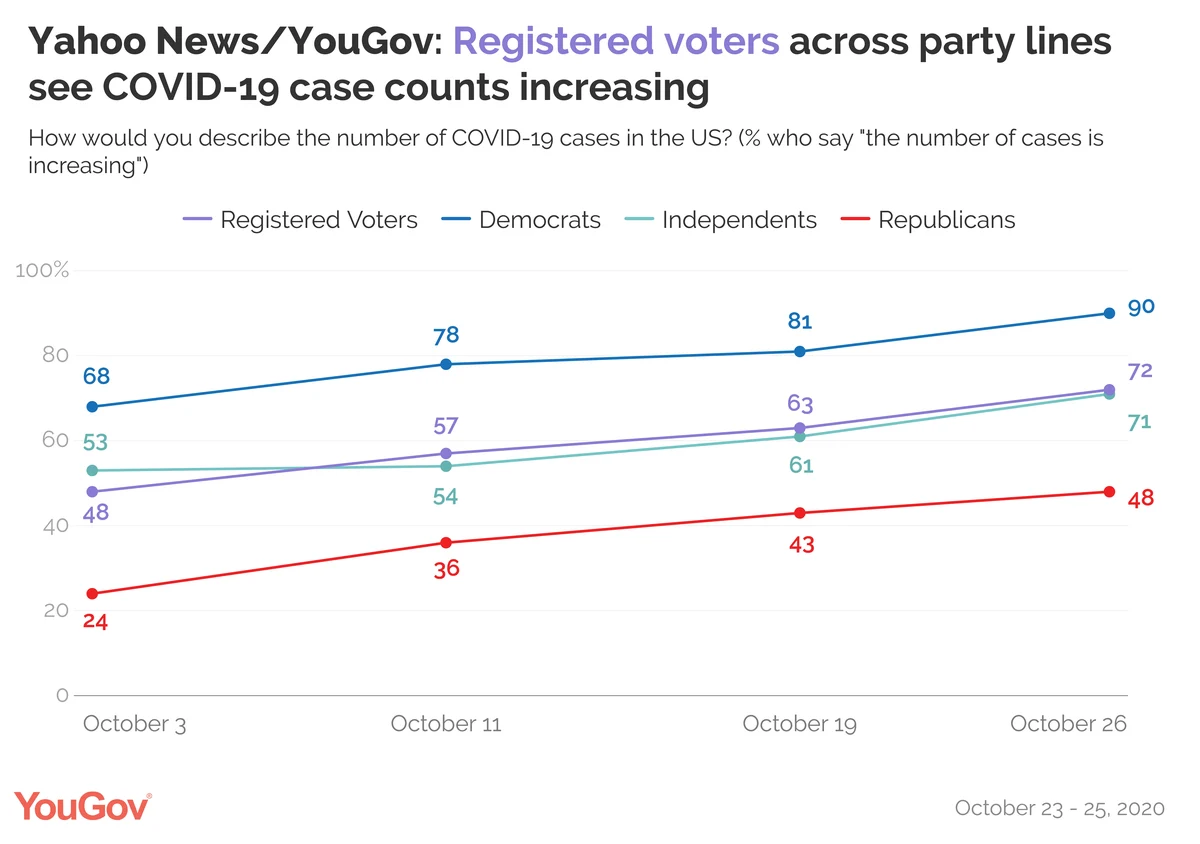 Asked about case numbers in their own community, voters in the Midwest are especially likely to say COVID-19 cases are rising in their community this week – unsurprising given that the region has been hit particularly hard recently. Two-thirds of Midwesterners report greater numbers of cases where they live, compared to 50% in the West, 49% in the Northeast, and 40% in the South.
About half of residents in America's cities (54%), suburbs (50%), and rural areas (47%) describe COVID-19 infections as increasing in their communities.
Related: Black voters enthusiastically back Joe Biden, but age gaps exist in his firewall
See the toplines and crosstabs from this week's Yahoo News/YouGov Poll
Methodology: The Yahoo! News survey was conducted by YouGov using a nationally representative sample of 1,500 U.S. registered voters interviewed online between October 23-25, 2020. This sample was weighted according to gender, age, race, and education based on the American Community Survey, conducted by the U.S. Bureau of the Census, as well as 2016 Presidential vote, registration status, geographic region, and news interest. Respondents were selected from YouGov's opt-in panel to be representative of all U.S registered voters. The margin of error for the entire sample is ±3.0%
Image: Getty